Sports
Davis was legendary player
Fri., March 11, 2005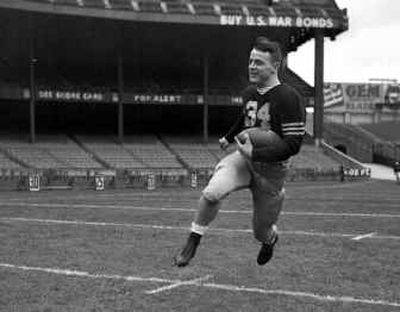 Glenn Davis, a Heisman Trophy-winning football star with Army in the 1940s, whose exploits on the field helped buoy the spirits of Americans on the front lines and on the home front during World War II, will not soon be forgotten.
A halfback with the speed of an Olympic sprinter, Davis teamed with fullback Felix "Doc" Blanchard for three years to form what is widely regarded as the greatest backfield duo in college football history. Davis died Wednesday of prostate cancer in La Quinta, Calif. He was 80.
The 210-pound Blanchard was called "Mr. Inside" for his punishing runs through the middle of opposing lines. Davis was dubbed "Mr. Outside" for his end sweeps and his fleet open-field running.
In three seasons together at the U.S. Military Academy, from 1944 to 1946, their Army teams, coached by Earl "Red" Blaik, were undefeated. The only blemish on their 27-0-1 record was a scoreless tie in 1946 with Notre Dame.
Blanchard won the Heisman Trophy, awarded to the top player in college football, in 1945. Davis won the Heisman in 1946 after finishing second the two previous years. Together, they hold the record for most touchdowns by a pair of college teammates in a career, with 97. Davis scored 59 of those touchdowns, a record that was not matched for 30 years.
"Anybody who ever saw Davis carry the football," Blaik once said, "must realize there could not have been a greater, more dangerous running back in the history of the game. He was emphatically the greatest halfback I ever knew."
A blond, blue-eyed Californian with movie-star looks, Davis was a true golden boy of the gridiron. He received 13 letters in four sports in high school in La Verne, Calif., and agreed to attend the Military Academy at West Point only if his twin brother, Ralph, was admitted as well.
In the academy's demanding physical fitness tests, the 5-foot-9, 170-pound Davis had the highest score ever recorded. He didn't do quite as well in the classroom, though. After leading the football squad to a record of 7-2-1 during his freshman season in 1943, he was dismissed for failing a math class. Reinstated after doing remedial work, Davis became, in his final three years at West Point, perhaps the best-known athlete in America.
He and Blanchard were on the covers of Time and Life magazines, and highlights of Army football games were shown on newsreels nationwide. In 1944, the team's games were broadcast on the radio to military units abroad and became symbolic of America's military might. When Army ended its perfect season with a 23-7 victory over Navy, Blaik received a telegram from the South Seas:
"The greatest of all Army teams.
"We have stopped the war to celebrate your magnificent success.
"MacArthur."
During that season, Davis scored 20 touchdowns — then a collegiate record — and gained an average of 11.5 yards every time he carried the ball. His career rushing average of 8.26 yards per carry is the NCAA record. He also was a talented passer and kick returner and played safety on defense. He still holds the Army record for career interceptions, with 14.
His teammate Bill Yeoman, who later coached at the University of Houston, once said: "There are words to describe how good an athlete Doc Blanchard was. But there aren't words to describe how good Davis was."
Davis was a three-time all-American in football and also starred in baseball and basketball. As a centerfielder on Army's baseball team, he batted .403 and stole 64 bases in 65 attempts. At an indoor track meet in 1947, he ran the 60-yard dash in 6.1 seconds, beating the man who would win the silver medal in the 100-meter dash the following year in the Olympics.
He and Blanchard were offered record-breaking contracts to play professional football with the San Francisco 49ers, but when Davis petitioned for an early release from his military commitment, his request was denied by the secretary of the Army. He served three years as an infantry officer.
In 1947, while making the movie "The Spirit of West Point," Davis tore ligaments in his knee and was never the same as an athlete. He finally played professionally with the Los Angeles Rams in 1950 and 1951 but could not equal the spectacular heroics of his West Point years.
A native of Claremont, Calif., Davis lived in Southern California for most of his life. In the late 1940s, he had a highly publicized romance with Elizabeth Taylor and, from 1951 to 1953, was married to actress Terry Moore.
He spent most of his career as an executive in the promotion department of the Los Angeles Times before retiring in 1987. His teammate, Blanchard, became an Air Force officer and lives near San Antonio, Texas.
Davis' wife of 42 years, Harriet Slack Davis, died in 1995. His twin died in January.
Local journalism is essential.
Give directly to The Spokesman-Review's Northwest Passages community forums series -- which helps to offset the costs of several reporter and editor positions at the newspaper -- by using the easy options below. Gifts processed in this system are not tax deductible, but are predominately used to help meet the local financial requirements needed to receive national matching-grant funds.
Subscribe to the sports newsletter
Get the day's top sports headlines and breaking news delivered to your inbox by subscribing here.
---