Sports
Idaho State overruns Eastern
Fri., March 11, 2005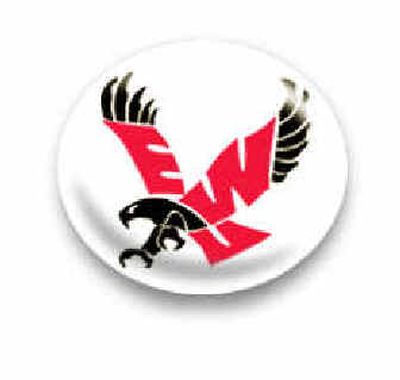 MISSOULA – Winning at Montana has been a near impossible task for the Eastern Washington women's basketball team.
Idaho State proved to be just as tough as the Grizzlies in Dahlberg Arena.
The Bengals knocked the Eagles out of the Big Sky Conference tournament Thursday night with an 82-55 victory, ending Eastern's season with a 16-12 record and stopping its three-year streak of winning in the first round.
"There's not a whole lot to say," EWU coach Wendy Schuller said. "Idaho State just flat out came out and kicked our butts. That's about as close to the truth as I can get."
Idaho State 6-foot-3 post Natalie Doma destroyed the Eagles with 31 points and 17 rebounds, both career highs and single-game tournament records for a freshman.
"She's big, she strong," Eastern forward Julie Page said. "We had trouble figuring out when to play behind her and when to front her. She was getting really deep in the post."
ISU (13-15) moves on to play the host Grizzlies (20-7) tonight after Weber State (20-7) meets Northern Arizona (19-9). The Lumberjacks eliminated Sacramento State 67-58.
Eastern's latest win in Missoula came last year against Weber State in the first-round of the tournament but prior to that it was 1987, back when the women were playing in the Mountain West Conference and the Eagles beat the Grizzlies in the league tournament.
The Bengals did it with a solid outside-in attack. Point guard Camile Michaelson hit three damaging 3-pointers among ISU's nine treys to highlight the outside game; Doma was the obvious dominant inside force; and Molly Hays was tremendous all over the court.
Hays, a unanimous all-league selection who had 21 points with three 3-pointers and two three-point plays, was no surprise.
But Doma was.
The native of Victoria, British Columbia, only had nine points and three rebounds combined in the two regular-season meetings Eastern and Idaho State split.
"Being a freshman, it's shocking," she said. "I was just taking it hard to the basket. Coach told me not to fade away and be aggressive. That's what I did."
What's worse, when a Big Sky official announced the points were the sixth-most in tournament history and the rebounds fifth, Bengals coach Jon Newlee quipped: "And she played some defense, too."
That she did.
Page and center Felice Moore combined for 29 points and, eight rebounds. However, Page was hampered by foul trouble, scoring 13 of her 16 points in just 11 minutes of the first half and Moore had 11 of her 13 points in the second half, seven of those after ISU broke the game open.
The Bengals started the second half with a 13-4 run, started by four points from Doma and a Hays 3. That was the dagger because Hays tweaked an ankle rebounding on the defensive end and was slow to join the offense. Then she took the ball and stepped back behind the line to make it 43-30.
"Doma stepped up," Schuller said. "She showed why she was the Freshman of the Year. She didn't show it either time we played them. (But) Molly Hays is really the one who got then going. … She's a warrior."
ISU increased the lead to 17 in the three-plus minutes Hays was out.
The Bengals just kept rolling. They had just one turnover in the second half and when Eastern got aggressive the best foul-shooting team in the nation hit 12 of 16 free throws.
"I would say (that was) possibly our best game of the year, overall," Newell said. "It couldn't have gone any better for us than it did tonight. … We really talked about establishing an inside presence. We really felt who won the inside game tonight was going to win the game… . It's the first time I think it really carried over 100 percent what we practice."
Idaho St. 82, EWU 55
Idaho State (13-15)–Brossman 1-4 0-0 3, Hays 6-10 6-7 21, Doma 13-26 5-5 31, Soo 1-7 2-2 4, Michaelson 3-10 0-0 9, Sivakova 0-2 1-2 1, Chambers 2-4 0-1 4, Seitz 0-0 0-0 0. Totals 29-68 15-19 82.
Eastern Washington (16-12)–Ulmer 1-7 0-0 3, Page 6-8 2-3 16, Moore 5-11 3-4 13, Bounds 2-6 0-0 4, Jamison 1-3 0-0 3, Chadd 1-3 0-0 2, Knight 1-2 1-2 3, Osborn 2-6 6-7 10, Johnson 0-0 0-0 0, Chicane 0-3 1-2 1, Chaffee 0-2 0-0 0. Totals 19-51 13-18 55.
Halftime–Idaho State 36, Eastern Washington 28. 3-point goals–Idaho State 9-22 (Hays 3-6, Michaelson 3-6, Marekova 2-4, Brossman 1-1, Sivakova 0-1, Chambers 0-1, Soo 0-3), Eastern Washington 4-17 (Page 2-3, Jamison 1-2, Ulmer 1-6, Bounds 0-1, Chicane 0-1, Chadd 0-2, Osborn 0-2). Fouled out–Doma. Rebounds–Idaho State 42 (Doma 16), Eastern Washington 35 (Ulmer, Moore, Osborn 5). Assists–Idaho State 17 (Soo 5), Eastern Washington 12 (Ulmer, Jamison 3). Total fouls–Idaho State 16, Eastern Washington 20. A–1,903.
Local journalism is essential.
Give directly to The Spokesman-Review's Northwest Passages community forums series -- which helps to offset the costs of several reporter and editor positions at the newspaper -- by using the easy options below. Gifts processed in this system are not tax deductible, but are predominately used to help meet the local financial requirements needed to receive national matching-grant funds.
Subscribe to the sports newsletter
Get the day's top sports headlines and breaking news delivered to your inbox by subscribing here.
---