News > Spokane
Visit for actress multifaceted
Fri., March 11, 2005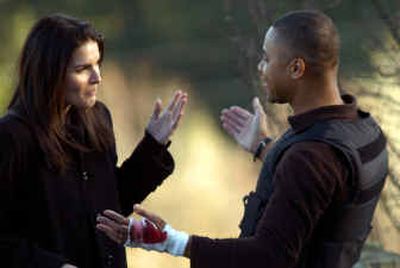 Angie Harmon, one of the stars of "End Game" now filming in Spokane, has witnessed a lot of car crashes lately.
"We have cars that are blowing up and rolling down hills and all of that good stuff," she said Thursday from a film location in the Five Mile Prairie area.
But her free time is spent more serenely, strolling around downtown Spokane with a couple of small companions. One is her 16-month-old, in a stroller.
And the other?
"This one here," she said, pointing toward her midsection, "is six months. We have three months to go. So we've been doing a lot of maternity shopping. It's fabulous in Spokane."
Harmon, best known for her role as assistant district attorney Abbie Carmichael in "Law & Order" from 1998 to 2000, has been in Spokane for more than a month shooting this presidential assassination thriller.
"I play a reporter named Kate Crawford, and she has already won a Pulitzer Prize," Harmon said. "She's not afraid of taking government officials down – actually, she sort of prefers it. She's tough and she's fun, and she certainly has a sense of humor."
On Thursday afternoon, she and the rest of the "End Game" crew were shooting scenes on a steep section of Northview Drive.
A Land Rover careened down a brushy slope and T-boned another vehicle.
"This is one where we come in and save the day," she said, watching the stunt crew scurry around a pair of crunched SUVs. "We crash into our bad guy and send him sailing over the edge."
Stunt doubles stepped in for Harmon and Cuba Gooding Jr. for the actual crash. She said "End Game" is loaded with talented people with stunt backgrounds, including director Andy Cheng.
During a pause in filming, Cheng explained that he got his movie start in Hong Kong. He was a stunt double on a number of movies for an actor you may have heard of: Jackie Chan.
When Chan made the leap to Hollywood, Cheng made it with him. He was Chan's stunt double in "Rush Hour" and "Shanghai Noon" and went on to become a stunt coordinator on a number of Hollywood films. This is his first stint as director.
"This is better, because I don't have to ask anybody if they like it," Cheng said. "I ask myself, do I like it?"
"End Game" is being filmed in Spokane because some of the producers have a longtime relationship with North by Northwest, the Spokane production company. They have shot several movies in Spokane and are sold on it.
However, "End Game" poses a particular challenge: The story is set in Washington, D.C., and Virginia.
How do you make Spokane look like that?
"Tight coverage!" said co-producer Johnny Martin, with a laugh.
He meant minimizing the amount of background visible in the shots. However, he also said that Spokane has a lot of architecture that can pass for D.C. and the countryside can pass for the Virginia countryside.
Harmon has been happy with the scenery. Her husband, NFL player Jason Sehorn, is in Spokane with her. Her parents even came up for a visit, and they all did plenty of sightseeing.
"When you have your family with you it makes that time special, something you're going to remember," she said.
Local journalism is essential.
Give directly to The Spokesman-Review's Northwest Passages community forums series -- which helps to offset the costs of several reporter and editor positions at the newspaper -- by using the easy options below. Gifts processed in this system are not tax deductible, but are predominately used to help meet the local financial requirements needed to receive national matching-grant funds.
Subscribe now to get breaking news alerts in your email inbox
Get breaking news delivered to your inbox as it happens.
---