News > Spokane
Science students relish puzzling day
Sun., March 13, 2005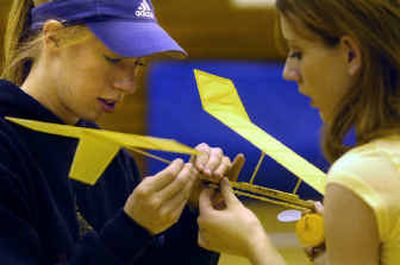 After high school, Michael Roseburg wants to be an Air Force pilot and engineer, thanks to the Science Olympiad.
The Moses Lake High School junior, who participated in Saturday's regional Olympiad competition at Spokane Falls Community College, has designed planes for the annual event since he was in the sixth grade.
Roseburg joined the science team not to find a career, but for something to do.
"I like building stuff and doing stuff with my hands," said Roseburg, who won a first-place medal for designing a plane that flew longer than anyone else's. "It's a fun way to compete with other schools."
A few hundred students from about 20 schools were at Saturday's event, which included more than 20 individual competitions, from rocket science and crime scene investigation to tasks that at first glance may not seem too useful in everyday life.
How often do you need to drop an egg from a few stories without breaking it, anyway? And who needs a robot to play billiards?
Organizers likely would admit that the answers to the above are: A. Never, unless you plan to become a Science Olympiad coach, and B. No one.
But that's not the point. The competitions are aimed at showing teens that science isn't a bore and coercing them to think critically, said John Whitmer, an SFCC astronomy instructor and co-director of the event.
"The students will come back years later and say, 'I really got interested in science at the Science Olympiad,' " Whitmer said. "It really does have a tremendous impact."
Impacts like making Roseburg consider designing items on a bigger scale than the miniature plane he flew on Saturday and wonder if he might want to be in the air himself.
Local journalism is essential.
Give directly to The Spokesman-Review's Northwest Passages community forums series -- which helps to offset the costs of several reporter and editor positions at the newspaper -- by using the easy options below. Gifts processed in this system are not tax deductible, but are predominately used to help meet the local financial requirements needed to receive national matching-grant funds.
Subscribe now to get breaking news alerts in your email inbox
Get breaking news delivered to your inbox as it happens.
---