Sports
Now they know
Tue., March 15, 2005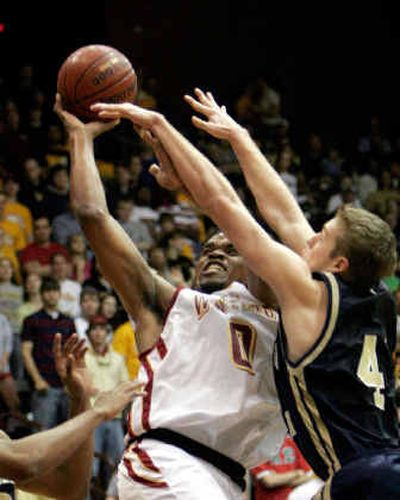 James Shuler arrived on the Winthrop University campus in Rock Hill, S.C., in the fall of 2002, figuring annual trips to the NCAA men's basketball tournament must be included in the small print section of the national letter of intent he signed.
And why not?
The Eagles had just made four consecutive trips to the NCAAs, and even though they had whiffed in the opening round on all four occasions – including once in the dreaded play-in game – Shuler could not envision the streak ending at any time during his stay.
Today, the 6-foot-6 junior guard can look back and see how considerably naïve he was when he first enrolled at WU as a heralded prep star out of Santa Fe High School in Jonesville, Fla., where he was named the state's 3A player of the year as a senior.
An NCAA Tournament berth is not an ordained right at any school. Each one is earned, and at small universities like Winthrop, they are earned almost exclusively by winning conference tournaments.
That was how the Eagles had gained admittance the four years prior to Shuler's arrival. But during Shuler's freshman and sophomore seasons, they were knocked out of the Big South Conference tournament by North Carolina-Asheville, a team they had owned during the regular season.
So Schuler and his teammates have spent the last two years watching March Madness unfold without them – and just getting mad.
"It was really frustrating, coming in and having expectations already set," admitted Shuler, a co-captain and the second-leading scorer on this year's Eagles team (27-5), which is back in the NCAA Tournament following the unexpected two-year hiatus and preparing for Thursday's first-round matchup against West Coast Conference champion Gonzaga (25-4) at McKale Center in Tucson, Ariz.
"Prior to me coming, they'd gone four years in a row, and to come up short in my first two years was painful," Shuler said.
Billy Houston was also a member of coach Gregg Marshall's 2002 recruiting class and felt that same pain.
"That was a big reason I came to school here – the tradition of winning," explained the 6-8 junior center and fellow co-captain. "The fact we lost those two years hurt. It humbled us a lot. It made us realize that we all had to sacrifice a lot more to make us a team."
So Shuler and Houston dedicated themselves to ratcheting up the effort to the same level as those who had come before them and re-establishing the Eagles as the elite team in the Big South.
That dedication paid off with a 16-1 conference record, a 68-46 breeze past Charleston Southern in the finals of the Big South tournament and an 18-game winning streak – the longest in the nation.
"At the end of each of my first two seasons, I was very frustrated," Shuler recalled. "That first year, getting beat by a buzzer-beater that played on SportsCenter for about a week, and then last year, getting beat in the first round, was hard to take.
"But at the same time, we persevered. We kept working hard and when this year's freshmen came in, Billy and I kind of took them under our wings. We didn't want them to have to go through the same situation we did our first two years here."
Shuler is averaging 12.1 points, 4.3 rebounds and 3.1 assists and, according to Marshall, is one of the Eagles' most versatile performers.
"He's a guy who can shoot the basketball, he can drive the basketball and he can handle the basketball," Marshall said. "He's very strong. He's got a high-major body and he can do a lot of things to help your team."
Houston is averaging just 4.2 points, but leads the team with 54 blocked shots.
"We're looking at our first two years here as a blessing in disguise," Shuler said. "None of us on this team has ever been to the tournament before, but I don't think that's going to matter.
"From the opening tipoff, people are going to see that we're ready."
And that Shuler, Houston and the rest of Eagles all have a new-found appreciation of what it takes to get there.
Local journalism is essential.
Give directly to The Spokesman-Review's Northwest Passages community forums series -- which helps to offset the costs of several reporter and editor positions at the newspaper -- by using the easy options below. Gifts processed in this system are not tax deductible, but are predominately used to help meet the local financial requirements needed to receive national matching-grant funds.
Subscribe to the sports newsletter
Get the day's top sports headlines and breaking news delivered to your inbox by subscribing here.
---