News > Business
Trade deficit soars to yearly record
Thu., March 17, 2005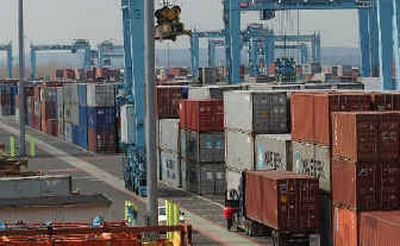 WASHINGTON — The U.S. deficit in the broadest measure of international trade surged to an all-time high last year, increasing a potential threat to the economy as the country sank deeper into debt to Japan, China and other nations.
The Commerce Department reported Wednesday that the deficit in the U.S. current account increased by 25.5 percent last year to a record $665.9 billion. Forecasters said the 2005 deficit could be $100 billion higher than that as the United States continues to buy record levels of foreign consumer goods and oil.
The current account deficit represents the total amount of financing the United States needs to cover its international accounts and thus covers all aspects of foreign trade, from goods and services to investment flows among countries.
So far, foreigners have been quite happy to sell to Americans cars, computers and clothing, and accept dollars in exchange. That money then is invested in the U.S. stock market, corporate bonds and Treasury securities.
Analysts worry the deficits are now so high that foreigners could at some point lose their appetite for dollar-denominated investments. That could lead to a rush for the exits, plunging the value of the dollar and stock prices while causing interest rates to soar.
Under that scenario, the higher interest rates would act as a severe drag on the U.S. economy. They would force up borrowing costs, for example, for home mortgages, auto loans and investment spending that businesses need to expand.
Analysts noted that the current account deficit is a record in dollar terms and in relationship to the total economy: 5.7 percent of the gross domestic product last year, compared with 4.8 percent in 2003.
"We can't keep running current account deficits at these levels. It means we are borrowing nearly 6 percent of our GDP from the rest of the world and the gap is growing," said David Wyss, chief economist at Standard & Poor's in New York.
The United States ran up a $162 billion deficit in goods with China last year, the largest ever with any country.
Local journalism is essential.
Give directly to The Spokesman-Review's Northwest Passages community forums series -- which helps to offset the costs of several reporter and editor positions at the newspaper -- by using the easy options below. Gifts processed in this system are not tax deductible, but are predominately used to help meet the local financial requirements needed to receive national matching-grant funds.
Subscribe now to get breaking news alerts in your email inbox
Get breaking news delivered to your inbox as it happens.
---