Sports
Attitude adjustment
Fri., March 18, 2005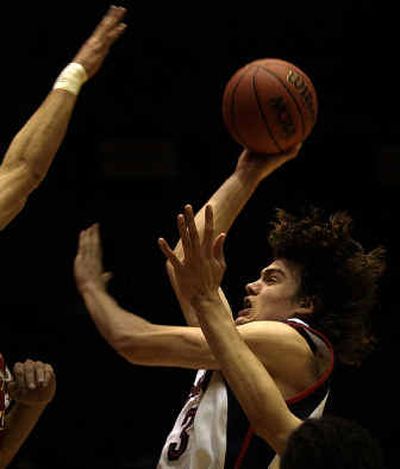 TUCSON, Ariz. – There will be better nights for the Gonzaga Bulldogs in this year's NCAA men's basketball tournament.
Either that, or there will only be one more.
Because there is little chance the third-seeded Zags will make it past Saturday's second-round matchup against Texas Tech unless they find a lot more inspiration and consistency than they showed in squeezing past 14th-seeded Winthrop in Thursday's first-round game at McKale Center.
Blown back on their heels early by the Eagles' defensive fervor and terrific outside shooting, the Bulldogs needed a second-half attitude adjustment and 27 points – including one game-changing 3-pointer – from Adam Morrison to sneak away with a 74-64 win that pushed them into Saturday's 10:10 a.m. round-of-32 showdown against the sixth-seeded Red Raiders (21-10), who knocked off UCLA 78-66 in Thursday's first-round nightcap.
After watching his team avoid a major scare, extend its winning streak to 13 games and move on, GU coach Mark Few admitted his Zags (26-4) "played a little tight there at the start; a little reactive."
But he said that was to be expected, considering the lack of NCAA experience on his roster. And he added that Winthrop (27-6) was able to exploit the Bulldogs' timorous approach with its quickness, athleticism and outside shooting.
The Big South Conference champions got 22 points from sophomore guard Torrell Martin and knocked down 10 3-pointers in keeping pace with the Zags until the final 4½-minutes. Shortly after that, however, Morrison piggybacked his huge 3-pointer onto a trey by Derek Raivio to give GU a 66-60 lead, and the Eagles were finished.
Morrison's drained his long jumper from deep on the right wing with the shot clock winding down. The 6-foot-8 sophomore had bounced into the lane for a shot just a moment earlier, but had the ball knocked away.
Fortunately for the Zags, Morrison was able to bat the loose ball out to Raivio, who gave it back and set his teammate up to be the hero.
"That possession was huge," said Winthrop coach Gregg Marshall, who thought James Shuler had Morrison covered nicely out of the Eagles' matchup zone until he dribbled to the wing. "In the interchange from James to Chris (Gaynor), we didn't communicate well. Neither one of them had him for that split second, and that's all he needs."
Morrison, who made 12 of 19 basket tries and scored 17 of his points after intermission, said his first opportunity went awry when he tried to ad-lib the play that had been called. The idea, he explained, was to have him swing the ball to Raivio in the right corner.
"Of course, I saw just a little bit of daylight, so I wanted to shoot it, like always," he said, "But it got blocked, so I tipped it back to Derek. Luckily, he got it back to me and I took it – but I probably should have passed it to him first."
Raivio, who had hit an important 3-pointer 60 seconds earlier to put GU up 63-60, said he was open in the corner.
"But Adam, sometimes, has just one vision out there," he added. "and that's the basket. That's OK, I'm used to it. We've worked off each other like that all year long."
After Morrison's big shot, the Bulldogs got a pair of free throws from J.P. Batista and six straight from Ronny Turiaf in the final two minutes to douse any lingering comeback hopes Winthrop might have had.
It was a reversal of fortune for both of GU's big men, who had struggled on the offensive end of the court most of the night.
Batista looked lost throughout most of the first half, when he made just 2 of 6 shots, and he spent the early part of the second on the bench before coming back to score six points during a late 15-7 that put the Zags ahead 60-56 and then assisting on Raivio's crucial 3-pointer.
The 6-foot-9 Brazilian finished with 14 points, while Turiaf added 13 points, despite being double- and triple-teamed inside and taking only four shots.
Few said he was proud of the way both Batista and Turiaf, who had 13 rebounds and four blocked shots to go along with his points, responded to their offensive frustrations.
"People don't realize that this is J.P.'s first (NCAA) experience," he said. "He was one of those guys who was a little antsy at the start, but then he settled down, got into his comfort zone again and delivered."
Of Turiaf, who had only one field goal and missed four first-half free throws, Few added, "The hardest thing to do is flip the switch and start playing when you're not playing very well. Ronny missed all of those first-half free throws and was just kind of a step behind everything, but then he started playing. He had a lot of big blocks, and he rebounding was great, too."
Batista, who scored 10 of his points in the second half, admitted to being a little nervous early on – but said he wasn't alone.
"We were all playing bad, and they were playing good, but they were only up by two (35-33) at halftime," he said. "Then, in the second half we got our minds right and everybody got into a little better rhythm."
The Bulldogs, who now own the longest winning streak in the nation, made only five of their first 14 shots and trailed 16-10 less than eight minutes into the game. Winthrop made five of its first nine field-goal tries – including three from beyond the 3-point line.
"They were getting all the loose rebounds, all the loose balls and getting all the wide-open shots," Morrison said of the Eagles, who lost for the first time in 19 games. "I think they outplayed us in the first half, but down the stretch we turned it up a notch and outplayed them."
Despite all of its flaws, Few said it was "a great win for us."
"That was a tough, hard-fought battle and I think we all knew that going in," he added. "There's a reason (Winthrop) won 27 games. Those guards are quick and athletic, and when they're shooting it like they were, they're a handful.
"And I thought this group did a good job of kind of getting through the opening NCAA game jitters. To get through this one – get it under our belts – feels great. And, hopefully, we'll play that much better in the second round."
Local journalism is essential.
Give directly to The Spokesman-Review's Northwest Passages community forums series -- which helps to offset the costs of several reporter and editor positions at the newspaper -- by using the easy options below. Gifts processed in this system are not tax deductible, but are predominately used to help meet the local financial requirements needed to receive national matching-grant funds.
Subscribe to the sports newsletter
Get the day's top sports headlines and breaking news delivered to your inbox by subscribing here.
---