Sports
Pineiro to test shoulder
Fri., March 18, 2005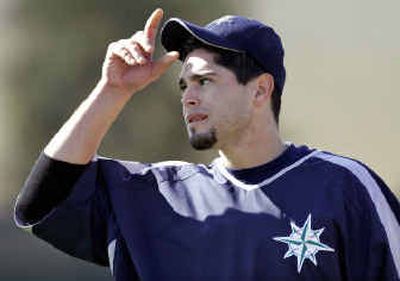 PEORIA, Ariz. – The next important step in getting Seattle Mariners pitcher Joel Pineiro ready for the season will occur today.
Pineiro will throw about 45 pitches from the bullpen mound this morning and, if he comes through without pain in his right shoulder, could be cleared to pitch in an exhibition game.
Pineiro came down with muscle stiffness and soreness in the shoulder the day after his first and only exhibition game March 4. The Mariners say the shoulder problem isn't related to the strained elbow that kept Pineiro out the last two months of last season.
Pineiro threw 30 pitches in the bullpen Wednesday morning and reported no pain. He also played catch Thursday morning with no problems.
If Pineiro comes through today's session OK, he could pitch in an exhibition game early next week. That appearance could come in the minor league camp because the team can control the situation better as opposed to a major league exhibition.
Ibanez will play where he's asked
Raul Ibanez isn't sure what role he'll fill during the regular season for the Seattle Mariners.
Does he jog out to left field every now and then? Maybe grab a glove and handle the bag at first base? Or will he be the designated hitter, taking the lineup spot left by the retired Edgar Martinez?
Doesn't matter, Ibanez said.
"I don't know exactly what's going to be asked of me," he said. "I'm just playing baseball. Whatever's asked, that's what I'll do. If they ask me to play in the field, I'll do it. If they ask me to DH, I'll do that, too."
Grab another glove
Willie Bloomquist is adding another element to his game – a catcher's mitt.
The Mariners want to make the versatile Bloomquist their emergency catcher, a duty that would be needed only if Miguel Olivo and Dan Wilson go down in the same game. Bloomquist has played every position except catcher and pitcher in spring games.
Guardado update
Closer Eddie Guardado, who threw just one inning in a B game before he pulled a hamstring muscle, also played catch Thursday without problem and will pitch in the bullpen this morning.
He hasn't been on a mound since a one-inning outing on March 7.
Local journalism is essential.
Give directly to The Spokesman-Review's Northwest Passages community forums series -- which helps to offset the costs of several reporter and editor positions at the newspaper -- by using the easy options below. Gifts processed in this system are not tax deductible, but are predominately used to help meet the local financial requirements needed to receive national matching-grant funds.
Subscribe to the sports newsletter
Get the day's top sports headlines and breaking news delivered to your inbox by subscribing here.
---