Sports
Gonzaga faces the future
Tue., March 22, 2005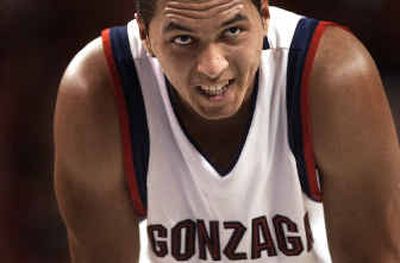 Mark Few went into the 2004-05 college basketball season knowing his young Gonzaga Bulldogs were in desperate need of experience. And, man, did they get it.
From a couple of early season upsets of national powers Georgia Tech and Oklahoma State to a seventh-consecutive appearance in the NCAA Tournament, the Zags saw about all there is to see on the Division I level, short of advancing to a Final Four.
"They've had a wonderful, wonderful ride," Few, the Bulldogs' sixth-year head coach, said in the wake of Saturday's 71-69 loss to Texas Tech in the second round of the NCAA's Albuquerque Regional in Tucson, Ariz. "They got a chance to experience everything – a league championship, a league tournament championship, some huge non-league wins. This team has improved as much as any I've ever had. It's been a wonderfully rewarding season."
But now Few and his returning players must put the memories of this year's 26-5 season, which included a sixth-straight West Coast Conference regular-season title, a No. 10 ranking in the final Associated Press Top-25 poll of the year and a No. 3 seed in this year's NCAA Tournament, behind them and concentrate on building on all of the positive things they've experienced.
It won't be easy, considering the graduation losses of senior co-captains Ronny Turiaf and Brian Michaelson and the uncertain status of sophomore forward and leading scorer Adam Morrison. But there was no shortage of optimism following the season-ending loss.
"We've got a lot of good young talent coming in," sophomore point guard Derek Raivio said. "And when you combine that with what we've got coming back, we're going to be tough again next year. We're going to have a lot weapons again. It's going to be interesting to see how we develop and progress."
Added junior center J.P. Batista: "I feel great about next year. Hopefully, Adam Morrison will come back for his junior year and we'll be just as good as we are – maybe even better."
Morrison, who averaged a team-best 19 points a game, has drawn the interest of NBA scouts, and there is speculation he might declare for the NBA draft this summer. But the 6-foot-8 scoring wonder isn't talking like someone who is about to bail on the program.
"Obviously, we're all looking forward to next year," Morrison said following the unexpected loss to Texas Tech. "But at the same time, we don't want to have the attitude 'There's always next year.' I guarantee you, us guys are going to be working hard over the summer and getting ready to go next year, because this feeling doesn't feel very good."
When asked what he planned to do when he got back from the NCAA Tournament, Morrison added, "Take a week or so off, get my grades back in line and sit back and relax a little bit. Then I've got some things I've got to work on this summer to help this team."
Morrison, Batista, Raivio and 6-7 junior guard and defensive stopper Erroll Knight will comprise the quartet of returning starters Few will have at his disposal when training camp opens next fall.
Those four, along with sixth-man Sean Mallon, a savvy 6-9 sophomore forward, accounted for almost 70 percent of GU's scoring this year. And freshmen David Pendergraft and Pierre Marie Altidor-Cespedes made solid contributions, as well.
"The future of this program is unbelievably bright," said Michaelson, a seldom-used shooting guard, who Few considers one of the best leaders he's had come through his program. "They've got incredibly talented players coming back and coming in, and this program is in such great hands with Coach Few and his staff.
"I wish I had another year to be with them, but it's going to be fun watching them next year, anyway. I'm going to be their biggest fan."
To its large cast of returning regulars, GU will also add the services of highly-regard freshman Josh Heytvelt, a 6-11 forward from Clarkston, who redshirted this winter, and regain those of Nathan Doudney, a 6-4 junior shooting guard, who played in only seven games before suffering a season-ending knee injury.
And the incoming recruiting class of Mamery Diallo, Larry Gurganious and Jeremy Pargo has a chance to become something special.
Diallo, a 6-9, 235-pounder from Midland (Texas) Junior College should have an immediate impact. Gurganious is a versatile 6-5 wing, who can score in a variety of ways. And Pargo, 6-2 combo guard who has yet to qualify academically, is thought to have NBA-like talent that could give him a safe – and rich – place to land, should he not make it into college.
The big downside is the loss of Turiaf, who became one of the most recognizable faces and likeable personalities in the history of GU basketball during his splendid four-year career. The 6-10, 249-pounder from LeRobert, Martinique, was named the WCC Player of the Year and finished the season averaging 15.9 points and a team-high 9.5 rebounds.
Turiaf closed his career ranked No. 4 on both GU's all-time scoring list (1,710 points) and all-time rebounding list (846). He will leave as the school's all-time leader in free throws made (632) and its No. 2 shot blocker (175).
"We lose a key guy in Ronny," admitted Batista, "but we have a really young guy coming in in Josh Heytvelt, who is going to bring a lot of athleticism to the post. We're all looking forward to the summer so we can develop and get even better as a team.
"Everybody is going to work their butts to get better, because (losing to Tech) was not a good feeling and we don't want to go through it again."
Even Turiaf, who passed on a chance to leave school early for the NBA, raves about the future.
"We have great leadership coming back," he said. "We have Derek, we have Adam, we have Erroll and we have Nathan, who's going to come back from his (knee) surgery and just start draining 3s in people's faces. It's going to be awesome to see.
"With me gone and with Brian gone, of course, it's not going to be the same. But we said the same thing about Blake (Stepp), Cory (Violette), Kyle (Bankhead), (Rich) Fox and Tony Skinner when they left last year. And look how everybody picked it up for us this year."
For Few, the loss of Turiaf will be bittersweet: he loses one outstanding player but gains an even better friend.
"You end up creating quite a bond with a kid like Ronny Turiaf," Few explained. "The guy's been incredible. He's an incredible ambassador for college basketball, because he's a great student and a tremendous person – to everybody, in every walk of life.
"He made the most selfless move you could ever make, turning away millions of dollars to come back and play college basketball. It'd be nice if other people were doing that, too, because I think he enjoyed the ride and savored it. This program owes him, and I owe him, personally. And now we'll move on to our next phase just like I have with all of our other great players, where now we become friends.
"Now we can really have some fun."
Local journalism is essential.
Give directly to The Spokesman-Review's Northwest Passages community forums series -- which helps to offset the costs of several reporter and editor positions at the newspaper -- by using the easy options below. Gifts processed in this system are not tax deductible, but are predominately used to help meet the local financial requirements needed to receive national matching-grant funds.
Subscribe to the sports newsletter
Get the day's top sports headlines and breaking news delivered to your inbox by subscribing here.
---