Sports
Just don't let him slide
Thu., March 24, 2005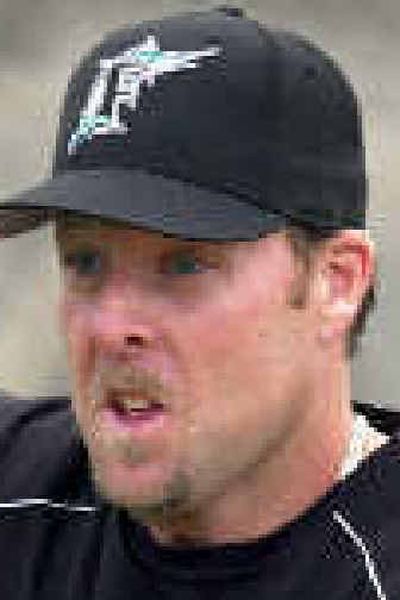 If the Minnesota Twins struggle early this season, catcher Mike Redmond has just the thing to get them rolling again: nude batting practice.
Seems the former Gonzaga Prep and Gonzaga University star warmed up wearing only turf shoes, socks and batting gloves to spark his former team, the Florida Marlins, out of various slumps during their World Series run in 2003.
"It worked for the Marlins; I think it can work for us," Twins center fielder Torii Hunter told the St. Paul Pioneer Press. "But I don't think I'm going to go out and watch."
Thou shall not recant
Columnist Scott Ostler of the San Francisco Chronicle urged readers to burn their copies of "Juiced" after Jose Canseco, who defended the use of steroids in the book, changed his mind at last week's congressional hearing.
Ostler wrote, "Canseco repudiating his book is like God saying, 'You know those Ten Commandments? Look, I wrote that stuff a long time ago, and the publisher delayed distribution of the stone tablets. I've changed my mind. I mean, if your neighbor's wife is really hot, covet away.' "
He knows an Evel Way
Last summer at the X Games, skateboarder Danny Way introduced the mega ramp, on which he won the gold medal by soaring over a 70-foot gap to another downhill ramp leading to a quarterpipe incline, from which he caught more big air.
Now he will attempt to jump across the Great Wall of China in late May, hoping also to set world records for distance, height out of the quarterpipe and speed on a skateboard.
After that? Way reportedly has his eye on the Grand Canyon.
See you at Ezzy
Effective April 1, a round at Pebble Beach will cost $425. That works out to nearly $24 a hole or, if you shoot, say, an 85, exactly $5 a stroke.
Get that on a jersey
Sportswriters have to be hoping Kalaika Kahoohalahala never makes it big, simply because he has one of those names that are difficult to spell correctly on deadline. The Maui (Hawaii) High pitcher is pretty good: He's coming off a five-hit win over rival Lahainaluna.
As if it never existed
Columnist Mike Downey of the Chicago Tribune implied that because Mark McGwire chose not to talk about the past during last week's congressional hearing, baseball fans should do likewise:
"I think we can all still agree, at least, that 1998 was a wonderful year for baseball when McGwire hit all of those home runs to make us cheer and. … Oops, I did it again. My apologies, Mark. I didn't mean to speak of your past, and I will never bring it up again."
Eat your heart out
Shaquille O'Neal, who is now featured on a Wheaties box, said if TNT's Kenny Smith were featured on a cereal box, "He'd be on one of those where you find 20 boxes for 29 cents that have been expired for two years."
He's on expanded, expanded cable
Miami guard Damon Jones, to NBA TV: "What, I'm chopped liver? I'm doing NBA TV and Shaq is on TNT. I see how it is."
Deserving of the gold
A 68-year-old man who had fallen through the ice on a pond near Berlin was finally rescued after several unsuccessful attempts when a police officer with discus-throwing experience scored a direct hit with a fling of the life ring.
"It has been years since I last threw a discus," officer Andreas Bunkus, 38, was quoted as saying by ananova.com. "I'm glad to see I've still got what it takes."
Added the Seattle Times' Dwight Perry, "As for the rescued man, we assume he's just happy the department's javelin champ happened to be off duty."
Local journalism is essential.
Give directly to The Spokesman-Review's Northwest Passages community forums series -- which helps to offset the costs of several reporter and editor positions at the newspaper -- by using the easy options below. Gifts processed in this system are not tax deductible, but are predominately used to help meet the local financial requirements needed to receive national matching-grant funds.
Subscribe to the sports newsletter
Get the day's top sports headlines and breaking news delivered to your inbox by subscribing here.
---