News > Business
Alternative energy
Fri., March 25, 2005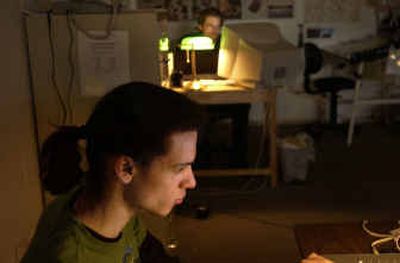 SANDPOINT – Inspiration often strikes college students after midnight. It hit Zach Hagadone and Chris De Cleur in the wee hours of the morning, when the two pals were putting together the next day's edition of the Coyote, Albertson College's student newspaper.
"Three of us were in the Coyote's office," Hagadone said. "We had some criticisms of the (Idaho) Statesman, and we had all just read a book called 'The Chain Gang.'"
The book's subtitle was "One newspaper against the Gannett Empire."
The friends figured that starting a paper to compete against Idaho's largest-circulation daily newspaper, which happened to be owned by Gannett Co. Inc., was beyond their grasp. But a niche publication, focused on the arts and filled with independent voices, seemed entirely feasible.
The idea took root last fall. In late December, Hagadone, a Sandpoint native, and De Cleur published the first edition of the Sandpoint Reader.
The alternative weekly presents the news with an irreverent edge. Its 16 pages are filled with quirky takes on local events, world news commentary, an arts calendar, music and book reviews. About 2,000 copies of the free tabloid are distributed every Thursday at gathering spots in North Idaho.
Hagadone, 24, is the publisher. He writes articles, edits freelancers' copy, and draws illustrations for each edition. And no, he's not related to North Idaho media and tourism magnate Duane Hagadone, a question he frequently gets asked.
De Cleur, 22, is the editor. He sells advertising and designs each edition of the Sandpoint Reader.
Publishing a college paper was good training for their new role, the business partners said.
"We weren't intimidated at all by the process," Hagadone said.
The two friends estimate that they spend about 80 hours on the tabloid each week, including frequent all-nighters during the 24 hours before publication. De Cleur moonlights on the weekends as a bartender for extra income. Hagadone is looking for a second job.
"If we kept track of how many hours we work, we'd be very depressed," Hagadone said. "But this is positively the best lifestyle anyone could have if they're interested in writing and influencing public opinion."
"The Aspenization Misnomer" is the title of Hagadone's March 3 cover story. Many of the paper's articles have touched on growth and development issues in Bonner County.
"There's a real concern in Sandpoint with retaining the small-town charm, while allowing for the inevitable influx of people coming here," Hagadone said.
Lighter fare includes a column dispensing marital advice, and a music review of a group called "Handsome Boy Modeling School."
The Sandpoint Reader published its 15th issue this week. Local reaction has been overwhelmingly positive, Hagadone and De Cleur said. Regular readers stop by the Sandpoint Reader's downtown office to chat.
"Most of the time, if you walk into a newspaper office, you won't be able to talk to the editor and the publisher," De Cleur said.
The dimly lit office contains four desks, a battered couch, and a coffee pot. Hagadone's grandmother owns the building, and cut the business partners a deal on the rent.
Jane Fritz, an advertising saleswoman who works strictly on commission, supplied her own desk. "What they're doing is really great," she said. "It's good to be part of a new voice, an alternative voice, in Sandpoint."
De Cleur raised the start-up funds for the Sandpoint Reader from a retired businessman he met while working at a Caldwell golf course. He's also crafting a growth strategy for the paper.
When the Sandpoint Reader consistently reaches $2,000 of advertising revenue for each issue, Hagadone and De Cleur plan to add four pages and more color to the product. But both partners are thinking conservatively.
"It's such a seasonal market," De Cleur said. "We'll have to go through the summer months like a squirrel, saving up for the winter months."
Local journalism is essential.
Give directly to The Spokesman-Review's Northwest Passages community forums series -- which helps to offset the costs of several reporter and editor positions at the newspaper -- by using the easy options below. Gifts processed in this system are not tax deductible, but are predominately used to help meet the local financial requirements needed to receive national matching-grant funds.
Subscribe now to get breaking news alerts in your email inbox
Get breaking news delivered to your inbox as it happens.
---