News > Spokane
County tweaks rules for espresso stands
Fri., March 25, 2005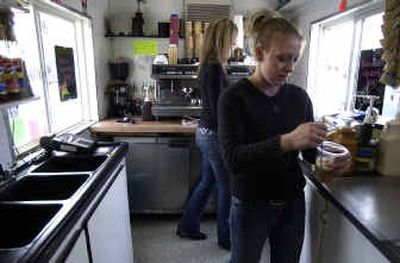 After several months on the back burner, the debate over how to regulate espresso stands percolated Thursday, with the Spokane County Board of Health coming to a resolution that hardly changes current practices.
The agreement is less stringent than what the Spokane Regional Health District staff had originally recommended, but Health Officer Dr. Kim Thorburn said she was glad to finally have the rules clarified.
"We're not here to put businesses out; we're just here to ensure the food is safe," she said.
To protect public health safety, the district began cracking down on espresso stands during annual food inspections last year. For years, such businesses were classified as "mobile units," but the district wanted to change the classification to "limited restaurants," requiring the stands to obtain building permits.
That prompted an outcry from the 15 or so businesses in Spokane County that aren't connected to public sewer and water lines, which is a building-permit requirement.
The new rules say the best practice is to connect to water and sewer, but they allow businesses to use clean water from holding tanks if hooking up is too expensive. Likewise, businesses can dump wastewater into tanks rather than tap into sewer lines. The district will determine with the businesses whether a project is cost prohibitive.
The businesses also can apply for a waiver to be granted even greater leniency by the district.
That should be good news for Marcie Kjosa, who said it would cost her $16,000 to hook up her business, Spanky's Espresso, to sewer and water lines.
"Our average sale is $3," Kjosa said Thursday morning. "It takes an awful lot of those to cover $16,000."
Kjosa thought she was going to have to hook up – or shut down – by September. But with the rules adopted Thursday afternoon, she'll likely either need to install holding tanks on the premises of her Pines Road establishment or apply for a waiver to continue operating how she does now.
Currently, Spanky's brings in clean water in small tanks each day and employees dump the wastewater in the sinks of a nearby bingo hall. Kjosa said she's been operating that way for 10 years and has never had a food safety problem.
The district's staff had recommended that the water holding tanks be installed underground, but board members said that would hurt businesses who lease space, if landlords don't want the ground torn up.
The staff had wanted the tanks to hold at least 35 gallons – the minimum amount employees would need to make coffee, sanitize equipment and wash their hands hourly, they said.
"When they do not have enough water on premises to wash their hands, they do not wash their hands. They skip it," David Swink, the district's director of environmental health, told the board.
Instead, the board changed the wording in the rules so that businesses need only have tanks that hold enough water "sufficient for daily operation." Board member Dick Behm worried that if the tanks were too big, the clean water wouldn't be fully replaced every day causing businesses to mix stale and fresh water.
Swink argued that water doesn't "spoil."
The district's rules are stricter than the environment in North Idaho, where the Panhandle Health District doesn't license or inspect espresso stands.
"As long as they do just espresso and baked goods, it's considered low risk," said Dee Kastorff, of that district's environmental health department.
Some Idaho cities, however, impose their own regulations. For example, Post Falls requires that all new espresso stands be hooked up to public sewer and water systems.
Local journalism is essential.
Give directly to The Spokesman-Review's Northwest Passages community forums series -- which helps to offset the costs of several reporter and editor positions at the newspaper -- by using the easy options below. Gifts processed in this system are not tax deductible, but are predominately used to help meet the local financial requirements needed to receive national matching-grant funds.
Subscribe now to get breaking news alerts in your email inbox
Get breaking news delivered to your inbox as it happens.
---