Sports
GU assistant Grier will interview at LMU
Fri., March 25, 2005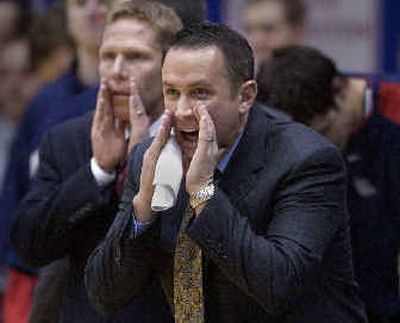 Gonzaga University men's basketball assistant Bill Grier will formally interview for the vacant head coaching job at Loyola Marymount next week.
According to sources close to the LMU job search, Grier will meet with Lions athletic director Dr. William Husak and other university officials during an on-campus interview on Monday.
Grier, 41, would not comment publicly on the interview, but said he is still "very interested" in looking into the LMU job, which opened up earlier this month when Steve Aggers was fired.
"They have a great campus there," said Grier, who has been a GU assistant for the past 14 seasons. "And you're sitting on a recruiting hotbed in the Los Angeles area."
Aggers said much the same thing when he left Eastern Washington University for the bright lights of L.A. in April 2000. But in his five seasons at LMU, Aggers won 55 of 147 games.
The Lions finished 11-17 overall and in last place in the West Coast Conference this winter after lofty preseason expectations were trashed by injuries to three starters. Aggers lost junior forward Adoyah Evans-Miller to a chronic back problem seven games into the season and, during the heart of the WCC schedule, was forced to play several games without sophomore guard Brandon Worthy and sophomore forward Daryl Pegram.
"Our staff (at Gonzaga) thought Steve did a great job this year," Grier said. "But the injuries just killed him."
Husak, who is heading the search to replace Aggers, was out of town on Thursday and could not be reached for comment. But LMU assistant athletic director John Schaffer confirmed Grier will interview next week.
Shaffer said Husak has already interviewed four candidates – including former Denver Nuggets head coach Jeff Bzdelik, who was considered to be Husak's top choice but has since taken his name out of consideration – and plans to interview three others, including Grier.
According to Shaffer, the other candidates who have interviewed are Brian Priebe, who has been a member of Aggers' staff for the past 10 seasons; University of Arizona assistant Rodney Tention; and Fresno City College head coach Vance Walberg.
Grier and former Stanford assistant Russell Turner, who is an assistant under Mike Montgomery for the NBA's Golden State Warriors, are scheduled to interview next week, along with another candidate who has asked LMU officials to not release his name.
Shaffer said the university, which is in the middle of a major fund-raising campaign that will be used to build a new athletic complex and remodel the Lions' Gersten Pavilion, hopes to have Aggers' successor named prior to the NCAA's Final Four.
Local journalism is essential.
Give directly to The Spokesman-Review's Northwest Passages community forums series -- which helps to offset the costs of several reporter and editor positions at the newspaper -- by using the easy options below. Gifts processed in this system are not tax deductible, but are predominately used to help meet the local financial requirements needed to receive national matching-grant funds.
Subscribe to the sports newsletter
Get the day's top sports headlines and breaking news delivered to your inbox by subscribing here.
---