News > Business
Shareholders approve Sears-Kmart deal
Fri., March 25, 2005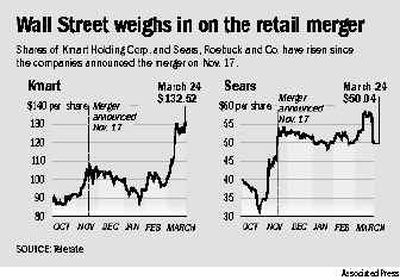 HOFFMAN ESTATES, Ill. — Kmart bought Sears, Roebuck and Co. for $12.3 billion on Thursday, combining two faded retail icons whose sales have been declining for years into the nation's third biggest retailer with $55 billion in annual sales.
Shareholders signed off on the deal in separate meetings at Sears' suburban Chicago headquarters, which now becomes the base for a company that adopts the name Sears Holdings Corp. It trails only Wal-Mart Stores Inc. and Home Depot Inc. among U.S. retailers.
The votes capped off the stunning proposal unveiled four months earlier by Kmart Holding Corp. Chairman Edward Lampert, the billionaire hedge-fund manager who was the largest individual shareholder in each company.
Lampert, who helped Troy, Mich.-based Kmart turn a $1.1 billion profit last year with the aid of real-estate transactions, denied he has a big sell-off in mind for Sears assets and said the new company "goes beyond being an investment."
"It's an opportunity to transform two companies that once were great — to transform them into a great company relative to the 21st century," he told reporters at a news conference after the meetings.
"I think there's a presumption that you're going to see a lot of store closings. That's a wrong presumption," Lampert said. "Our program is to keep as many stores open as we can."
Contending he has been unfairly labeled as a sell-off specialist, he also denied the company has put the Lands' End casual clothing chain on the market, as an industry publication reported earlier this month.
"Lands' End isn't for sale," the 42-year-old Lampert said. "It's a great American brand, and I think it's a brand that we could run very, very well."
The merger also brings together some other powerful brands that have succeeded while their companies' retail results have sagged, among them Craftsman tools, Kenmore appliances and, from Kmart, Martha Stewart, Jaclyn Smith and Joe Boxer.
Employees have been concerned about widespread job cuts when the new company moves to close stores and convert hundreds of Kmart stores this year to the new Sears Essential convenience-oriented format. But officials said that while some layoffs will be announced by the end of April from among the 5,000 people working at the two firms' headquarters, the vast majority of the work force of 400,000 will keep their jobs as Sears Holdings focuses on improving retail.
"We are determined to be successful," Lampert said. "We will protect the assets of this company."
The deal closed shortly after the back-to-back shareholder meetings — one tame, the other rancorous.
Sixty-nine percent of Kmart shareholders voted to approve the deal in results announced at a sparsely attended session lasting five minutes. About two hours later, CEO Alan Lacy disclosed that Sears shareholders also had voted 69 percent in favor of the deal — but he had to endure shouting and insults by retired and former Sears employees upset about the 119-year-old retailer's acquisition by Kmart.
"This is a sad and dark day for Sears Roebuck," Doug Liggett, formerly a Sears auto center manager, said at the meeting. "It is unbelievable that Kmart, two years out of bankruptcy, would be strong enough to purchase Sears, a company in business for over a century."
Some also voiced criticism that Lacy will pocket about $27 million as a result of the merger.
"Sears Holdings intends to be a great company and a great retailer," said Lacy, responding to their angry complaints and fears the department-store company's assets would be sold off to raise cash.
The deal furthers Sears' strategy of moving away from shopping malls to the more profitable off-mall sites that Kmart stores typically occupy.
But since each firm has struggled on its own, it remains to be seen whether the combined company can manage to keep up with thriving competitors.
Lampert and Lacy, who will be CEO and vice chairman under Lampert at Sears Holdings, say the merger should save $500 million over the next three years.
Retail consultant Howard Davidowitz expects Lampert to take the same approach at Sears to generate cash that he did at Kmart: sell assets, cut costs, reduce inventory and raise prices.
"He recognized Kmart was a cadaver and he monetized it," Davidowitz said.
"For the short term, it's very exciting. But for the long term, watch out," he said of the strategy, forecasting a "bleak outlook" for Sears unless the move away from malls is successful.
Independent retail analyst Richard Hastings thinks that by maintaining Sears' strength in appliances and adding Kmart's Martha Stewart tag, the new company can prosper.
"It's about profitability, it's not about sales," he said.
Local journalism is essential.
Give directly to The Spokesman-Review's Northwest Passages community forums series -- which helps to offset the costs of several reporter and editor positions at the newspaper -- by using the easy options below. Gifts processed in this system are not tax deductible, but are predominately used to help meet the local financial requirements needed to receive national matching-grant funds.
Subscribe now to get breaking news alerts in your email inbox
Get breaking news delivered to your inbox as it happens.
---