News > Spokane
Families gather for Easter meal
Mon., March 28, 2005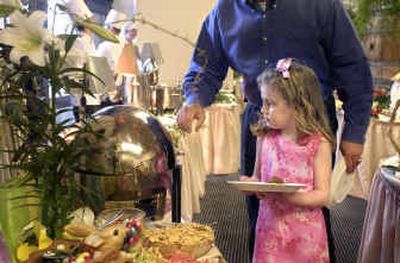 The evidence lingered on his lips.
Dark chocolate ringed Isaiah Labay's mouth, a mouth that hadn't stopped smiling all morning. The Spokane boy has celiac disease, a condition that can cause death if Isaiah eats even a trace of gluten, a mixture of proteins that can be found in, well, just about everything.
So it would seem that the Davenport Hotel's Easter brunch, where guests are tempted by everything from prawns to chocolate-dipped pineapple, wouldn't be the place to bring this growing 7-year-old. It turned out to be the perfect place, said his mom Lynda-Mary Labay, 44.
"I usually go to restaurants and they give me this glazed look" when she tells servers Isaiah has celiac disease, she said. "(The Davenport) made a special event for him."
They topped a wheat-free dessert with a whipped cream made of nondairy mascarpone cheese. They served him chicken and rice that was free of dangerous spices and sauces. And, knowing he'd see other diners dipping fruit into a fountain of milk chocolate, which is off-limits to Isaiah, they brought him a fondue pot of gooey dark chocolate instead.
The Labays were one family of hundreds who enjoyed brunch on Easter Sunday in the Spokane-Coeur d'Alene area. Restaurant employees came to work as early as 4 a.m. to prepare for the crowds and planned to toil hours after the last guests loosened their belt buckles. While Easter, the holiest of the Christian holidays, is traditionally a day of celebration of Christ's rebirth, many families take advantage of the fact that everyone's together and opt to go out for the big meal.
Angela Simpson, 33, attended church Sunday but not everyone in her party did. She said brunch was a nice way to bring the whole family together, regardless of where they were in the morning.
"It is our new tradition," Simpson said.
The mother of three soon will be a mother of six, when she adopts three children from Haiti. She predicts they'll be blown away by the never-ending meal next year.
"It will be complete sensory overload, I'm sure, because there's no food in Haiti," Simpson said.
Stacey Morrison's family skipped church and "came straight for the food," she said.
"We're an interdenominational group, but we are brunch aficionados," said her cousin, Lisa Stewart.
The family came from as far away as Switzerland and Missouri, but not just for brunch. They also wanted to meet Morrison's 5-week-old son, Logan.
Randolph Hokanson, 89, also came from out of town.
"I'm so impressed with this, I'm going to tell all my Seattle friends to come over here," he said.
As diners feasted on prime rib, sushi and roasted turkey, employees hurriedly refilled coffee cups and serving trays.
"The trick is to make the brunch line full so people at the end of the day don't feel like they're getting the leftovers," said Matthew Young, the Davenport's executive chef. "At end of the day I'd rather have a full line than one that looks shabby."
That means the hotel's evening crew usually eats "pretty darn well," he said. While some of the food could be salvaged for soups and sandwiches, the Davenport doesn't recycle leftovers.
"We don't believe the people are coming to the Davenport for that," Young said.
The chefs at Beverly's at The Coeur d'Alene Resort said the restaurant expected to go through six legs of lamb, 150 pounds of prawns, 175 pounds of Dungeness crab, 25 dozen oysters, 32 gallons of orange juice and six cases of champagne Sunday. Those figures don't include the food at the resort's other restaurant, Dockside, which fed about three times as many people.
One young diner was almost knocked down – literally – by the meal at Beverly's. As a chef added Grand Marnier to a crepe pan and lighted it on fire, the girl's eyes grew as big as Easter eggs and she stumbled backward over her Mary Janes.
Children were especially delighted by the continually flowing chocolate fountain and the brightly colored eggs that chefs cracked open to make omelets.
Despite the high pressure of the day, Beverly's Executive Chef Jim Barrett said there's never been a major disaster, like an order of champagne arriving flat or a shipment of hamburger arriving instead of ham.
"It's one of the biggest events of the year, so we're all on top of this," he said. "It would be really bad if something happened."
Local journalism is essential.
Give directly to The Spokesman-Review's Northwest Passages community forums series -- which helps to offset the costs of several reporter and editor positions at the newspaper -- by using the easy options below. Gifts processed in this system are not tax deductible, but are predominately used to help meet the local financial requirements needed to receive national matching-grant funds.
Subscribe now to get breaking news alerts in your email inbox
Get breaking news delivered to your inbox as it happens.
---