Sports
No quit in Spiezio
Mon., March 28, 2005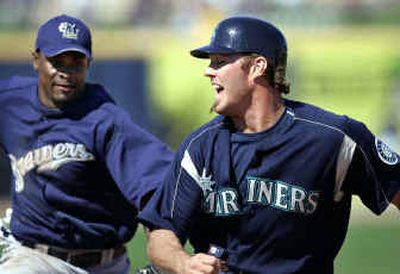 Scott Spiezio stared into his locker, talking quietly, working through his emotions.
"I'm probably done," he said. "I was a contributing force, but not now. They're better off without me.
"They're close to being real, real good. I need to just let them run.
Spiezio is talking about a band – SandFrog – he and friends began in 1996. They are in the Midwest, he is in Arizona at the moment and will be on the West Coast once the season starts.
After a time, Spiezio looks up and smiles sadly. He is asked if he could say the same thing about the Seattle Mariners.
"Probably," Spiezio said. "I was a horrible player last year. I'm not that player. If that was the player I was, I'd quit the game."
Spiezio hasn't quit. Not on baseball, not on the Mariners, not on his life – and all three sorely tested him in 2004.
On the field, his year began on the disabled list with back problems that initially were considered career-threatening. He overcame that, batted .333 for Seattle in April and then seemed to disappear.
"I had a pretty good run the first few weeks of the season. Then I strained an oblique muscle and that was a big setback," Spiezio said. "I had problems throwing, problems hitting, problems just running.
"I never felt good the rest of the season. And I'd never been through anything like that."
Off the field, his marriage was collapsing and his children were caught in the middle.
"Everyone has stuff to deal with in life, on and off a baseball field. You deal with it. I don't talk about it," Spiezio said.
Spiezio is 32 years old, the son of a major leauge player. He has never been a star, not with the Athletics or the Angels, and until the 2001 season was never even an every day player.
An Angels first and third baseman in 2002, Spiezio had a career year, batting .285 with 12 home runs and 82 RBI.
And then he had the kind of October boys dream of.
Spiezio batted .400 in the American League Division Series, then .353 in the ALCS with a combined 11 RBI. In the World Series against the Giants, Spiezio drove in eight runs – including a critical three-run homer
Those memories seemed distant to Spiezio last year. He'd signed a three-year deal with Seattle to play for a general manager he knew and liked, Bill Bavasi.
And he batted .215.
"I had a bad season. All I can do is try to get back. The Mariners waited half a season for me to get better, and I didn't come out of it," Spiezio said.
The question, of course, is where Spiezio fits in. Neither he nor the Mariners can answer that.
"Right now, Scott's a player on our bench," manager Mike Hargrove said.
"Scott cost himself the role of playing every day last season," Bavasi said. "He knows that. He's a reserve with us now."
Hernandez has poor start in Mariners win
The legend of Felix Hernandez may not be playing in Seattle for awhile.
The 18-year-old pitcher struggled through his start against the Chicago White Sox on Sunday in Peoria, Ariz., giving up eight hits and five earned runs in the Mariners 15-9 victory over the Chicago White Sox.
Hernandez, considered the top pitching prospect in baseball, never found a rhythm, or control of his fastball, and lasted just 2 2/3 innings. He gave up five hits in the third inning, including Paul Konerko's two-run homer, when the White Sox scored six times.
"He tried to throw harder and harder and harder," Hargrove said. "He's going to have to learn that harder is not always better. Sometimes location with velocity is the best thing. But he didn't lose his composure on the mound."
Hernandez is scheduled to pitch one more game for the Mariners, Saturday's exhibition finale against the Cubs in Las Vegas, even though it seems likely he will begin the season in the minor leagues.
"He's still in the mix, but I would be very surprised if he makes the ballclub," Hargrove said.
Suzuki extends hit streak to 16
Ichiro Suzuki set a Seattle spring training record by getting a hit in his 16th straight game and drove in three runs in the win over the White Sox.
Suzuki had two hits in five at-bats and is hitting .518 (28 for 54). He broke Ken Griffey Jr.'s record from 1986.
On the trainer's table
Shortstop Pokey Reese left the game against the White Sox in the third inning because of a sore right shoulder.
Second baseman Bret Boone has a sore left thumb after he jammed it fielding balls in practice Sunday morning. He played five innings against the White Sox.
Closer Eddie Guardado threw a 40-pitch simulated game Sunday but was scratched from his scheduled appearance in the exhibition game against the White Sox because his right hamstring still hasn't fully healed.
Pitcher Scott Atchison has a strained right elbow, and his status won't be known until he is re-evaluated in about two weeks.
Pitcher Rafael Soriano, out until midseason because of right elbow surgery, threw 60 pitches off flat ground on Saturday and is scheduled for another such session Wednesday.
They said it
"I think I'll stick to baseball."
Pitcher Julio Mateo, who watched as seven parachute jumpers swooped into the stadium before Sunday's game.
Local journalism is essential.
Give directly to The Spokesman-Review's Northwest Passages community forums series -- which helps to offset the costs of several reporter and editor positions at the newspaper -- by using the easy options below. Gifts processed in this system are not tax deductible, but are predominately used to help meet the local financial requirements needed to receive national matching-grant funds.
Subscribe to the sports newsletter
Get the day's top sports headlines and breaking news delivered to your inbox by subscribing here.
---