Sports
Spurs stop Rockets
Mon., March 28, 2005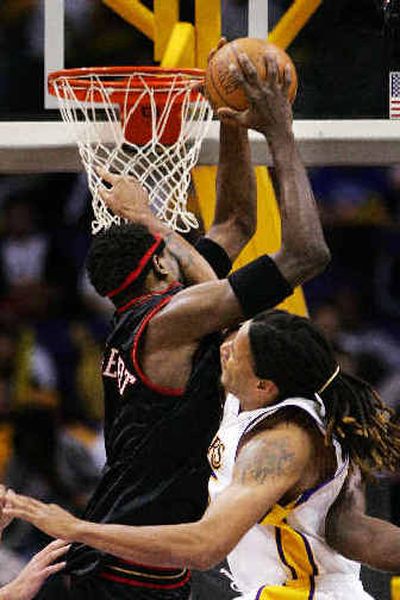 Brent Barry is finally showing the shooting touch that the San Antonio Spurs coveted when they signed him as a free agent last summer.
Barry hit three 3-pointers during a 21-2 run in the fourth quarter and the Spurs held Houston to its lowest point total of the season during an 83-70 win over the Rockets on Sunday in San Antonio.
Barry, who finished with 17 points on 6-for-11 shooting, has averaged 19 points in the last three games at a time when San Antonio needs extra production, with top scorer Tim Duncan and key reserve Devin Brown on the injured list.
"There is no one in the league that feels sorry for the Spurs," said Barry, who has made 10 of his last 15 3-point attempts. "We have to be mentally strong … We all pulled together and played with some emotions, and that carried us."
The Rockets, who trailed by as many as 12 in the first half, went ahead 60-55 on a 23-foot jumper by Tracy McGrady with 10:31 left in the game. The basket was the last of the game for McGrady, who finished with 26 points.
Barry tied it at 60 with 8:07 remaining with his first 3-pointer. Then the Spurs' defense took over, swarming the ball and collapsing on Yao Ming, who had only one basket in the final quarter and ended with 18 points.
Houston missed all but one of its six shots and had five turnovers during San Antonio's decisive run. The Spurs, who shot only 36 percent in the game, hit six of seven attempts beginning with Barry's first 3-pointer.
Manu Ginobili led San Antonio with 18 points, while Barry had 17 and Robert Horry 12. Bruce Bowen and Tony Parker each scored 11 for the Spurs, who improved to 3-5 this season without Duncan, who missed his fourth straight game with a sprained right ankle.
Ginobili credited the Spurs' defensive strategy of clamping down on McGrady in the fourth. McGrady went 1 for 7 in the period.
"Our rotations were really good – we were everywhere," said Ginobili, whose five steals were one short of his season high. "Then we got some rebounds. That makes you feel more confident when you go on offense."
The win gave the Spurs a split of the season series with Houston, which lost for only the fourth time in 14 games this month.
The Rockets' previous scoring low was 72 in a one-point loss to Detroit on Nov. 30.
"We are in a deep, deep passing slump right now," Houston coach Jeff Van Gundy said. "We didn't play well enough offensively to give ourselves a chance."
The Rockets had 17 turnovers, five by McGrady, that led to 21 San Antonio points.
76ers 96, Lakers 89: At Los Angeles, Allen Iverson scored 13 of his 20 points in the fourth quarter and tied his career high with 15 assists, as Philadelphia overcame a horrendous shooting performance by the NBA's leading scorer to beat Los Angeles.
Iverson, who entered shooting 42.1 percent and averaging 30.5 points, shot 2 for 20 in the first three quarters and 5 of 28 overall along with 10 of 14 from the foul line.
The win was the third straight for the 76ers (35-34), who raised their record above .500 for the first time since they were 4-3.
The 76ers moved into a tie for seventh with Indiana in the Eastern Conference.
The Lakers committed a season-high 27 turnovers in losing their eighth straight game – their second-longest losing streak since they moved from Minneapolis to Los Angeles in 1960.
Timberwolves 89, Clippers 85: At Minneapolis, Kevin Garnett had 13 of his 20 points in the fourth quarter leading Minnesota to a victory over Los Angeles.
Garnett struggled for the second straight game, making just 8 of 24 field goals. Sam Cassell scored 16 points off the bench to help Minnesota win its fourth straight game.
Minnesota moved within 2 1/2 games of Denver for eighth place in the Western Conference.
Elton Brand had 25 points to lead Los Angeles, which twice rallied from double-digit deficits.
Local journalism is essential.
Give directly to The Spokesman-Review's Northwest Passages community forums series -- which helps to offset the costs of several reporter and editor positions at the newspaper -- by using the easy options below. Gifts processed in this system are not tax deductible, but are predominately used to help meet the local financial requirements needed to receive national matching-grant funds.
Subscribe to the sports newsletter
Get the day's top sports headlines and breaking news delivered to your inbox by subscribing here.
---