News > Voices
Going behind the plate
Thu., March 31, 2005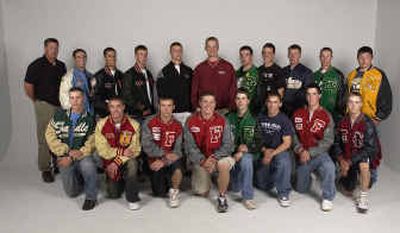 Being a versatile player has been Chris Bozo's trademark.
"It's interesting to see how many positions I've played in high school already," said the Ferris High School senior. "I've been a right fielder, a first baseman, a third baseman, a pitcher and now catcher."
Coming off an all-league season in right field for the Ferris Saxons, Bozo is trying something new for the first time as a varsity player.
"Of all the positions on a baseball field to make a transition, behind the plate is probably the most difficult of any to make," said Ferris head coach John Thacker. "He caught a little bit when he was down on the JV and down at the freshman ranks. He caught some bullpens for us last year. He had some past experience, but never at the varsity level. The arm is certainly sufficient. It's just the receiving skills are a question mark. I think the ability is there, it's just a matter of sharpening those skills and just meeting the requirements you need at the varsity level."
Thacker approached Bozo last year and asked if he would help out behind the plate. Thacker then enlisted former Saxon and Gonzaga catcher Brian Munhall to help out.
"Brian's a great guy," said Bozo, who also will continue to pitch for the Saxons this season. "He is such a great teacher. He has definitely changed my perspective of catching and actually made me a much better catcher with the drills that he's used. I've actually become pretty good friends with him and whenever I have problems with catching, or with hitting for that matter, he tells me to feel free to give him a call even though he's away with the pros (San Francisco Giants spring training) right now."
Surprisingly enough, the toughest adjustment for the Saxon pitcher has not been the catching but the throwing aspect of being behind the plate.
"Pitching and catching are almost exact opposites," Bozo said. "I'm double-timing my arm a bit this year, but it just takes a little bit more work. I guess the one thing I have to remember is the release of when you're throwing down to second versus when you're pitching is totally different. I have to remember when I'm pitching I have to drop my arm and get the full wind-up motion versus the quick throw catching."
Bozo also will go through the learning curve of having to call games for a Saxon staff in which he is the only senior hurler.
"That's going to be an ongoing process," said Thacker. "He's going to have to be able to evaluate our pitchers and their tendencies. He'll have to adjust to them and positively encourage them to throw the ball around the plate. He hasn't had the opportunity to work on it until the start of the season."
"Being a catcher, you're also trying to calm the pitcher," Bozo said. "There are some new kids. I guess for me, being a leader, I just try to lead by example. I try to keep a positive attitude, and when guys struggle, I'm just trying to give them a boost and stay confident. If their curve ball isn't getting over, then maybe their changeup."
Bozo, along with infielder Casey Brett and outfielder Jeremy Templeton, lead a senior group that is eager to get back to the regional level they reached two seasons ago. For Bozo, he hopes to apply the lessons he has learned in baseball from Casey's father, the late Ken Brett.
"He was actually a mentor to me because Casey is one of my best friends," said Bozo. "He was always looking out for me and helping me out with baseball. He was by far one of my heroes of baseball. Ken always wanted to make sure the game was played right. Lots of times I'd have problems with my swing, and he'd help me relax and have fun out there. He'd see that the game was played right. If you didn't run out that ball, you'd have to speak with him after the game because that was kind of a no-no for him."
Bozo, who is looking to continue playing baseball in college next season in the Northwest, hopes to maintain his all-league status at his new position this season.
"Individually I'd like to try my best and return as an all-league GSL," he said. "It's a new year for me with catching but I hope to be picked as the catcher this year. I'd like to keep my average up and work hard. For team goals, I think our team has great potential, and I'd like to see us go far this year. Last year we dropped one to NC (North Central), and we didn't get a chance to go to regionals. This year I really think we've got a team that's got a chance to go to regionals and maybe possibly state."
Local journalism is essential.
Give directly to The Spokesman-Review's Northwest Passages community forums series -- which helps to offset the costs of several reporter and editor positions at the newspaper -- by using the easy options below. Gifts processed in this system are not tax deductible, but are predominately used to help meet the local financial requirements needed to receive national matching-grant funds.
Subscribe now to get breaking news alerts in your email inbox
Get breaking news delivered to your inbox as it happens.
---