News > Spokane
Man finally paying for '87 murder
Thu., March 31, 2005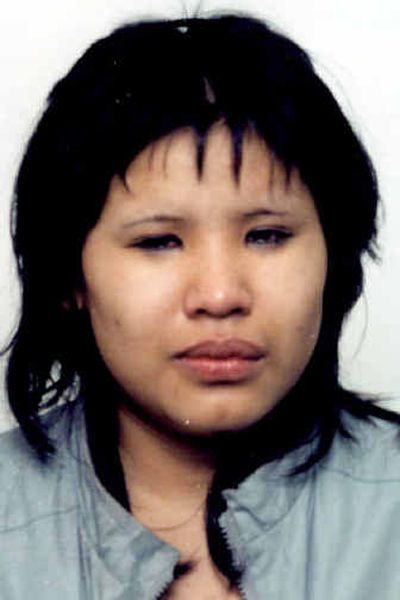 Convicted killer Fidel August Hudson spent nearly as many years eluding justice as his 18-year-old victim spent living.
Last fall, Spokane police Detective Kip Hollenbeck was investigating a different case when he received a tip and reopened one of the department's 60 unsolved homicides since 1981. That investigation resulted in first-degree murder charges against 40-year-old Hudson and 36-year-old Lloyd Ray Moore Jr. in connection with the Sept. 10, 1987, killing of 18-year-old Tina E. Phillips.
On Wednesday, the cold cases dropped to 59 when Hudson pleaded guilty to second-degree murder. Superior Court Judge Sam Cozza then sentenced Hudson to 14½ years in prison. Moore remains in jail and is expected to stand trial later this year, Spokane police Sgt. Joe Peterson said.
Cold cases frustrate the department's nine major crimes detectives like jigsaw puzzles with missing pieces.
Sometimes an interview breaks them open. Sometimes technology advances allow testing of evidence collected nearly 50 years ago.
"It's not fun, but it's what makes a case interesting," Peterson said. "Every one of these detectives has cold cases they look at when they have spare time. This isn't the last one we will solve."
Peterson defines a cold case as an unsolved murder in which the original detective has retired. The oldest one that remains under investigation is the 1959 killing of 9-year-old Candy Rogers.
She disappeared March 6, 1959, while selling Camp Fire Girls' mints door to door in the West Central neighborhood. After a 16-day search, Candy's body was found in a pine grove off Old Trails Road. She had been raped and strangled.
A detective in the case took the girl's underwear and placed them in a Mason jar. Testing finally advanced to the point that the Washington State Patrol crime lab was able to extract DNA evidence.
"But we don't have a match," Peterson said. "Nobody has ever been charged with it."
The Spokane County Sheriff's Department had better luck in 2003 with the Linda Strait case. The 15-year-old Spokane girl was found floating in the Spokane River by a fisherman on Sept. 27, 1982. Inside her sweatshirt, detectives found a pillowcase with semen stains.
Sheriff's detectives tried DNA testing in 1989, but those results were inconclusive. Similar tests in 1998 reached a similar dead end. But a third test in April 2003 got a sample that partially matched Arbie Dean Williams, 61, who was in prison for kidnapping two 8-year-old girls from Trent Elementary School in Spokane Valley.
Williams remains in custody on a $1 million bond and is awaiting trial for Strait's killing.
Peterson said DNA evidence has helped, but only when detectives and forensic technicians took the time to gather evidence to be used later.
"Who knows what investigators will have available to them in 10 years?" Peterson said. "But DNA doesn't solve cases. Detectives solve cases."
'I started some digging around'
The Tina Phillips case got new life last year when Hollenbeck was investigating an unrelated stabbing, he said.
"The suspect's mother told me that her daughter had information that Lloyd Moore confessed to her that he was somehow responsible for the death of a young girl in the 1980s," Hollenbeck said. "I started some digging around, and we found this Tina Phillips case."
Moore was listed as a suspect in the case, and the woman's daughter was on the witness list, Hollenbeck said. In the previous investigation, both Hudson and Moore admitted being at Grant Park at Ninth Avenue and Ivory Street with the victim. But each blamed the other for killing Phillips.
"I reviewed it and determined it was very solvable and probably should have been prosecuted back then," Hollenbeck said.
On Sept. 14, Detective Marty Hill and Hollenbeck interviewed Hudson, who was arrested in 1987 and charged with first-degree murder. Prosecutors dismissed the charges three months later, according to court records.
Hudson told the detectives that he and Moore knew Tina Phillips had about $200 in cash and 4 grams of cocaine in her pocket. They developed a plan to separate Phillips from her friends and take the money and drugs from her, court records state.
When they were alone, Moore demanded money. "She refused at which time Lloyd Moore lunged at Tina Phillips, stabbing her in the chest," court records said.
Phillips tried to stand up. Fearing someone would hear her screaming, Hudson forced her back to the ground.
"As she lay on her back, (Hudson) stepped on her throat and pressed down with such force that she began 'gurgling' and pleading for help," according to court records.
On Sept. 28, Hollenbeck and Hill interviewed Moore about Phillips' death. He told a similar story, but he claimed it was Hudson who knocked Phillips down.
Moore "admitted that he intended to rape Phillips," Hollenbeck wrote in his report. But Moore stopped when Hudson said he believed Phillips had a venereal disease.
Moore said he was returning to the party when Hudson ran up and asked for Moore's knife.
"Hudson then ran back toward the area where Phillips had been left unconscious," Hollenbeck wrote. "He observed Hudson thrust his arm downward into the center of Phillips' chest two times."
Once both suspects admitted to committing a felony during the killing, both could then be charged with Phillips' murder, Hollenbeck said.
"The case was pretty much there" in 1987, he said. "I thought it was prosecutable, but somebody dropped the ball."
Hollenbeck currently is working on 10 different cases, but sometimes he gets a break as he waits for evidence to come back from a crime lab. Then he pulls out cold cases.
"It's certainly an accomplishment. But you can't really take credit. It's usually the work of a bunch of different people," he said. Deputy prosecutor "Mark Cipolla resurrected this case."
Both Moore and Hudson declined requests Wednesday by The Spokesman-Review for interviews.
Peterson said most of Phillips' family lives in Yakima.
"They are very pleased to know that justice is finally done," he said. "They are pleased that somebody still cares enough about their daughter to work the case."
Local journalism is essential.
Give directly to The Spokesman-Review's Northwest Passages community forums series -- which helps to offset the costs of several reporter and editor positions at the newspaper -- by using the easy options below. Gifts processed in this system are not tax deductible, but are predominately used to help meet the local financial requirements needed to receive national matching-grant funds.
Subscribe now to get breaking news alerts in your email inbox
Get breaking news delivered to your inbox as it happens.
---