Sports
Cancer sidelines ex-Coug Fields again
Fri., May 6, 2005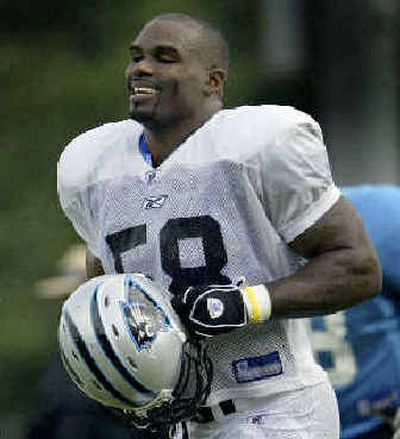 CHARLOTTE, N.C. – Mark Fields was a pallbearer at Sam Mills' funeral, a difficult job for a man all too aware of his own mortality.
Even though his Hodgkin's disease was in remission and the linebacker had emerged from his treatments to post a Pro Bowl season for the Carolina Panthers last year, Fields knew his cancer could come back at any time.
He learned Thursday it was back, in its early stages, and announced through his agent that he'll miss all of the 2005 season.
"Mark is obviously disappointed that he will be unable to play next year, but he has every confidence that this course of chemotherapy will be successful," agent Jim Steiner said. "Mark would like everyone to know that he considers this 'blip' in his recovery a minor setback and that his expectations are to return to the field for the 2006 season."
Fields played at Washington State during the 1992 and '94 college seasons. He sat out the '93 season with academic problems.
Fields and Mills, his position coach, spent all of 2003 battling cancer together. They were diagnosed within two weeks of each other before the start of the season, and bonded together to discuss treatment options while supporting each other through grueling rounds of chemotherapy.
The Panthers rallied around them, wearing T-shirts under their jerseys bearing both of their numbers and using Fields and Mills as motivation during their Super Bowl season.
In 2004, Fields earned his second career appearance in the Pro Bowl after posting 60 tackles, four sacks, one forced fumble, one fumble recovery and one interception.
Fields' illness will undoubtedly be difficult for the Panthers, particularly the linebackers who were all close to Mills and viewed Fields as their leader.
Mills died three weeks ago after his two-year battle with intestinal cancer, and linebackers Dan Morgan and Will Witherspoon joined Fields as pallbearers. All three were visibly shaken at the funeral.
"I know that he not only beat this thing once, but he's definitely going to do it again," Witherspoon said. "Knowing the way that Mark is, he wants to be back here with us and he'll do it. He has that drive to get back out there on the field and he's going to prove to everybody that he can come back yet again."
Local journalism is essential.
Give directly to The Spokesman-Review's Northwest Passages community forums series -- which helps to offset the costs of several reporter and editor positions at the newspaper -- by using the easy options below. Gifts processed in this system are not tax deductible, but are predominately used to help meet the local financial requirements needed to receive national matching-grant funds.
Subscribe to the sports newsletter
Get the day's top sports headlines and breaking news delivered to your inbox by subscribing here.
---