News > Spokane
Invincibility not required
Fri., May 6, 2005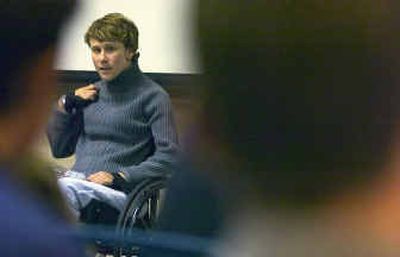 At last, Heather Fitzgerald's mother will see her graduate.
Fitzgerald missed her high school ceremony, lying broken from neck to ankle after a drunken driving accident. On Sunday – the 10-year anniversary of that wreck – Fitzgerald will finally make it to a commencement ceremony, when she collects her bachelor's degree from Gonzaga University.
"Ten years ago, I never even imagined we'd be to this point," said Fitzgerald's mother, Phyllis. "That hard-headed stubbornness – determination sounds nicer – has got her through and keeps her going."
When people talk about Fitzgerald's life – the paralyzing spine injury, her return to college, her work warning kids about drunken driving – they tend toward superlatives. Her friend Donna DuVon calls Fitzgerald "my inspiration."
But Fitzgerald, 27, does not like to romanticize the fact that she's made it through college.
"I don't see it as any big, wonderful thing," she said. "I just see it as what I've got to do."
Fitzgerald will earn her bachelor's degree in psychology and sociology on Sunday, on the first weekend of university commencement exercises around the region. Over the next two weekends, thousands of students will be graduated from GU, Washington State University and the University of Idaho.
It's a time for lots of celebrations, which often involve drinking. So it's a perfect time for one of Fitzgerald's most consistent messages to young people: Don't drink and drive, and don't get into a car with someone else who's been drinking, as she did a decade ago.
As a young person, "you're invincible and it's not ever going to happen to you," she said. "I never thought it would happen to me, either."
In 1995, Fitzgerald was a 17-year-old senior at Mary Walker High School in Springdale. A couple of weeks before graduation, she and three friends were out camping at Fort Spokane. They went for a joyride in the early morning hours; Fitzgerald had been drinking, as had the driver, who she said was very drunk.
She doesn't remember exactly what happened, but the speeding pickup left the road and flipped, she said. Fitzgerald was thrown out. A retired couple discovered the scene shortly after the crash.
"The wheels on the truck were still spinning when they found me," she said. "They thought I was dead."
Fitzgerald broke her pelvis, her hip, her foot and her neck in four places. "She had gravel everywhere," said DuVon, who was Fitzgerald's nurse at Sacred Heart in the intensive care unit. "She still has gravel … that we weren't able to get out of her scalp."
Fitzgerald's spinal cord damage left her paralyzed, though she retains some use of her arms and hands. She spent weeks in the intensive care unit, and then two months at St. Luke's Rehabilitation Center.
Initially, she lived with her parents in Valley for a couple of years, but she edged toward moving out on her own. "I knew eventually I'd move out, but it was scary for me," she said. "That was such a huge thing."
DuVon – a nurse who became a friend – had been pushing Fitzgerald toward going back to school. In 2000, Fitzgerald enrolled in a psychology class at Spokane Community College. At first, that was all she could handle, she said. Getting to and from classes, hauling books and doing homework was a challenge.
"I knew I wanted to go to school," she said. "I just had no idea how that would happen or if people in chairs even do it."
Soon, she earned her associate's degree and moved on to GU. Counselors had told her she'd be able to use surrogate note-takers and other assistance to help her through, but she takes her own notes and uses voice-activated software to write papers or take essay tests.
She's now planning to pursue a master's degree in social work and hopes to become a medical social worker, helping long-term patients in hospitals organize their lives, find resources and prepare to be discharged. She's been speaking to young people through various organizations for years and has taken on a zeal for the campaign against drunken driving.
"At first, I was just terrified," she said. "I love it now. I know it sounds like a kind of cliché, but I'm very passionate about it."
Back in 1995, none of the other three people inside the truck suffered injuries as serious as Fitzgerald's, and the driver served a jail sentence, she said. Fitzgerald said she doesn't harbor any anger toward him.
"I was 17, and I knew what I was doing," she said. "I got in that pickup."
Local journalism is essential.
Give directly to The Spokesman-Review's Northwest Passages community forums series -- which helps to offset the costs of several reporter and editor positions at the newspaper -- by using the easy options below. Gifts processed in this system are not tax deductible, but are predominately used to help meet the local financial requirements needed to receive national matching-grant funds.
Subscribe now to get breaking news alerts in your email inbox
Get breaking news delivered to your inbox as it happens.
---