News > Voices
Greenacres MS fund-raiser Friday has "50s theme
Sat., May 7, 2005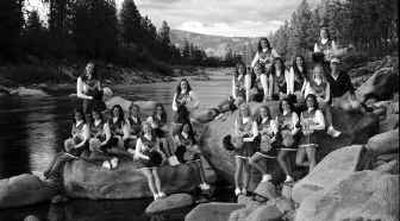 GREENACRES MIDDLE SCHOOL returns musically to the 1950s with a dance on Friday. A longtime school tradition, students usually learn dances from that decade during physical education classes just prior to the event. This year's theme is "Lost in the '50's."
The PTA fund-raiser '50s dance is scheduled at the school from 7 to 10 p.m. as a family event that is open to the public. Several Greenacres students and families attend each year as well as incoming sixth-graders.
Girls and moms usually dress the part with poodle skirts, while boys and dads wear white T-shirts, jeans and slicked back hair. A disc jockey will provide the music. Children also can take part in play jousting matches, a jumping cage, a hula hoop contest and grade-level dance contests.
In addition, dancegoers can have photographs taken with a '50s theme. Root beer floats, pizza, candy and other snacks will be available for purchase.
The dance ticket price is $3 per person. All students must be accompanied by a parent or adult.
U-Hi photo instructor takes first prize
University High School photography instructor Rob Behm was awarded first-place honors by the Professional Photographers of Washington for a group portrait. The organization held its competition and educational conference April 2-6 in Pasco.
Behm won for a portrait of the full U-Hi cheerleading squad posed along the Spokane River. His photo was selected from more than 240 entries from around the state. Behm also was awarded overall first-place portrait honors for the same image, winning the R.R. Hutchison trophy for excellence. Behm owns Valley Studio of Photography.
Freeman student knows 'Math is Cool'
Freeman Elementary had a successful "Math is Cool" year. The school had teams that qualified to go to the Math is Cool Championships and Maters Tournament. The sixth-grade students who competed include Emily Ditzler, Benjamin Mega, Trent Neiman, Madisen Tanner, Tyler Hjaltalin, Kelli Lessmeier, Alex Quinnett and Colten Wetter. Alternates were Cappy Spruance and Tashina Hedges.
Fifth-grade students who participated: Sam Diedesch, Quinn Robinson, Joseph Schweiger, Chris Beaulaurier, Clark Randall, Mitch Vander Linden, Emily Paukert and Travis Campbell. Alternates were Tabitha Matney and Melissa Andrews.
The fourth-grade team members are Brooke Coumont, Christian Dresback, Eric Hjaltalin, Miranda Roberts, Samantha Avey, Felicia Jackson and Preston Primmer. Alternates were Tanner Waite and Molly Mcintyre.
Coaches were Jane Brune, Dwayne Gady, Nancy Hawley, Judy Bickler, Brad Van Dyne and Linda Mega.
Several Central Valley staff members were recognized recently by the district board for implementing an online learning tool called PLATO. The district received a $500,000 grant for PLATO, which offers skills practice, remediation, content supplementation, test preparation and high school-level make-up work for failed credits.
More than 1,400 students who have had access to PLATO include those at Broadway, Bowdish, North Pines, Barker, Central Valley and University. The staff includes Richard Woerz, Bruce Spurlock, Chad Goodhue, Senja Olson, Melissa Vandendriessche, Darren Herndon, Sara Lu Moore, Pete Phipple, Scott Sutherland, Cheryl Regnier, Eileen Utecht, Bob Johnson, Dave Bouge, Glenna Bouge, Tere Von Marbod and Pattie Simmelink.
Local journalism is essential.
Give directly to The Spokesman-Review's Northwest Passages community forums series -- which helps to offset the costs of several reporter and editor positions at the newspaper -- by using the easy options below. Gifts processed in this system are not tax deductible, but are predominately used to help meet the local financial requirements needed to receive national matching-grant funds.
Subscribe now to get breaking news alerts in your email inbox
Get breaking news delivered to your inbox as it happens.
---