News > Voices
Shadle Park Pharmacy owner was devoted man
Thu., May 12, 2005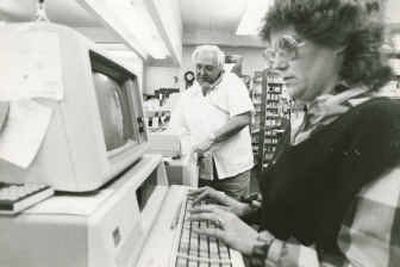 If you could say only one thing about Russell Helgeson, it would be that he cared about people. "I'd always accuse him of seeing things through rose-colored glasses," said his wife, Jean.
Helgeson died on Feb 1 at 75.
Owner of Shadle Park Pharmacy for 36 years, Helgeson cared so much for the well being of his customers that he stopped selling tobacco products in 1990 despite a loss of $800 to $1,000 in profits each month.
"It doesn't make sense to continue selling cigarettes when you think of all the health problems it causes," Helgeson said at the time. "After all I'm in the health business."
Helgeson got into the health business after graduating from the School of Pharmacy at Washington State University in 1952. The day after he took his Pharmaceutical Board Test, Helgeson married Jean Schmitten, whom he had grown up with in Cashmere, Wash.
Helgeson was a member of the ROTC in college, and after he was out of school, he was stationed in the Air Force Hospital in Austin, Texas. The couple's first child, Ann, was born in Austin in 1953.
After two years in Texas, Helgeson and his family moved back to Washington and settled in Spokane. In 1956 their second child, Russ Jr., was born, and four years later came their second daughter, Joy. In 1958, Helgeson purchased Shadle Park Pharmacy, which he owned until 1994.
Thirty-two years later with the help of three Boy Scouts, Helgeson shredded his entire inventory of cigarettes on National Non-Dependency Day and never again sold tobacco.
But Helgeson's care for his customers did not end there. He became friends with his customers, several of whom later became employees.
During Christmas time Helgeson would let his employees go home early while he would keep the store open to "fill forgotten drug orders, sell film, batteries and last minute gifts late into the evening," said Velma Reed, who started buying prescriptions from Shadle Park Pharmacy in 1955 and later worked for Helgeson in the store.
In 1986 Helgeson began encouraging his elderly customers to come to him for advice because there were concerns that the elderly were taking drugs in wrong combinations.
As other family-owned pharmacies closed because of competition, Helgeson tried to help by buying out their inventory. One time he got an antique pop machine from another store. He brought it home and put in the basement for the kids.
Helgeson's care for his customers and employees was only matched by his love for his family. It was not uncommon for Helgeson to work 12 to 14 hours a day, but he always managed to come home for dinner with his wife and children.
"He always wore a tie to work," said Russ Jr. "My sister used to say that we could tell when he came home at 5 if he loosened his tie, he would be staying and we'd have dinner at 6. If he didn't, then we'd eat at 5 and he'd have to go back to work at 6."
Helgeson tried to balance his long hours at work with regular family vacations, often turning pharmaceutical conventions in places like New York, Nashville, and Hawaii into family trips.
Helgeson loved the outdoors. The family could often be found on camping, river rafting, biking and skiing trips.
Skiing was a passion for Helgeson. He skied regularly until he was 73. Often he would ski with a group of retired men who averaged 65 ski trips a year.
Even when Helgeson was only semi-retired, he would "ski on the weekdays with them, and on the weekends he'd ski with the family," said Jean.
"He picked up golf again after he retired because you can't ski in the summer," said Jean.
Helgeson loved watching his children play sports. He would go to as many of his kids' games as possible.
"The one thing he didn't like was when me and my sister were on the swim team," said Russ Jr. "Those things would go on for hours, and you'd swim for maybe 30 seconds."
But Helgeson would still leave work to watch portions of the swim meets, which were often held across the street from the store.
"He was a good example," said Russ Jr., "because we do the same things he did."
Helgeson also enjoyed driving. When his children were young, Helgeson rented a camper and drove the whole family up the old Alaskan Highway.
Once, while driving cross country to visit Joy in her home in Florida, Russ and Jean stopped to see the Jimmy Carter Museum in Atlanta. While there, the two were told that a play was going to be performed that night and Carter would be coming. Russ and Jean decided to stay and met the former president.
In 1964 Helgeson won a car in a contest sponsored by Rexall. He had just bought a new car, however, so Helgeson sold the car he had won and bought items for the family, including a color TV.
In 1972, Helgeson bought a Mercedes sports coupe, and as a special treat he would let his children drive it to school from time to time. The car is still sitting in his garage.
Driving was one thing Russ and Jean continued to do even when Russ started to get very sick. Russ Jr. insists his parents know every back road in the state of Washington.
"They loved to go on drives, see all the back roads," said Russ Jr.
"While he was sick he absolutely never complained, and if he ever started he'd immediately apologize to me," said Jean. "He didn't want anything to change because he was laid up.
"He kept those rose-colored glasses on up until the end."
Local journalism is essential.
Give directly to The Spokesman-Review's Northwest Passages community forums series -- which helps to offset the costs of several reporter and editor positions at the newspaper -- by using the easy options below. Gifts processed in this system are not tax deductible, but are predominately used to help meet the local financial requirements needed to receive national matching-grant funds.
Subscribe now to get breaking news alerts in your email inbox
Get breaking news delivered to your inbox as it happens.
---