News > Spokane
U.S. attorney to recuse himself from West case
Sat., May 14, 2005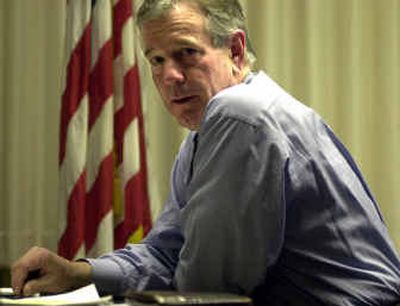 The U.S. attorney for Eastern Washington – a friend and financial supporter of Spokane's embattled mayor – said Friday he is taking steps to remove himself from any involvement in an FBI probe of public corruption allegations against Jim West.
James A. McDevitt, the chief federal law enforcement officer in the region, told The Spokesman-Review on Friday he would "recuse myself from any involvement in the West case."
McDevitt's wife, Gretchen, a counselor at Ferris High School, contributed $1,000 to West's 2003 mayoral campaign, while her husband contributed to West's previous state Senate races.
One of Jim McDevitt's close friends is Chris Carlson, a public affairs consultant with the Gallatin Group. Carlson is a close associate of Susan Ashe, a former Kaiser Aluminum executive who now is West's director of legislative and public affairs.
"As soon as we perceived there might be even the most remote possibility of a conflict, then we immediately took steps to recuse either the U.S. attorney personally or this entire office," McDevitt said.
The FBI on Tuesday confirmed its agents had opened a "preliminary inquiry" into reports that West used the mayor's office to offer city jobs and appointments to young gay men he met online.
Even if West resigns, a federal investigation into his activities as mayor could continue, focusing on such issues as whether he violated very broad public corruption statutes that would give the FBI criminal jurisdiction. If a formal investigation is launched, it likely would make use of the secret grand jury process to subpoena records and witnesses who would be questioned under oath.
On Friday, a week into the FBI's "preliminary inquiry," the U.S. Attorney's Office had not been briefed by bureau agents. But at some point relatively soon, FBI agents are expected to discuss their findings with an assistant U.S. attorney to make a decision if a full-blown investigation is warranted.
McDevitt said he will not be part of that discussion.
The U.S. attorney, one of 93 appointed by President Bush, said he would notify the Department of Justice's Office of Legal Counsel of the potential appearance of conflict.
Based on that advice, a "firewall" could be created, keeping McDevitt entirely out of an investigation that likely would be headed up by his chief criminal assistant, Thomas Rice.
Or, McDevitt explained, the Justice Department could recommend or direct that the entire U.S. Attorney's Office in Spokane be removed from involvement in an investigation and have the matter reassigned to another U.S. attorney or a special team from headquarters.
"We will be talking to main Justice and start that process," McDevitt said Friday.
"The ethics and honesty, the honor and integrity of this office are of the utmost importance," McDevitt said. "While the position of U.S. attorney is a political one, the politics that may get you in the door stay at the doorstop. We are politically blind, and politics will take absolutely no part in this process."
Gretchen McDevitt, a career educator, acknowledged making past campaign contributions to West.
"I like to be involved in politics, so I've made several contributions and been involved in various campaigns," she said.
A former Republican U.S. attorney, Mike McKay, said his friend McDevitt has no choice but to bow out because of the appearance of a potential conflict.
"I know Jim McDevitt, and his integrity is really Grade A," McKay said when contacted in Seattle where he now is in private practice. "Whatever his decision is will be the right one."
For two years, McKay served on the Seattle archbishop's "case review board," which examined how that Roman Catholic diocese handled sex abuse cases leveled against its priests. McKay said he has closely followed issues surrounding West, including allegations that he molested two boys in the late 1970s and early 1980s when he was a sheriff's deputy and Scout leader.
McKay, appointed U.S. attorney in the Western District of Washington in 1989 by President George H.W. Bush, said he had to recuse himself from three or four cases during his four-year term as chief prosecution in Western Washington.
Attorney Tim Kosnoff, of Bellevue, said McDevitt has no choice but to stand aside.
"There are concerns that the public would lack confidence in the U.S. attorney's impartiality, given his connections to Jim West," Kosnoff said. His clients include several men abused as boys by Boy Scout leaders and priests.
Kosnoff said he believes it will take a federal grand jury and a thorough FBI investigation to answer questions beginning to emerge a week after allegations against West were published in The Spokesman-Review.
The state of Washington lacks a grand jury system that allows people to be compelled to testify under oath.
"The federal grand jury is the only viable tool that exists out there in these kinds of situations," Kosnoff said, referring to abuse of public office issues surrounding West.
"When you empanel a federal grand jury, people don't have a choice. They have to testify if they're granted immunity," Kosnoff said. "The power of the federal grand jury is unparallel in our society."
Local journalism is essential.
Give directly to The Spokesman-Review's Northwest Passages community forums series -- which helps to offset the costs of several reporter and editor positions at the newspaper -- by using the easy options below. Gifts processed in this system are not tax deductible, but are predominately used to help meet the local financial requirements needed to receive national matching-grant funds.
Subscribe now to get breaking news alerts in your email inbox
Get breaking news delivered to your inbox as it happens.
---