Sports
Sorenstam gets 60th LPGA win
Mon., May 16, 2005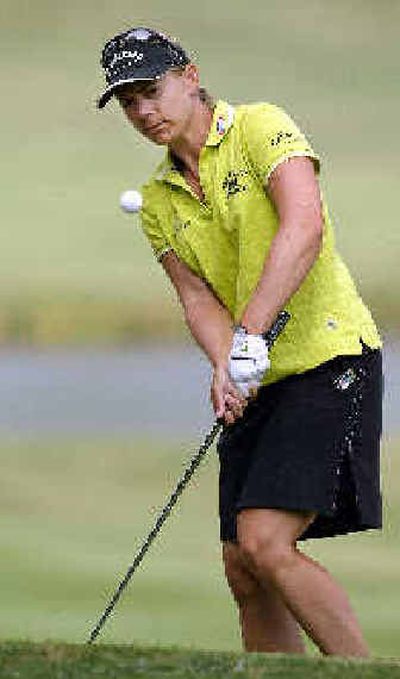 STOCKBRIDGE, Ga. – Annika Sorenstam made it to the first tee on time, which was all she really needed to do.
The final round of the Chick-fil-A Charity Championship was nothing more than a victory lap.
Bouncing back from her first loss of the year with one of her most dominating performances, Sorenstam blew away the field by 10 strokes Sunday for career win No. 60.
She came into the day with a 10-shot lead. She finished that way with a bogey-free 67 at Eagle's Landing Country Club south of Atlanta.
"Obviously, I was very happy with the situation after three rounds. I'm teeing off with a 10-shot lead," Sorenstam said. "But you don't want to get too overly excited because you still have to play."
No problem. No one got closer than nine shots the entire day.
"We were playing a different tournament," said runner-up Candie Kung, who closed with a 65 that was good enough to win the B-Flight. "She's up there in her own little world."
Sorenstam finished with a 23-under 265, matching the biggest 72-hole win of her career.
When the final putt dropped – a 3-footer for birdie at No. 18 – she pumped her fist, waved to the crowd and hugged her caddie.
"To finish the way I started and get win No. 60, it was a great Sunday," Sorenstam said. "I felt like I did it with style."
She fell just short of her most dominating performance – an 11-stroke victory at the 54-hole Kellogg-Keebler Classic in 2002.
More important, the 34-year-old Swede tied Patty Berg for third place on the LPGA Tour's career victory list, and now Sorenstam can take aim at the only two players to win more – Kathy Whitworth (88) and Mickey Wright (82).
"Here I am with 60," Sorenstam said. "I have to pinch myself to believe it's real."
Actually, it's 72, if you count 12 international wins that aren't part of her official LPGA stats.
And how about these numbers for the week? Sorenstam hit the fairway with 82 percent of her drives, reached the green in regulation 76 percent of the time and needed only 108 putts – an average of 27 per day.
"She's got everything," Kung said.
Sorenstam, who sets goals for everything, said Whitworth's record has never been on the radar. The immediate goal is the Grand Slam – Sorenstam already won the first major of the year – but it might be time to add something else to the list.
"I never felt like 88 wins was ever in my reach," she said. "I still feel the same way. Then again, I'm very surprised that I reached 60 wins in my 11th year on the tour."
The resounding triumph came just a week after Sorenstam failed in her bid to break Nancy Lopez's record of five consecutive victories.
Cristie Kerr won at Kingsmill, while Sorenstam finished 10 strokes back in a tie for 12th and a share of Lopez's record.
Well, it didn't take long to get a new winning streak started.
"I think I made her mad last week when I beat her by 10 shots," said Kerr, who took third by finishing 11 shots behind Sorenstam. "She wanted to blow the field away, and she did."
At the rate this is going, it would take only a few more years to knock off Wright and Whitworth.
With four wins already in 2005, Sorenstam is poised for her greatest season ever.
She had 11 victories three years ago.
Sorenstam played the first 39 holes of the tournament without a bogey. She had three on Saturday, but bounced back with nothing but birdies and pars in the final round.
All but five players were at least 15 shots behind. A.J. Eathorne and Bernadette Luse, tied for last among those making the cut, finished a staggering 33 strokes back.
Wendy Ward, from Edwall, Wash., shot a 3-under par, 69, for a final score of 278, 10-under par. Ward finish tied for fourth and was awarded with $67,996.
Local journalism is essential.
Give directly to The Spokesman-Review's Northwest Passages community forums series -- which helps to offset the costs of several reporter and editor positions at the newspaper -- by using the easy options below. Gifts processed in this system are not tax deductible, but are predominately used to help meet the local financial requirements needed to receive national matching-grant funds.
Subscribe to the sports newsletter
Get the day's top sports headlines and breaking news delivered to your inbox by subscribing here.
---