News > Spokane
Prosecutor, special panel to investigate mayor
Sat., May 21, 2005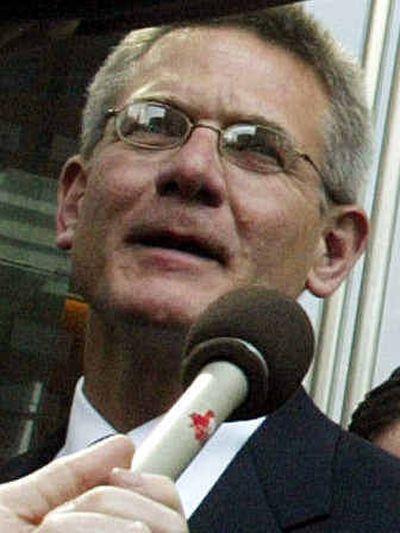 A special federal prosecutor and a separate independent panel were named Friday to oversee public corruption and abuse of office investigations into the activities of Spokane Mayor Jim West.
The developments came the same day West made his first major public appearance – at a prayer breakfast – since taking a self-imposed two-week leave amid a series of published reports about his alleged misconduct. A spokeswoman said he would be attending some neighborhood council meetings next week.
Though he was back in the limelight, West wasn't talking about the controversy.
But in a brief announcement, City Attorney Mike Connelly said he was naming "a team of highly respected Spokane professionals" to investigate whether West violated any city policies, procedures or ordinances.
West has acknowledged seeking online relationships with young men on the Web site Gay.com, triggering an investigation that already has involved the seizure of his city computer.
The mayor also faces accusations he appointed one young man he met online to the city's Human Rights Commission. Ryan Oelrich, who resigned in January, said he was asked out on a date the same day he got the appointment and later was offered $300 to swim naked with the mayor.
The panel named by Connelly comprises:
• Retired Spokane County Superior Court Judge Harold Clarke.
• Retired Appeals Court Judge Phil Thompson.
• Michael Stebbins, director of the Gonzaga Ethics Institute.
• Tom Trulove, an economics professor at Eastern Washington University.
A fifth member is likely to be added later, Connelly said.
Two of the members, Clarke and Stebbins, were tapped by West last year to investigate a fatal accident at Spokane's wastewater treatment plant. Clarke served as chairman of that mayoral oversight committee.
The new panel will define its own scope and methods, Connelly said. "They will have access to whatever information they need to complete their work," he added.
West has assembled a team of five attorneys, one of whom apparently will represent him in an unfolding FBI "preliminary inquiry."
Initially, it appeared that inquiry would have been forwarded to Jim McDevitt, the U.S. attorney for Eastern Washington, who is a longtime West friend and campaign contributor.
McDevitt asked last week that he or his entire office be recused from any involvement in the West investigation.
A deputy attorney general at the U.S. Department of Justice headquarters in Washington, D.C., agreed, leading to the announcement that McDevitt and his entire office would be removed from any involvement in a developing FBI investigation.
FBI agents are conducting a preliminary inquiry to see if West violated federal public corruption statutes or other laws by offering city jobs and appointments to young men he met online in a gay chat room.
FBI agents now will consult with Mark N. Bartlett, the first assistant U.S. attorney in the Western District of Washington, senior Justice Department officials said.
Bartlett is in the No. 2 position behind John McKay, the U.S. attorney for the Western District.
Although he is a native of Spokane, Bartlett "has no personal or political connection to Jim West," said Emily Langlie, a spokeswoman for the U.S. Attorney's Office in Seattle.
Bartlett has been a federal prosecutor in Seattle for 20 years. He graduated from Central Valley High School before attending George Washington University Law School.
"During the time in our office, Mark supervised the Organized Crime Drug Task Force, and has prosecuted many complex criminal cases," Langlie said.
Bartlett also supervised the U.S. Attorney's fraud unit and co-supervised the office's major crimes unit, the spokeswoman said.
He recently was involved in the successful prosecution of Ahmed Ressam, an Algerian arrested at the U.S. border five years ago with a trunk full of explosives and a plan to blow up Los Angeles International Airport. Ressam's sentencing was recently postponed until July.
In his supervisory role, Bartlett could summon FBI agents to Seattle or he could travel to Spokane to discuss their findings and decide if a full-blown FBI investigation is warranted.
Such an investigation would likely involve a federal grand jury.
McDevitt had no public comment about the appointment of the Seattle prosecutor to head the West investigation.
Appointed U.S. attorney by President Bush, McDevitt has been a friend and financial contributor to West's various political campaigns. Public records show McDevitt's wife, Gretchen, contributed $1,000 to West's 2003 successful bid to become Spokane's mayor after two decades in the state Legislature.
Local journalism is essential.
Give directly to The Spokesman-Review's Northwest Passages community forums series -- which helps to offset the costs of several reporter and editor positions at the newspaper -- by using the easy options below. Gifts processed in this system are not tax deductible, but are predominately used to help meet the local financial requirements needed to receive national matching-grant funds.
Subscribe now to get breaking news alerts in your email inbox
Get breaking news delivered to your inbox as it happens.
---