News > Spokane
West welcomed at prayer event
Sat., May 21, 2005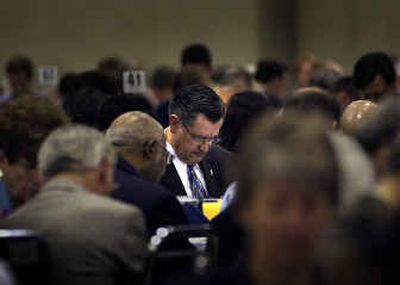 When Jim West showed up at the Leadership Prayer Breakfast early Friday, the mayor was immediately showered with handshakes, hugs and words of encouragement.
Despite allegations against the mayor of child molestation and abuse of his office, many who gathered to pray and listen to speeches on God and morality also embraced West's presence with open arms.
"I love our mayor, and I know God's working on him," said Stephy Nobles-Beans, assistant pastor of the Church of Berachah. "We've all sinned. Who are we to try and hold him accountable? Who are we to ask him to publicly apologize? Only God can do that."
More than 800 pastors, business leaders, educators and others in the community gathered at the Spokane Convention Center for the 44th annual Greater Spokane Leadership Prayer Breakfast. The event – which drew a record crowd this year – was a way for the community to thank local leaders and to support them through prayer, organizers said.
Dozens of notable people came, including Spokane police Chief Roger Bragdon, members of the Spokane City Council, state representatives and other elected officials.
But it was West who inevitably captured the spotlight.
The mayor remains mired in a scandal involving allegations of sexual abuse against boys and using the trappings of his office to date young men. Although he has acknowledged visiting a gay chat line on the Internet, he denies any involvement in child molestations that allegedly happened in the 1970s.
No one mentioned the mayor by name during the prayers Friday, but the scandal hung heavy on the minds of many.
Rodney McAuley, chairman of the group that organizes the breakfast, said that there has never been a better time for the community to come together in prayer.
In his invocation and blessing, Whitworth College President Bill Robinson acknowledged some of the problems. "It hurts that our leadership is in turmoil and we suffer," he said. Robinson later asked God to "pour out your spirit and blanket our community with your redeeming love."
West declined to be interviewed Friday. When asked why he decided to come to the breakfast despite the fact that he had canceled all his other social obligations, the mayor responded: "Because I was invited. Because of the good people in the community here with me today."
West sat at a table sponsored by the Church of Berachah and was joined by several religious leaders in Spokane, including the Rev. Lonnie Mitchell.
"In the Christian faith, we offer mercy rather than judgment," said Mitchell, pastor of Bethel AME. "While we do not condone the sin, we do not condemn (West). We just offer our love."
Inviting the mayor to the prayer breakfast isn't "an endorsement for anything he has done," said Dale Strom, one of the event organizers and a city of Spokane employee.
"Only God can forgive, but we have to confess and repent and turn away from those sins. I don't know what the mayor will choose, but we wanted to give him the opportunity to seek the Lord's will and make changes."
Others – including some who have spoken out against initiatives supporting same-sex marriage – also reached out to the mayor, who has acknowledged being gay.
Paula Cullen, executive director of Life Services of Spokane, prayed for families and God's plan of "one man and one woman to come together in the bond of marriage." After the breakfast, she said that the beauty of Christianity is that "we can have standards while at the same time have the grace to extend mercy."
Ryan Oelrich, a Spokane man who said he was sexually harassed by the mayor, said that as a Christian he forgives West for what he did to him but still believes the mayor should step down.
Oelrich, who wasn't at Friday's prayer breakfast, first encountered the mayor as "Cobra82nd" and "RightBi-Guy" on Gay.com, but West at the time didn't identify himself as the head of the city. It was only after the mayor appointed Oelrich to the city's Human Rights Commission that West revealed himself as the person Oelrich met on the gay chat line.
While serving 10 months on the commission, Oelrich said, he rebuffed a series of sexually explicit online advances from West, who later told him he appointed him to the commission so that he could get to know him. The mayor also offered him $300 in cash to swim naked with him in a swimming pool.
Oelrich spurned the mayor's advances and eventually resigned from the commission.
"As much as I would love to have a gay mayor for Spokane, he is not the right individual," said Oelrich, an openly gay man. "I don't have any grudges against him, but I believe that Mayor West should resign for the good of the community."
Oelrich said West has never apologized to him. "I don't need an apology. I will go on with my life regardless," he said. "But it would be nice. It would help me restore some respect for the mayor."
Strom said the mayor has had private conversations with a few pastors in the community. He added that he and others are concerned about West's spiritual well-being and were happy to see him at Friday's event.
In previous interviews with the newspaper, West said that his battle with colon cancer brought him closer to God. He also said that he considers himself a Christian and believes that other people's prayers helped him overcome his illness.
Shortly after the scandal erupted this month, West asked city employees to pray for him, as well as for the city and all its leaders.
Local journalism is essential.
Give directly to The Spokesman-Review's Northwest Passages community forums series -- which helps to offset the costs of several reporter and editor positions at the newspaper -- by using the easy options below. Gifts processed in this system are not tax deductible, but are predominately used to help meet the local financial requirements needed to receive national matching-grant funds.
Subscribe now to get breaking news alerts in your email inbox
Get breaking news delivered to your inbox as it happens.
---