Sports
Afleet keeps his feet
Sun., May 22, 2005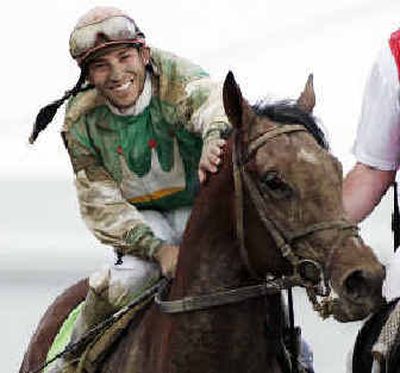 BALTIMORE – Afleet Alex was gathering momentum, coming off the far turn and looking ready to romp in the Preakness Stakes.
In an instant, he was cut off by Scrappy T. The horses clipped heels in a frightening collision and Afleet Alex was forced to his knees.
"I held on to the mane and he picked himself right up," jockey Jeremy Rose said, "and from that point on, I knew we had it won."
Incredibly, Afleet Alex regained his footing and his drive. And in the span of a few breathtaking strides, tragedy was averted and the courageous colt breezed home.
"My thought process was that I was going to get run over," Rose said. "The instinct was to hang on and try to get my balance back."
The final margin Saturday was 4 3/4 lengths. It should have been more.
"I'd say double whatever I did win by," Rose said. "If I won by four or five, it should have been 10. We were rolling. We were going real fast."
Kentucky Derby winner Giacomo finished third, ending any chance of a Triple Crown try in the Belmont Stakes in three weeks.
With a quarter-mile to go, Scrappy T was in the lead when he responded to a left-handed whip from jockey Ramon Dominguez by veering sharply to his right and directly into Afleet Alex's path.
The record crowd of 115,318 at Pimlico gasped, but Afleet Alex regained his balance and rolled on to a sweet victory, with Scrappy T second.
"He's an amazing horse that just put all the doubters to shame," Rose said. "A lot of people said he can't do this, he can't do that, this and that. Well, there it is."
The frightening scene was reminiscent of the 1987 Kentucky Derby, when Alysheba clipped heels with Bet Twice inside the 3 / 16ths pole before recovering to win the race by three-quarters of a length.
It was the fifth straight year the Preakness favorite has come through. Which was a far cry from the Derby, when Giacomo staged the second-biggest upset in the race at 50-1 odds. However, the gray son of Holy Bull was unable to pull off another win and never really challenged.
"I don't think there was any embarrassment in running third in the Preakness," Giacomo trainer John Shirreffs said. "We were pleased with the effort."
For just the third time in nine years, the Belmont will be run in three weeks without a Triple Crown on the line.
No Smarty (Jones) party like last year, or yellow buses following Funny Cide in 2003 or one-liners from War Emblem's trainer Bob Baffert in 2002.
Rose thrust his right arm in the air in a victory salute after crossing the finish line. A few minutes later he was simply amazed at what had happened.
"He's just that athletic," Rose said, "and I was just that scared.
Winning trainer Tim Ritchey has been in the business for 30 years and has seen horses take bad steps and still win but "I've never seen a horse stumble that badly and lose his momentum that much to come back on and win in a Grade 1 race like this."
Dominguez, riding Scrappy T for the first time, apologized.
"I'm sorry for the incident," he said. "The horse completely caught me off-guard. I decided to hit him left-handed and it caught him completely off-guard, because he just made a right-hand turn. I had no control over the situation."
While Giacomo's Derby win was a stunner, Afleet Alex's made perfect sense. The son of Northern Afleet ran a sensational race in the Derby as the second choice behind favorite Bellamy Road, only to be caught in the final strides by Giacomo and Closing Argument at almost 72-1.
Not this time, even after being hammered by Scrappy T. Afleet Alex will head to the Belmont as long as he came out of the race healthy. Andromeda's Hero, Buzzards Bay, Southern Africa and Shamoan may also compete.
Sent off as the 3-1 favorite, Afleet Alex returned $8.60, $5 and $3.20. Scrappy T paid $11.20 and $5.80, and Giacomo, the third choice at 6-1, paid $4.80. The finish remained unchanged after a brief steward's review of the collision.
Sun King was fourth, followed by High Limit, Noble Causeway, Greeley's Galaxy, Malibu Moonshine, Closing Argument, High Fly, Hal's Image, Wilko, Galloping Grocer and Going Wild.
Winning time for the 1 3/16 miles was 1:55.04, well off the record of 1:53.40.
So the Afleet Alex party is on – a few weeks later than expected – and there's a large contingent celebrating, led by the five Philadelphia-area friends who bought the horse for $75,000 last year just up the road at the Timonium 2-year-old sales.
Local journalism is essential.
Give directly to The Spokesman-Review's Northwest Passages community forums series -- which helps to offset the costs of several reporter and editor positions at the newspaper -- by using the easy options below. Gifts processed in this system are not tax deductible, but are predominately used to help meet the local financial requirements needed to receive national matching-grant funds.
Subscribe to the sports newsletter
Get the day's top sports headlines and breaking news delivered to your inbox by subscribing here.
---