News > Voices
Advantage: Katy Lund
Thu., May 26, 2005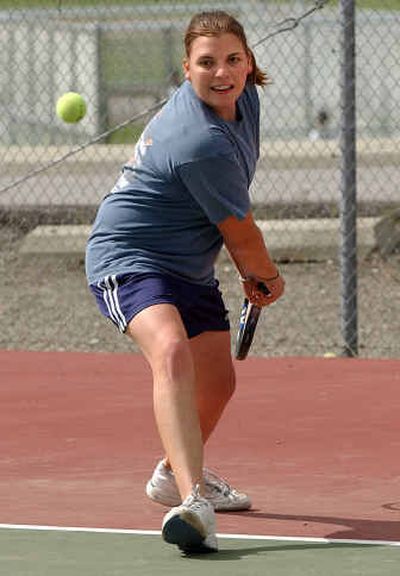 Katy Lund was chillin' out.
Not that she was trying to relax. That's been a bit difficult for the East Valley High School senior since she qualified for the regional Class 3A tennis tournament this weekend in Sunnyside.
Lund had a big bag of ice taped to her shoulder as she watched her teammates prepare for the regional.
"I've had trouble with my shoulder," the district singles champion said. "They're not sure what it is – tendinitis or something else. I haven't been able to practice much. I'm just hoping to make it through state."
Lund enters the regional tournament as the No. 1 seed from the Greater Spokane League, which matches her against the No. 4 seed from the Mid-Valley League in the opening round.
"I just don't know that much about the Mid-Valley," Lund said. "I've tried to look it up online, but I'm just not that good with the Internet."
East Valley coach Mike Smith is pleased with his top singles player and figures she has a good shot this weekend.
"She's had a really high-quality kind of year," he said. "Playing No. 1 singles means you're always going against whoever you're playing's best player.
"Katy's not a club player. She pretty much plays in season. She's also a wrestling manager and a volleyball player."
Lund said it's a bit daunting being her team's top singles player.
"When you go against teams like Gonzaga Prep, you just get a little overwhelmed," she admitted. "But I have great teammates. I'll start complaining that I don't belong on the same court with someone and they'll tell me, 'Yes you do; now go play.'
"At the same time, it forces you to get better."
It's not easy being an in-season tennis player thrown in against year-around players.
"Tennis is an experience thing," Smith said. "The thing that helps Katy is that she picks the game up very quickly. She's developed a good, all-court game."
Lund says she likes staying at the baseline, playing long rallies. There's something satisfying about hitting powerful forehand and slicing backhand shots back and forth, she said.
But one of the keys to Lund's success has been her net game.
"I've played a lot of doubles, so I'm comfortable playing at the net," she said. "It's fun. It takes fast hands to be successful, but you see the court better and not that many players are comfortable playing someone who can attack the net."
Lund's game, and her aptitude for it, have kept Smith from doing a lot of in-game coaching.
"I kid her about it all the time," he said. "Normally you get to talk to your players when they switch sides – you get about 90 seconds to talk to them and do a little coaching. But Katy has great instincts and I pretty much just let her play. When you have seven matches going on all at the same time, it helps to have a player who doesn't need a lot of attention.
"Katy just does a great job of figuring out what's going to be successful against whomever she's playing against."
East Valley dropped to Class 3A this season, opening a door to the postseason for Lund, the Knights and the rest of the league's smaller schools.
"I wasn't all that familiar with the 3A schools, but I figured I had a better chance at getting to state this year," she said. "Since this was my senior year, I really wanted to make it special."
Lund saw that West Valley's top player, Mel Dossey, had qualified for last year's regional tournament.
"I love playing against Mel," Lund said. "We've had some great matches. She's quite a player and she likes to attack the net."
Lund rallied in the third set to beat Dossey during the regular season, then needed to beat her a second time to win the district championship.
Lund figures she has an advantage heading off to Sunnyside: her teammates.
Jessica Casebier and Erika Cabbage qualified as a doubles team and freshman Miranda Brother, the Knights' No. 4 singles player all season, qualified as the No. 3 seed from the district tournament.
"It really helps to have all of us going down there," Lund said. "We're all great friends. We'll help keep each other from getting too nervous."
Local journalism is essential.
Give directly to The Spokesman-Review's Northwest Passages community forums series -- which helps to offset the costs of several reporter and editor positions at the newspaper -- by using the easy options below. Gifts processed in this system are not tax deductible, but are predominately used to help meet the local financial requirements needed to receive national matching-grant funds.
Subscribe now to get breaking news alerts in your email inbox
Get breaking news delivered to your inbox as it happens.
---