News > Spokane
Rookery demolition begins
Thu., Nov. 10, 2005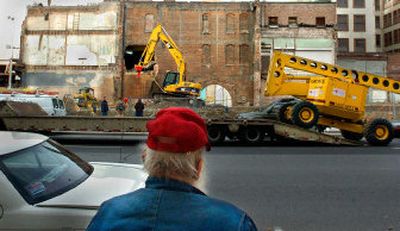 In what preservation advocates called a "sad day for Spokane," admirers of downtown's historic Rookery Building lost their years-long fight to avoid the wrecking ball as developer Wendell Reugh began demolition Wednesday afternoon.Workers from Rob's Demolition tore a 10-foot square hole in the south-facing side of the 1934 art deco structure and chipped away blocks from its terra cotta façade. A Bobcat tractor shoved piles of sheetrock, twisted metal ducts and wires out of the building onto a growing pile.
Onlookers paused and watched, some shaking their heads before continuing on.
"It's a big disappointment this is happening," said developer Ron Wells, who has tried repeatedly to buy the property from Reugh, only to find Reugh had raised the asking price. Reugh has hired the demolition company to tear down the building, along with the 1915 Mohawk Building. A parking lot will be paved over the site.
"I guess there's no silver lining when you're losing buildings that are beautiful," Wells said. "No matter how beautiful somebody tries to make the parking lot, it isn't a piece of urban fabric that helps the downtown."
Demolition company owner Rob Carper said his eight workers would try to remove the intricate terra cotta designs and save some of the marble from the building. Both buildings could be leveled in three to six months, depending on the weather, he said.
Calls to Reugh and his property manager, Steve Gill, went unreturned Wednesday.
While the Bank of America tower cast a shadow across the building Wednesday afternoon and Ed Miller, president and CEO of WhiteRunkle advertising agency, watched from his office window across Riverside Avenue, crews used a pneumatic hammer to break apart the façade.
"Once it's gone, no matter what we replace it with, it's still gone," said Miller, who doesn't look forward to overlooking a parking lot. "It's not what Spokane needs, in my opinion. I think it's a shame."
City Council President Dennis Hession said he has been trying to find ways to save the buildings by exploring a public-private partnership.
Despite the bad news Wednesday, Hession said he will continue to work on the deal.
"Unfortunately, the owner (Reugh) is impatient and is not willing to wait any longer," Hession said. "We are continuing to work on it, but what will come out of it, I don't know."
Wells was on the phone with investors even as the building was being picked apart Wednesday. He said he's reached half of Reugh's $5.6 million asking price, but when Wells called Gill, he found that Reugh would likely require an even higher selling price.
Wells said he will continue seeking funds and hopes that parts of the property could still be saved.
"So far he hasn't done any irreversible damage," Wells said. "But in not too much more time, he will."
Jacqui Halvorson, president of Spokane Preservation Advocates, said she had written a note to members of the historic preservation council telling them they had done everything they could to save the building.
"We certainly had the public support to save the building, but I can't really say we had the political power to do it," she said. "There's been so many great projects going on in downtown Spokane, this is kind of a slap in the face to all of the revitalization that has been going on."
Developer Rob Brewster, who said he believes historic preservation is a difficult but important part of Spokane, was frustrated Wednesday by the demolition. He said a "lack of community in Spokane," as well as a lack of leadership in the city, is as much to blame as Reugh.
"It's a frustrating place to do business," said Brewster, who has renovated the historic Montvale Hotel and other commercial projects downtown. "We continue to see the private side trying to make Spokane more successful while it's just going to constantly be beat down by the ineptness of the leadership."
Halvorson said preservation advocates were frustrated to see Reugh raise the price on the property as soon as investors came forward with the funds.
"He couldn't even leave us with a lasting legacy. His legacy is going to be a surface parking lot," she said. "Wendell Reugh has been making money off of real estate investments in Spokane for 20 years. He's going to end up taking his money, moving to California and leaving a hole in the center of downtown Spokane."
Local journalism is essential.
Give directly to The Spokesman-Review's Northwest Passages community forums series -- which helps to offset the costs of several reporter and editor positions at the newspaper -- by using the easy options below. Gifts processed in this system are not tax deductible, but are predominately used to help meet the local financial requirements needed to receive national matching-grant funds.
Subscribe to the Coronavirus newsletter
Get the day's latest Coronavirus news delivered to your inbox by subscribing to our newsletter.
---