News > Spokane
Four inmates on loose after jailbreak in Yakima
Sat., Nov. 26, 2005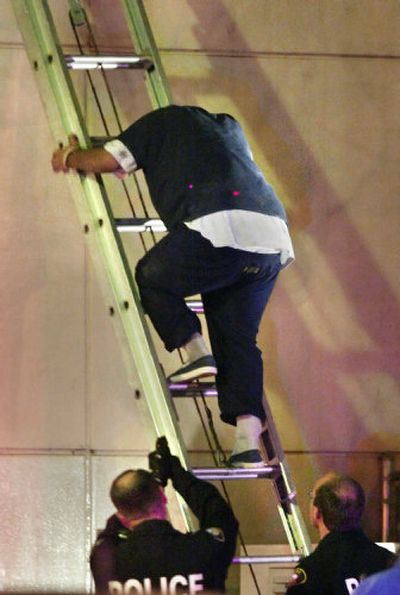 YAKIMA – Nine Yakima County Jail inmates used a rope made of bedsheets to escape Friday evening, authorities said.
Five were quickly recaptured before they could leave the jail grounds, said Will Paulakis, a Yakima County Corrections Department division chief.
The other four, including a 20-year-old man charged with second-degree murder, were being hunted by sheriff's officers, city police, the U.S. Marshal Service and corrections officers.
All were maximum security inmates, Paulakis said.
In addition to Santos Luera, awaiting trial Dec. 5 on a charge of shooting his half-brother during an argument, the inmates still at large included one man charged with theft and two charged with second-degree assault, said Cpl. Ken Rink, a Corrections Department spokesman.
The inmates apparently escaped shortly after 5 p.m. through the ceiling of a cell in their unit, on the top floor of the four-story main jail, and gained access to the roof, Rink said.
From that roof, they used bed sheets to slide down to the roof of the adjacent one-story jail annex, then jumped to the ground. A similar approach was used in a 1994 jailbreak.
One inmate was recaptured on the main jail roof, three were caught on the annex roof and a corrections officer spotted the fifth standing on the ground and tackled him, Rink said. No injuries were reported.
Detectives were interviewing inmates Friday night and officers expected to know more about the jailbreak planning by morning, Rink said. The prison was in lockdown.
Some streets were blocked off in the area and officers asked nearby businesses to be on the alert.
The jail, which housed 826 inmates before the jailbreak, is located near the old train station in downtown Yakima.
In addition to Luera, the inmates still missing Friday night were identified as Luis Soto, 28, of Toppenish; Gianno Alaimo, 26, of Yakima; and Terry Moser, 25, of Yakima. Soto was facing trial Jan. 3 on a second-degree theft charge, while Alaimo and Moser were charged with assault, Rink said.
Four inmates escaped the main jail on June 5, 1994, by ramming a hole in the fourth-floor ceiling, the Yakima Herald-Republic reported. They made their way through ductwork to a roof vent, then used another bedsheet rope to reach the annex roof. The makeshift rope broke, injuring two inmates who fell. Two of the inmates fled to Mexico, where one of them was killed in a gunfight; the other was eventually captured.
Local journalism is essential.
Give directly to The Spokesman-Review's Northwest Passages community forums series -- which helps to offset the costs of several reporter and editor positions at the newspaper -- by using the easy options below. Gifts processed in this system are not tax deductible, but are predominately used to help meet the local financial requirements needed to receive national matching-grant funds.
Subscribe now to get breaking news alerts in your email inbox
Get breaking news delivered to your inbox as it happens.
---