News > Nation/World
Turkey opens formal EU talks
Tue., Oct. 4, 2005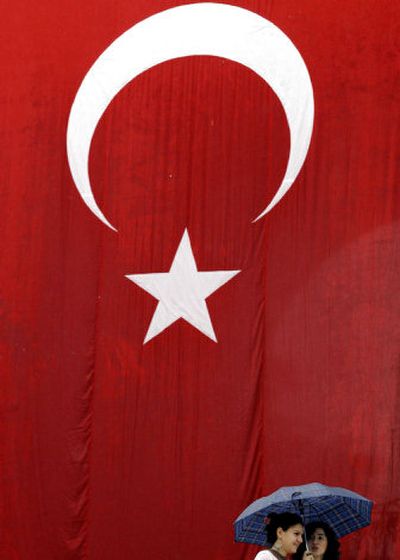 LUXEMBOURG – The European Union opened membership talks with Turkey early today – a historic first step that would transform the bloc by taking in a predominantly Muslim nation and expanding its borders to Asia and the Middle East.
Turkish Foreign Minister Abdullah Gul flew late Monday night to Luxembourg for a late-night ceremony to formally open entry talks, following an agreement reached after two dramatic days of diplomacy that included strong U.S. lobbying for Turkey's candidacy.
"We have reached a historic point," Gul said in Ankara before boarding his jet. "Turkey will be the only Muslim country in EU."
The start of negotiations that could last a decade followed weekend crisis talks meant to persuade Austria to drop its last-minute objections to Ankara's bid for full membership. The 25-nation bloc also opened membership talks with Croatia today – a key Austrian demand – after the U.N. chief prosecutor gave assurances the government in Zagreb was now cooperating in efforts to bring a war crimes suspect to trial.
The negotiations came amid fears that rejecting the only Muslim EU candidate country could destabilize the Turkish government, which has staked its future on building ties with the West. Turkey neighbors Iraq and Iran – and U.S. officials – regard Turkish stability as critical.
Washington also has showcased Turkey as an example of a Muslim country that is not only pro-Western but also secular and democratic.
But many Europeans have questioned the bloc's ability to absorb the nation of 70 million people and invoked concerns about admitting a poor and predominantly Muslim nation. Amid deepening fears in Europe toward immigrants, Turkey's candidacy also raises the prospect of millions more potential newcomers.
British Foreign Secretary Jack Straw told reporters the EU crisis talks were "grueling" – but commended both the EU and the Turkish government for showing "great statesmanship."
All 25 EU members had agreed in December to launch entry talks with Turkey on Monday. But last week, Austria suggested that the EU reserve the right to grant Ankara something less than membership if Turkey was unable to meet all membership obligations.
Austrian Foreign Minister Ursula Plassnik had wanted a "privileged partnership" for Turkey, but she eventually relented.
Local journalism is essential.
Give directly to The Spokesman-Review's Northwest Passages community forums series -- which helps to offset the costs of several reporter and editor positions at the newspaper -- by using the easy options below. Gifts processed in this system are not tax deductible, but are predominately used to help meet the local financial requirements needed to receive national matching-grant funds.
Subscribe now to get breaking news alerts in your email inbox
Get breaking news delivered to your inbox as it happens.
---