News > Voices
Raymond Moore's music, art left mark in world
Thu., Oct. 27, 2005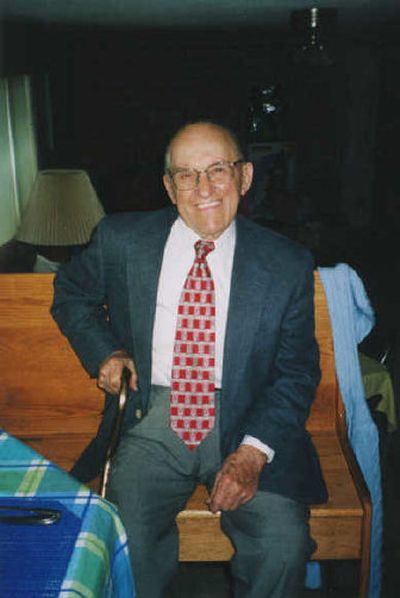 Raymond Moore exhibited signs of success.
As a professional sign painter, Moore spent 50 years putting his personal touch on buildings, automobiles and grain silos stretching from Spokane Valley to Walla Walla.
His work drew attention to Behm's Valley Creamery and notified Sprague Avenue drivers that Halpin's Pharmacy and Treasure Room was having another sale. Moore even decorated work vehicles for Faucets N'Stuff Plumbing.
"My dad was a sign painter, and that was his art," said his daughter, Sharron Collins of Greenacres.
While sign painting was Moore's day job, music was his passion. A saxophonist, he played in big bands in California, proudly telling his kids about times he played in Doc Severinsen's band in California. After moving to the Spokane area in the 1950s, he hooked up with several big bands, including the Jim Baker Band.
"He played the horn all the time. I loved it. I grew up knowing all the big band songs of that time," said Collins, 65.
Raymond Moore played and sang music all his life. He died on Sept. 14, a few weeks shy of his 91st birthday.
Born in Ripley, Okla., Moore was one of 11 musically gifted children with a pianist mother and violinist father.
While attending high school in Cushing, Okla., Moore met the girl of his dreams, Pauline Haskins, and arranged to be matched up with her for a frog dissection in science class.
A nose full of formaldehyde led to more than 60 years of marriage.
"She was a spitfire. She was a godly woman on salsa," Collins said of her mom, who passed away in 1999.
They complemented each other nicely. While life was black and white for Pauline, her husband lived in the gray.
After marrying, the couple lived in Oklahoma, where Sharron was born. Later, they moved Portland and then to California, where the couple had a son, Allen Moore.
Many years later, Allen died as an adult – a heartbreaking loss for her parents, Collins recalled.
While living in Portland, Moore worked in the shipyards and started playing his saxophone in big bands. He later penned some short notes about his life, recalling that when he took the shipyard job he made 78 cents an hour, paid $15 a month for rent and spent about $5 a week for groceries.
After moving to the Valley in the 1951, Moore went to work for his brother-in-law and sister-in-law at The Haskins Co., which, at the time, built grain elevators.
He painted grain elevators and signs, displaying an uncommon work ethic and having little tolerance for slackers, his family said.
A man of devout faith, Moore attended Pines Baptist Church and served as song leader for 27 years.
Collins recalled that her father never lost touch with his musical roots. The family regularly traveled to Oklahoma for vacations. With so many gifted musicians in the family, reunions had a musical tone.
"When we had family reunions, it was a jam session. It was really fun," Collins said.
When his daughter grew up wanting to dance instead of play music, he supported her. Collins later went on to start her own dance school, Dancin' with Sharron, a local studio for 20 years.
"He was just so proud of everything I did. He called me his little girl all my life," she said.
Moore spent his off hours volunteering at area nursing homes, where he played his horn and sang, even going around the room with a microphone and asking residents to sing a few notes.
"They loved him. He walked around and he would play the room. He was just a natural entertainer," said his granddaughter, Shelly Blalock.
As kids, Blalock and her brother, Shayne Cofer, were part of their grandpa's act, which played at area nursing homes on Sunday afternoons.
"He kept entertaining them even when he got old. He would say, 'I've got to go play for the old people.' even when he was in the 80s," said Blalock, of Spokane Valley.
Blalock, 41, enjoyed spending time with her grandparents and liked to perch on the edge of the bathtub while her grandfather shaved. Ever the entertainer, Moore made goofy faces that kept the little girl in stitches.
Later, when Blalock became a parent, her own son, Mordekye Layman, now 19, also visited his great-grandparents, who took him on outings to the park and other places.
"He touched so many lives just by being himself. He cared a lot for everybody," she said.
Moore worked into his 80s, finding battered signs and stopping at area businesses and offering to retouch them. When drumming up business, he'd pull out a traveling portfolio of signs he'd done in the past.
Moore's busy lifestyle slowed a bit in 2003 when, at almost 90, he retired from his part-time sign painting business and his nursing home performances. Still, he kept active in the church music program.
One month before his death, Moore sang "It Took a Miracle" at church, Collins said, adding that her father was always grateful and quick to say "thank you" for a good deed.
"He always thought his life was a miracle. He never lost his voice. It was beautiful."
Local journalism is essential.
Give directly to The Spokesman-Review's Northwest Passages community forums series -- which helps to offset the costs of several reporter and editor positions at the newspaper -- by using the easy options below. Gifts processed in this system are not tax deductible, but are predominately used to help meet the local financial requirements needed to receive national matching-grant funds.
Subscribe now to get breaking news alerts in your email inbox
Get breaking news delivered to your inbox as it happens.
---