News > Voices
Support and healing
Thu., Oct. 27, 2005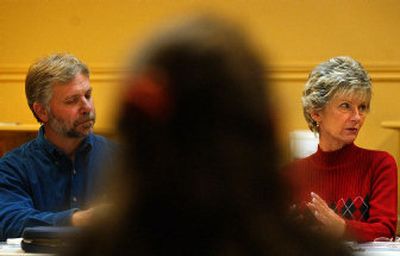 When a friend dragged Sheri Rinauro to a class at church for people dealing with divorce, she was determined not to talk. Her silence didn't last long. Rinauro has gone from a quiet observer to a DivorceCare facilitator for children affected by divorce while adults meet separately. Divorced four years ago, Rinauro was at first hesitant about sessions encouraging people to talk about anger, depression, loneliness and forgiveness after marriages fail.
"A girlfriend who dragged me to the class thought it was something I could use, and I really didn't want to go," Rinauro recalled. "I told her, 'You can't make me talk.' "
"You realize people have the same problems you do, and all of a sudden the words started coming out."
Rinauro now works with three other facilitators who offer 13-week DivorceCare sessions twice a year – fall and spring – at Mirabeau Chapel on North Pines Road.
Other Spokane Valley churches such as Reedemer Lutheran and Grace Harvest Fellowship also have offered divorce recovery classes. Grace Harvest has a small group going through a session.
Into its fourth year, Mirabeau uses the nationwide program, DivorceCare, a Christian-based ministry developed by professionals with videotapes, workbooks and support group discussions.
Sandee Overstreet, another Mirabeau DivorceCare facilitator, said that although the church does not condone divorce, she and others realize it is today's reality. The divorce recovery ministry focuses on support and healing for people after a separation, she added.
"We don't advocate divorce in any way unless someone is in physical danger," Overstreet said. "I think the church has come to realize there is divorce within the church. We don't want to acknowledge that sometimes, but the fact is, it's a reality."
Both men and women attend the classes, which are open to anyone whether or not they are churchgoers. As few as eight people and as many as 20 have gone through a DivorceCare session, Overstreet said.
"We've had people come in who are trying to save their marriages, and we encourage that. Often we become a support in reconciliation. We pray with them. We get a lot of people from other faiths – Catholics, Lutherans, Baptists. It's nondenominational."
Added Rinauro, "We see a lot of unchurched people, and it's a chance for us to share Christ."
Although people typically are quiet and remote at first, both Rinauro and Overstreet described a camaraderie that evolves as people share. Confidentiality and openness are encouraged.
"We don't have the same one couple from one divorce," said Overstreet. "We always have an individual out of a divorce. They talk about personal things."
The leaders make it clear that the group is not a dating forum, Rinauro added. They encourage a policy that whatever is said in the room stays there.
"We can't counsel," Rinauro said. "We're just there to listen and support. We try to make each other available just to talk, pray for each other, encourage."
Overstreet said she tries to be honest about her feelings from a divorce six years ago when she leads discussions.
Common concerns about divorce are addressed weekly such as anger, depression, financial survival and the impact on children. Participants write notes in a daily journal.
Men also have opened up emotionally during sessions, Overstreet said. "I know it's difficult for men sometimes to communicate. We've had more cry than not."
Women in the class respond because they come to realize that men grieve just as much as they do, she added.
Divorce also takes an emotional toll on children, and the program addresses that with videos, stories and puppets. The children's parents meet separately on site.
"We've been able to help them express their feelings," Rinauro said. "Many would hide their feelings before because they don't want to hurt either parent."
Kids commonly feel at fault, Rinauro added.
"I see what it did to my kids who are now ages 22 and 27. They blame themselves. I didn't know they did. Children often blame themselves. They think, if I had done this, my mom and dad would still be together."
"Parents have the children right in the middle of the argument. They've used them as pawns. In all fairness to people going through divorce, a lot of people don't even realize they're dong it."
Both Rinauro and Overstreet credit Mirabeau pastor Craig Langhans for encouraging ministries that help people wherever they are in life. The DivorceCare leaders have sometimes helped someone find an apartment or clothing after a divorce.
"Our hearts go out to each person in the group," Overstreet said. "When an adult cries, I cry right along with them because I know what they're going through. It's been humbling to be used by the Lord. The longer I'm here the more I see the need for this ministry."
Recovery can happen, and for people such as Rinauro, possibly a new marriage.
"I swore I'd never get married again," she added with a smile. Almost a year ago, she married Randy Rinauro, another DivorceCare facilitator.
According to Overstreet, DivorceCare sessions helped her and others because they offer hope.
"We want them to feel they have a family when they may think they don't – just surrounding them and making them feel loved. It's changed my life. I've seen over the years how it has changed others' lives."
"In a nutshell, we're about hope after divorce. That life does go on."
Local journalism is essential.
Give directly to The Spokesman-Review's Northwest Passages community forums series -- which helps to offset the costs of several reporter and editor positions at the newspaper -- by using the easy options below. Gifts processed in this system are not tax deductible, but are predominately used to help meet the local financial requirements needed to receive national matching-grant funds.
Subscribe now to get breaking news alerts in your email inbox
Get breaking news delivered to your inbox as it happens.
---