Sports
Badgers expect rough beginning
Thu., Sept. 1, 2005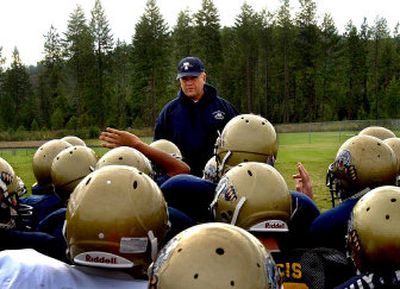 How's this for a scenario? The Bonners Ferry High football team, picked by the coaches to win the Intermountain League championship, could be winless by the time it begins league play later this month.
Heavy emphasis on "could." The Badgers fell to a good Libby, Mont., team 42-7 in a season opener last week and they take on former league rival Lakeland in a home opener at Kenny Mendenhall Stadium on Friday.
Bonners Ferry follows that up with non-league dates with Lethbridge, Alberta, much-improved Moscow and 4A power Sandpoint. So the possibility exists that the Badgers could be winless. They aren't likely to have more than two wins come late September.
That's just fine with Bonners Ferry coach Caleb Arceneaux. Not the losing part, that is, but the preparation for league games.
"We've got as tough a non-league schedule as we had last year," Arceneaux said. "We just want to gain experience and stay healthy through those games. We'll be a better football team for it."
It's not likely that such a schedule will have Bonners Ferry overconfident going into league. If the balance of the IML teams were hoping on the Badgers going into league with a swagger, the difficult schedule is likely to take out all the Badgers' strut.
Four of the league's five coaches were asked to predict where the teams will finish. First-year Kellogg coach Alan Williams wasn't asked to vote since he has no first-hand knowledge of the conference.
The Badgers received 40 points, Priest River was next at 28, Timberlake got 26, and Kellogg and St. Maries each received 15.
Bonners Ferry returns the most experience, led by 19 seniors.
"A lot of those kids started last year," said Timberlake coach Roy Albertson, whose IML championship team from a year ago will be the polar opposite of Bonners Ferry. Timberlake graduated 20 of 22 starters.
"They're a very talented team," Albertson added of Bonners Ferry. "They have some quality seniors."
While labeling the Badgers the clear-cut favorite, Albertson isn't conceding anything.
"Our goal is to defend our championship," Albertson said. "We've got to get better every week."
Timberlake will be significantly different than a year ago – at least physically. Gone are the giant-like linemen. The Tigers replace size with perhaps the best speed in the league.
"These kids had a very good track season and they don't see themselves doing anything different in football," Albertson said.
Arceneaux doesn't anticipate Timberlake dropping off the map.
"I don't think they're going to miss a beat," Arceneaux said. "They're not going to be as big up front, but I still see them being a very good football team."
No other team figures to challenge Bonners Ferry or Timberlake. The top two teams advance to the state playoffs after just the league champ qualified a year ago.
Local journalism is essential.
Give directly to The Spokesman-Review's Northwest Passages community forums series -- which helps to offset the costs of several reporter and editor positions at the newspaper -- by using the easy options below. Gifts processed in this system are not tax deductible, but are predominately used to help meet the local financial requirements needed to receive national matching-grant funds.
Subscribe to the sports newsletter
Get the day's top sports headlines and breaking news delivered to your inbox by subscribing here.
---