News > Spokane
Catholic Charities has new director
Thu., Sept. 1, 2005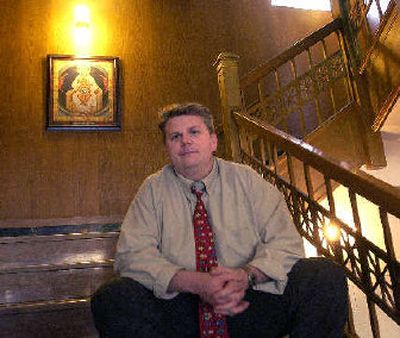 Rob McCann was on track to be a high-powered East Coast attorney, but a slight detour into Ecuador changed the course of his life.
Instead of enrolling in law school, McCann chose a path that has taken him to poor neighborhoods in East Los Angeles; to refugee camps in Africa; Kosovo and other parts of the world ravaged by war or natural disaster.
That same path has also led the New York City native to plant roots here in Spokane, where his work with Catholic Charities has touched the lives of thousands of senior citizens, homeless mothers and children, transient men and others in need throughout Eastern Washington.
On Wednesday, Catholic Charities of Spokane announced that McCann will become its new leader after serving as the associate director for the last five years.
His leadership comes at a critical time, many say. Although incorporated separately from the Roman Catholic Diocese of Spokane, the Inland Northwest's largest nonprofit has felt the effects of the diocese's decision to file for bankruptcy protection. Its annual Christmas collection was down a few percentage points this year despite frequent reminders to donors that the Catholic Charities is not part of the bankruptcy proceedings.
While many are saddened by what's happening in the diocese, Catholic Charities remains "vibrant, strong and healthy," said McCann, pointing out how the charity serves more than 44,000 of the area's most vulnerable people each year. "This is an agency that works miracles every day."
McCann, 35, has been serving as acting director since Catholic Charities' leader, Donna Hanson, took an extended medical leave two months ago. The agency's director since 1978, Hanson is suffering from cancer and is under hospice care at home. McCann will take over upon her retirement.
For the past five years, Hanson has served as McCann's mentor. She has taught him to "use your head and your heart" and to bring Catholic Charities' core values – respect, compassion, collaboration and justice – into every aspect of his life, he said.
Before he entered the world of social service, McCann, who comes from a family of attorneys in New York, fully intended to continue the tradition. The only reason he wanted to go to Ecuador as a 21-year-old was to "pad his resume" for law school, he recalled.
The experience, however, transformed his life.
He and 13 other students from Fairfield University, a Jesuit school in Connecticut, spent five weeks in the South American country building schools, visiting parishes in the middle of jungle and doing all sorts of volunteer work. Since he was the only one among the group who spoke fluent Spanish, McCann served as a translator and was able to get a deeper understanding of the people and culture of Ecuador. He also developed an awareness of the privileged life he led in the United States and the obligation to serve those in need.
When he returned to Fairfield, he changed his major to political science and American studies. After college, he signed up for the Jesuit Volunteer Corps – teaching kindergarten in Oregon and doing community outreach work in Mexico and East Los Angeles.
Before moving to Spokane, McCann spent five years working with Catholic Relief Services, an international disaster relief and development agency. His area of specialty included refugee camp management and evaluation so CRS sent him to Africa, Asia, Latin America and Eastern Europe.
For five years, McCann lived out of a suitcase, going to hot spots surrounded by conflict that was often broadcast on the evening news. He got malaria six times along with other illnesses that strike people in the developing world. In 1997, he traveled to India to work with the Mother Teresa, who spent many hours sharing her perspective on life and the poor.
About two years later, CRS sent him to a temporary assignment in Spokane so his body could recover. It was here where he met his future wife, Rachel, as well as Hanson – two women who convinced him to stick around.
Now the father of a 5-month-old son, McCann has made a lifetime commitment to Catholic Charities of Spokane.
"Donna changed my life as much or even more than any of the countries I visited," he said, explaining his decision to stay here. "Working with her has transformed me. It was a lot like being in Ecuador."
McCann, who has a master's and doctorate from Gonzaga University, was "head and shoulders above all the applicants," said Susan Bloom, a member of the Catholic Charities Board of Directors who served on the search committee.
"He has dedicated his life to service," she said. "He's a bright young man who will carry on Donna's legacy with a different style, but with the same heart and abilities."
Local journalism is essential.
Give directly to The Spokesman-Review's Northwest Passages community forums series -- which helps to offset the costs of several reporter and editor positions at the newspaper -- by using the easy options below. Gifts processed in this system are not tax deductible, but are predominately used to help meet the local financial requirements needed to receive national matching-grant funds.
Subscribe to the Coronavirus newsletter
Get the day's latest Coronavirus news delivered to your inbox by subscribing to our newsletter.
---