Sports
Eagles ready to take flight
Thu., Sept. 1, 2005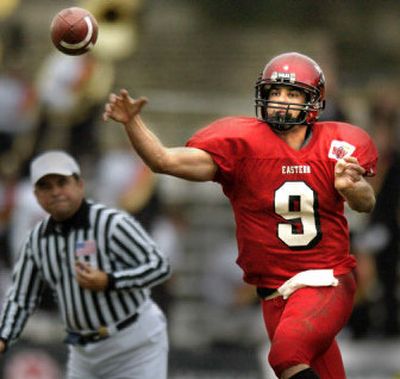 Say whatever you want, the Eastern Washington football team isn't listening.
"We don't get caught up in what's being said," Eagles coach Paul Wulff said. "We get caught up in how we work every day and what our expectations are and our performance. That's where our focus is. What people say doesn't have an impact on what we have to do."
People are saying plenty, which is a reflection of Eastern's high expectations.
The Eagles have been picked to win the Big Sky Conference championship and are ranked between second and sixth in six different I-AA preseason polls.
"You've got to try to block that out, rankings don't mean anything," quarterback Erik Meyer, the reigning Big Sky Offensive MVP, said. "We could be ranked four now and finish last or whatever. The most important thing is who's No. 1 at the end and that's what we're trying to get at."
Meyer is a good place to start.
"There are a lot of guys coming back, but everyone wants to start with a guy like Erik Meyer," Portland State coach Tim Walsh said. "The underestimation is how good they are around him. They have a lot of guys that have started a lot of games in the Big Sky. When I do my first ESPN (coaches) Poll I'm going to put Eastern No. 1. I think they're going to be good."
Meyer led the nation in passing efficiency, completing 259 of 382 passes for 3,707 yards and 31 TDs with nine interceptions, last season as the Eagles finished 6-1 in the league and 9-4 overall, reaching the second round of the playoffs.
The senior gunslinger is the headliner on a team that returns 37 lettermen, 13 starters, 13 all-conference players, five preseason All-Americans and both ends of the prolific E2 passing combination – Meyer and wide receiver Eric Kimble – who made the preseason watch list for the Walter Payton Award as the best offensive player in I-AA football.
Kimble, who had 83 receptions for 1,453 yards and a league-record 19 touchdowns as a junior, already holds the league record for career receiving TDs (34).
They're surrounded by a talented cast. All the wideouts return from last year, Oregon State transfer Ryan Cole tops a five-deep stable at running back, talented tight end Tim Calhoun is back from two years of injuries and All-American Rocky Hanni anchors the offensive line.
It's the line that has the most question marks, even with Hanni, with four sophomores flanking senior center Kraig Sigler.
"It feels pretty good at practice," Sigler said. "It doesn't seem like we missed a beat, they've stepped in and we're picking up right where we left off."
The line also is the question mark for a veteran defense with three starters gone, but the back seven returns post-season starters, including cornerback Isaiah Trufant and linebacker Joey Cwik, preseason All-Americans.
Kicking was inconsistent last year, but Sheldon Weddle has some experience now and won't have to share the job.
The other questions revolve around how the Eagles react to the disappointing end to last season and respond to the increased expectations.
"No longer are the kids in our program wondering what it's like to be in that situation. We now understand what it is like to be there," Wulff said. "There should be that familiarity with those expectations and that we belong with the best teams in the country.
"We've tried to build this program to have expectations every year to compete for the Big Sky Conference championship and compete for a national championship. That has been our focus for the last four to five years. We've built it to that, to where now people expect we're one of the programs that have a chance to do those things."
Local journalism is essential.
Give directly to The Spokesman-Review's Northwest Passages community forums series -- which helps to offset the costs of several reporter and editor positions at the newspaper -- by using the easy options below. Gifts processed in this system are not tax deductible, but are predominately used to help meet the local financial requirements needed to receive national matching-grant funds.
Subscribe to the sports newsletter
Get the day's top sports headlines and breaking news delivered to your inbox by subscribing here.
---