News > Voices
Empty car pulled from river
Thu., Sept. 1, 2005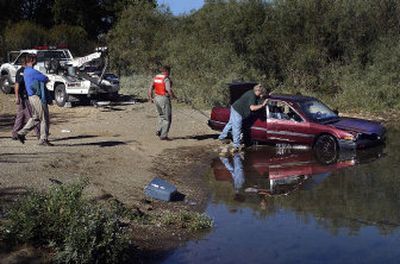 It's a whodunit mystery, but not the classic kind.
Spokane County Sheriff's Office deputies were trying to figure out Tuesday why someone left a late-model Honda Accord LX submerged at a popular swimming hole in the Spokane River, and to whom the car belonged.
The car, found six feet below the surface, didn't have any license plates. It was sold earlier this year but wasn't registered in the new owner's name, officials said.
About 8:30 a.m. Tuesday, a woman on the Centennial Trail spotted the Honda when she saw bubbles rise from the mostly still water, said Deputy Fred Morford, who referred to the area as the swimming rocks swimming hole near the Donkey Island Bridge, just west of Plantes Ferry Park.
The first two deputies who responded to the call dived into the river, mostly clothed, to check for bodies, but didn't find anyone, Morford said.
When a diver with the Sheriff's Office opened the car's trunk, a small blue suitcase, a bottle of STP antifreeze, and a spare tire floated to the top.
"It's probably just a dumped vehicle," Morford said. "The worst part is someone trashed a good swimming hole."
Appleway Towing pulled the Honda from the river and took it to an impound lot. Water bottles, an empty Snapple, grocery receipts and other bits of waste poured out of the Honda along with the water as it was brought to the surface.
Levis, a white button-down shirt, men's and children's socks, and Spokane telephone book remained in the car's trunk.
The swimming hole where the Honda was found is on the south side of the Spokane River. Deputies said there are several access points that someone could have used to get the car into that area.
Finding a car sunk in the river happens about twice a year, Spokane County Sheriff's Office Cpl. Dave Reagan said.
Local journalism is essential.
Give directly to The Spokesman-Review's Northwest Passages community forums series -- which helps to offset the costs of several reporter and editor positions at the newspaper -- by using the easy options below. Gifts processed in this system are not tax deductible, but are predominately used to help meet the local financial requirements needed to receive national matching-grant funds.
Subscribe to the Coronavirus newsletter
Get the day's latest Coronavirus news delivered to your inbox by subscribing to our newsletter.
---