News > Voices
Football kicks off
Thu., Sept. 1, 2005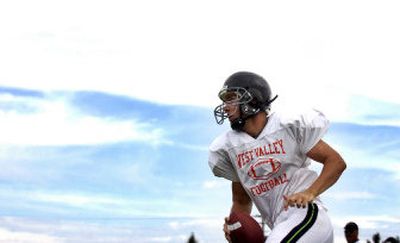 Something happens when the chase reaches the end game, when hunter is on the heels of quarry.
It's the point where the most intimate of senses kicks in – when an object is so close that the hunter can taste his or her objective.
That's how close East Valley got to its football objective last season – posting nine wins in 13 games.
The Knights reached last year's State 3A high school quarterfinals, losing a heartbreaking 41-32 decision to Kelso.
"It's one thing to reach the playoffs with a senior-dominated team," sixth-year head coach Adam Fisher said. "You lose some of your momentum as a program because the heart of your team graduates.
"But we've got the core of our team back and they're committed to doing what last year's team did and a little bit more. Our goal is to be playing on television Dec. 3 from the Tacoma Dome."
Taking the field in December would mean playing for a state championship for the second time in school history. Coach Bob Shill directed the Knights to a State 2A (now 3A) title in 1981, beating Arlington 19-14 in the Kingdome.
Being that close to a goal has added a sense of urgency to the Knights' practice sessions as they prepare for Friday's season opener at Coeur d'Alene.
The Knights are well-armed for their return quest.
Senior quarterback Jye Lanphere was an all-state defensive back a year ago. Senior tight end/defensive end Tyler Jolley was a first-team All-Greater Spokane League defensive selection last season, and Austin Wardsworth was first team on the offensive line. Runningback/linebacker Brady Brunelle was a second-team defender.
They are among a host of veterans returned from last year's playoff run.
"Jye Lanphere has said he wants to play baseball, but he could play college football if he chose to," Fisher said. "Tyler Jolley has already orally committed to playing at Eastern next year.
"Brady Brunelle's brother, Ross, walked on at Montana. It always helps when you can be exposed to the next level of play, and Brady has had that now through his brother. He's an outstanding student and athlete and could probably play in the Ivy League if he wanted to."
Junior running back Ryan Campbell is following his brother, too. Scott Campbell is the GSL's second leading career rusher all-time.
EV and West Valley will be 3A members of the Greater Spokane League. Central Valley and University are 4A. The Titans, who advanced to postseason last year, kicked off the season Wednesday against Lake City of Coeur d'Alene. Central Valley travels to Sandpoint Friday, and West Valley is home against 4A GSL rival Mt. Spokane. All are nonleague games beginning at 7 p.m.
Defending Northeast A champion Freeman opens the season Sept. 9 at home against Deer Park.
East Valley Knights
Fisher likes the addition of a 10th regular season game, and the idea of starting his season early has a certain appeal.
On the other hand, the Knights start the season at a disadvantage.
"Idaho schools started practicing August 6th – before the University of Idaho or Washington State opened fall practice," Fisher said. "That means they've had considerably more practice than we've had. Plus, Washington schools are limited to just five two-a-day practices, while Idaho has no such mandate. So they've also had many more practices than we've had.
"And on top of that, they all come into this week with a game under their belts, and that makes it a little unfair."
The only spot where Fisher was hit hard by graduation was wide receiver, where starters George Hamilton and Grant Bruscoe are gone. But even that's not a primary concern at East Valley.
"After our third or fourth game we went to much more three-receiver sets last year because we needed to take some of the pressure off Tyler Jolley at tight end," Fisher said. "Cole Abramson was basically a starter even though he wasn't exactly in the starting lineup. In fact, he caught a touchdown pass for us against Kelso.
"Last year we pretty much had just the one tight end. This year we have more flexibility. We can run one tight end sets and two tight end sets if we want to, and we can also go with three wides if we want to."
One of Fisher's main concerns has been to find ways to get some of his players off the field.
"If we can, I'd rather not have kids play every down both ways," the coach explained. "I'd like to get them some rest during the game. With Tyler Jolley, for example, we want to find a way to spell him on offense because he's going to be out there every play on defense. That way we can keep him a little fresher. Someone like Jye (Lanphere) is going to make it difficult to do that.
"We try to break things down a bit. Instead of kids playing two ways, we try to make so they're playing 1.5 or 1.25 ways."
Central Valley Bears
The Bears will build upon a seasoned offensive and defensive line.
"We've accomplished quite a bit over the summer through the fall so far," longtime coach Rick Giampietri said. "We're anxious to get into a football game and see where we're at. "Sandpoint has a good program and that's a tough place to play, but it will be a good test for us."
Central Valley's strength lies up front, where the Bears return a strong, senior-dominated offensive line.
Offensive and defensive tackle C.E. Kaiser was a first-team All-GSL defensive pick a year ago and already has been offered a scholarship to play college football.
"Idaho offered him a scholarship already," Giampietri said. "He hasn't decided yet, but he's going to play college football."
Also back is center Titus Mertens , guard Kameron Kempe and tight end Brad Johnson.
Central Valley returns nine starters on offense, including its starting backfield in quarterback Camern Ebat, fullback Dane Knudsen and running back Zach Evans. Receivers Matt Morgan and Anthony Bucknam also return.
Defensively, the Bears graduated eight starters.
Kaiser, the lone returning defensive line starter will anchor the line at tackle. Johnson started at middle linebacker, but multi-year starters Kyle Renz and Tommy Kadoya have graduated. Senior free safety Tyler Demars returns in anchor the secondary.
Senior Brian Adams, a transfer from Boise, will help out as both a wide receiver and defensive back.
"I think we're going to be okay," Giampietri said. "We've got good speed at the receiver position and I think our defensive backfield will be good."
West Valley Eagles
Second-year coach Craig Whitney saw his team make significant progress a year ago despite posting an 0-10 record.
"We improved every game," Whitney said. "And we've carried that momentum over to this year. Our numbers are up and we've got the parents involved in the program. We're going to keep moving forward."
Last year the Eagles had a small senior class, a top-end handicap for a first-year head coach.
"You really need those seniors at the top of the program – kids who have been in the system and can be leaders," Whitney said. "We didn't have that. This year we have a bigger, stronger senior class. And our numbers are up – we've got more than 80 kids out this year."
Whitney took his team to a summer football camp at the University of Montana and spearheaded a fund-raising effort that allowed the program to buy new jerseys.
"We'd been pretty focused on wearing black," he said. "We decided to go with orange jerseys trimmed with white and with black numerals. We added our name, 'West Valley,' across the front for a little extra motivation.
"We put them on last week to take our team picture and there was some magic in the air."
Adding to the air of excitement is the fact that this is West Valley's final season in the Greater Spokane League.
"All of the coaches were allowed to vote and it was unanimous," Whitney said. "We're going to drop down to Class 2A and compete against schools our own size starting next year."
Senior basketball standout Tyler Hobbs will play an integral role as both a tight end and defensive end, as will senior Phil Gannon, who doubles at running back and strong safety.
Sophomore Bryan Peterson will see considerable playing time.
"We've had him at quarterback and he's been impressive," Whitney said. "He's an exciting player and we're going to have to find playing time for him."
The major concern for the Eagles is size.
"It's tough to ask 170-pound kids to play on the line, but that's what we have to do and the kids have all responded," the coach explained. "We just don't have a lot of size and that's the major handicap when you're the smallest school in the league. We have 530 kids in our top three grades and a school like Central Valley or University has that many kids in just their freshman class."
Freeman Scotties
Freeman graduated three key players off last year's squad – a group that carried the Scotties all the way to the State 1A championship game, where they lost to Royal, 29-7.
Gone are running back Kevin Hatch, the Regional Sports Commission's junior athlete of the year, Ray Flaherty Award-winning lineman Dan Sanders and tight end Bryan Riggs.
And, after the dust settled, the Scotties lost the coach who led them into the state playoffs in each of the past four seasons.
"For personal reasons, I felt it was time for me to step down," former coach Jeff Smith said. "I did that late in the year and we didn't want to make that big of a deal out of it."
Smith's right-hand assistant, Jim Wood, steps in as head coach after a long career as an assistant at both Freeman and Okanogan.
"I've been here for all four playoff seasons," Wood said. "After all those years as an assistant it's not that big of a step up. I've added a few new things, but for the most part we're going to keep doing what we've been doing."
Wood's first concern for this season was about what the team will do in the locker room.
"I won't kid you," Wood said. "Those were three strong leaders, and I gave a great deal of thought to what we're going to need from out leaders."
The Scotties return starting quarterback Andrew Dresback, who has filled out coming into his junior season.
"I've always felt that the biggest physical transformation comes between a player's sophomore and junior years," Wood said. "That's happened with Andrew."
Also back is standout wide receiver Andrew Wilkerson, who has game-breaking speed.
Stepping in at running back is Michael Wittwer, who filled in last year while Hatch was injured.
"Michael is a different kind of runner," Wood said. "Kevin was a one-of-a-kind runner who could change direction any time he wanted to. Michael is more of a power runner."
The biggest difference this season, Wood said, will be a need to generate more sustained drives from his offense.
"We don't have that player who can break a game wide open on any play," he said. "We're going to have to grind things out and put together some long scoring drives."
Local journalism is essential.
Give directly to The Spokesman-Review's Northwest Passages community forums series -- which helps to offset the costs of several reporter and editor positions at the newspaper -- by using the easy options below. Gifts processed in this system are not tax deductible, but are predominately used to help meet the local financial requirements needed to receive national matching-grant funds.
Subscribe to the Coronavirus newsletter
Get the day's latest Coronavirus news delivered to your inbox by subscribing to our newsletter.
---