News > Home
garden calendar
Thu., Sept. 1, 2005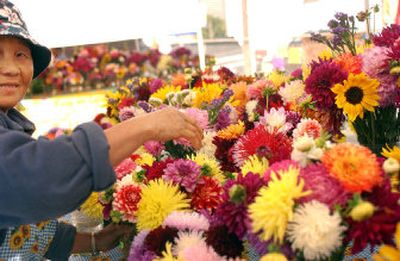 Iris Society – The Town and Country Iris Society meets the first Friday of each month. 7 p.m., Spokane Valley Library, 12004 E. Main. 926-4225.
Naylor Creek Nursery Fall Sale – Presented by the Spokane Hosta and Shade Garden Society. Wednesday. 6-8 p.m., Manito Park meeting room, east of the conservatory, 4 W. 21st Ave.
Friends of Manito Fall Perennial Plant Sale – Open to the public. Sept. 10. 10 a.m.-4 p.m., Manito Park maintenance yard, east of Gaiser Conservatory, 4 W. 21st. Ave. free admission. 456-8038.
Plant Tissue Culture for the Home and Classroom – The Palouse Discovery Science Center and Kitchen Culture Kits Inc. are presenting this workshop for teachers, students, gardeners, and anyone who loves plants. Activities will include disinfecting and culturing plant leaves, buds and orchid seeds, discussing troubleshooting and resources and more. Sept. 10. 9 a.m.-4 p.m., PDSC, 2371 NE Hopkins Court, Pullman. $80, includes lunch. 332-6869.
Apple Festival – Harvest festival is held over seven weekends, Sept. 17-Oct. 30. Enjoy a large variety of apples, fresh pressed cider and other produce, live music, craft booths, corn and straw mazes and animals. Green Bluff.
The New Emerald Expo – The Nursery and Landscape Industry Trade Show will include seminars, the latest innovations and a job fair. Oct. 19 - 20. Greater Tacoma Convention & Trade Center, Tacoma. $80 for all sessions both days. (360) 681-7953.
Landscaping with Trees and Shrubs – Trees and shrubs are an important investment in your landscape. This series of classes will guide you through selecting, planting, pruning, and maintaining the right tree or shrub for your garden and yard. Learn tips and techniques that promote healthy plants for a lifetime. Saturdays from 10 a.m. to noon Sept. 24, Oct. 1, 15, 22. Classes are $10 each or $35 for the series.
Local journalism is essential.
Give directly to The Spokesman-Review's Northwest Passages community forums series -- which helps to offset the costs of several reporter and editor positions at the newspaper -- by using the easy options below. Gifts processed in this system are not tax deductible, but are predominately used to help meet the local financial requirements needed to receive national matching-grant funds.
Subscribe to the Coronavirus newsletter
Get the day's latest Coronavirus news delivered to your inbox by subscribing to our newsletter.
---