Sports
Johnson tames M's, wins showdown
Thu., Sept. 1, 2005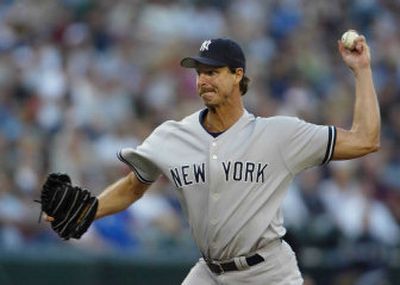 SEATTLE – Separated by nearly 23 years in age, the difference on the mound between Randy Johnson and Felix Hernandez was minuscule Wednesday night.
Johnson held the Seattle Mariners to three hits in seven innings, Hernandez limited the New York Yankees to four hits in eight, and they each struck out seven with pitches that had hitters oohing and fans aahing.
The difference?
Two hits off Hernandez cleared the fence, while none of the Mariners' produced anything more than hope in a 2-0 Yankees victory at Safeco Field.
"Two pitches, two runs," Hernandez said.
It gave him a 2-2 record, although his earned run average of 1.84 remains as impressive as the post-game reviews.
"Hernandez pitched one hell of a game," Yankees manager Joe Torre said. "He's pretty damn good, that's for sure."
So was Torre's own starter. Of course, Mariners fans have known that about Johnson since he pitched in Seattle from 1990-98.
He limited the Mariners to just two walks through five innings and didn't allow his first hit until Yuniesky Betancourt's double to the base of the left-field wall in the sixth.
Adrian Beltre managed an infield single and Jose Lopez lined a single up the middle to put runners on first and second with one out in the seventh, but Johnson got Mike Morse on a fly and Yorvit Torrealba on a grounder to end the inning.
"That's the best I've seen Randy in a long time, and he's awfully good anyway," Mariners manager Mike Hargrove said.
The view from the batter's box was just as imposing.
"He had velocity tonight more than I'd seen the last few times I'd faced him," Mariners first baseman Richie Sexson said. "I had one pitch, first pitch of my third at-bat, that I should have done something with and I missed it. Against Randy, you can't miss your pitch."
Johnson had the advantage of facing a Mariners lineup filled with youth, among them being Jamal Strong in center field, Jose Lopez at second base, Mike Morse in left field and Betancourt at shortstop.
Against Hernandez, the Yankees connected only twice, but that was enough.
He floated a changeup with one out in the third inning that Robinson Cano, the No. 9 hitter, hit into the seats in right field for a 1-0 Yankees lead.
Then Hernandez left a fastball over the fat part of the plate and Gary Sheffield hit it out to left field for a leadoff home run in the fourth inning.
"He made two pitches up in the zone," Hargrove said. "That turned out to be the difference in the game."
The Mariners will gladly take that from their 19-year-old right-hander, who appeared jumpy against the Yankees in the first inning before settling down.
He walked Derek Jeter to start the game but got Hideki Matsui to hit a double-play grounder. Hernandez followed that with a walk to Sheffield before Alex Rodriguez grounded out for the third out.
"It's not very typical of him to miss as badly as he missed," Hargrove said. "That was an indication that he was feeling it tonight. But he shut them down pretty good and came back and threw well."
The game quickly settled into the pitching matchup that was as good as anticipated. The crowd of 46,240 was the sixth sellout of the season at Safeco Field and the Mariners' largest crowd since 46,249 showed up on opening day.
The matchup of the 41-year-old Johnson against the 19-year-old Hernandez comprised the biggest age difference in starting pitchers in the same major league game since 46-year-old Charlie Hough pitched for Florida against 23-year-old Joey Hamilton of San Diego in 1994.
The Hernandez-Johnson age difference is 22 years, 210 days; Hough-Hamilton is 22 years, 248 days.
"Pitching against him was an honor, a great joy," Hernandez said. "Even though we lost, it was great to be out there against him."
It wasn't all nasty sliders and 98 mph fastballs.
In the top of the fourth inning, as Hernandez threw a pitch to Rodriguez, a man ran out of the stands and across left field carrying a sign as he poured out a powdery substance.
"They brought his sign back to the bullpen, and it said something about it being the ashes of his mother or his grandmother," Mariners relief pitcher Jeff Nelson said. "I've never seen that before."
There also was Morse's first big adventure in left field.
In the top of the ninth inning,, with Mariano Rivera warming up and the two-run lead seeming like 10, Morse got his first fly ball. He had played 16 straight innings without one after having started in the outfield Tuesday for the first time since he played youth league ball in Florida.
Sheffield took a mighty swing against Nelson and stroked a fly off the end of his bat. Morse drifted back near the warning track, then made a panic-stricken run back toward the infield as the ball died in medium left field for a single.
Local journalism is essential.
Give directly to The Spokesman-Review's Northwest Passages community forums series -- which helps to offset the costs of several reporter and editor positions at the newspaper -- by using the easy options below. Gifts processed in this system are not tax deductible, but are predominately used to help meet the local financial requirements needed to receive national matching-grant funds.
Subscribe to the sports newsletter
Get the day's top sports headlines and breaking news delivered to your inbox by subscribing here.
---