Sports
National glance
Thu., Sept. 1, 2005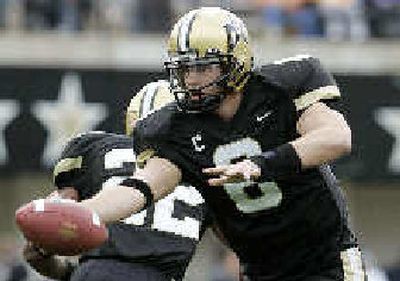 Vulnerable contenders
Ohio State began the 2004 season as a top-10 team. That didn't stop the Buckeyes from losing their first three Big Ten games. They needed a strong finish to end the season 8-4.
So be warned: just because your team looks good now doesn't mean it'll play that way. Here are five highly ranked teams that might not live up to the hype:
No. 3 TENNESSEE – The Volunteers appear to be in good shape with either Erik Ainge or Rick Clausen at quarterback. But what happens if the starter, whoever that turns out to be, struggles? QB controversies aren't healthy. And the Vols' schedule, with back-to-back September road games at Florida and LSU, plus trips to Alabama and Notre Dame, is tough.
No. 7 OKLAHOMA – Since 2000, the Sooners have won a national title and played for two more. Now they have to replace 10 players from last year's team who were drafted by the NFL and break in a new quarterback.
No. 10 FLORIDA – Urban Meyer has a track record for quickly implementing his program and racking up wins. But this is a team that finished 7-5 last season. Was it all Ron Zook's fault?
No. 11 IOWA – Replacing Jonathan Babineaux and Matt Roth, both second-round draft picks, and the rest of last year's starting defensive line might be tougher than expected. Even for Kirk Ferentz.
No. 13 GEORGIA – For all QB D.J. Shockley's talent, exactly how many times did he win a game for the Bulldogs while backing up David Greene, aka the winningest college quarterback in Division I-A history?
Good players on bad teams
Coaches always tell their players that individual honors will come if the team wins. They're right. All-America teams usually are stocked with players from Top 25 programs, and rarely does an award winner come from a losing team.
But there are plenty of good players who probably won't get to play in bowl games this season. Here are five:
JAY CUTLER, QB, Vanderbilt – NFL scouts know about this four-year starter. His passer rating has gone up each year, and last year he became just the third Vandy quarterback in 50 years to complete 60 percent of his attempts.
DARRELL BROOKS, S, Arizona – Shoulder surgery kept him out of spring practice, but he should be the defensive leader of coach Mike Stoops' improving team. Brooks led the Wildcats with 73 tackles last season.
MANASE HOPOI, DT, Washington – The 290-pound senior was a second-team All-Pac-10 selection in 2004, when he made 54 tackles and led the conference with 22 tackles for loss, one shy of the school record.
BRIAN LEONARD, RB, Rutgers – Versatile fullback led the Big East in all-purpose yards per game last season (125.0) and caught 61 passes for 518 yards, more than any other running back in the country.
JERIOUS NORWOOD, RB, Mississippi State – As the rest of the Bulldogs were slowly adapting to the West Coast offense in their first year under Sylvester Croom, Norwood ran for 1,050 yards and seven touchdowns.
Darkhorses for Heisman Trophy
The 2005 Heisman Trophy race appears to be clearly defined before a game has been played.
Southern California QB Matt Leinart is the favorite, with a chance to join Archie Griffin as the only two-time Heisman winners.
Two other finalists from 2004 also return – Oklahoma RB Adrian Peterson and USC RB Reggie Bush — with much fanfare.
Then there are several players from high-profile programs, such as Texas QB Vince Young and Ohio State WR Ted Ginn Jr., who started their 2005 Heisman campaigns with memorable performances at the end of 2004.
Here are five players who could make a run at college football's most prestigious award without the big head start:
KELLEN CLEMENS, QB, Oregon – Picture this: No. 1 USC comes to Autzen Stadium in late September and, led by the mobile and accurate Clemens, the Ducks pull off a season-changing upset. You never know.
OMAR JACOBS, QB, Bowling Green – Another season like 2004 – 41 TDs and four INTs — from the MAC's latest prolific passser won't go unnoticed.
MARSHAWN LYNCH, RB, California – Breakaway runner with Bush-like elusiveness, he might be more talented than J.J. Arrington, the 2,000-yard rusher he replaces in Jeff Tedford's well-tuned offense.
GERALD RIGGS, Jr., RB, Tennessee – It's taken the former most-wanted recruit four years, but he's finally "The Man" in the Vols backfield.
JaMARCUS RUSSELL, QB, LSU – The Tigers need steady quarterback play to contend for a national title. Though just a sophomore, Russell has the potential to provide so much more.
Ralph D. Russo
Local journalism is essential.
Give directly to The Spokesman-Review's Northwest Passages community forums series -- which helps to offset the costs of several reporter and editor positions at the newspaper -- by using the easy options below. Gifts processed in this system are not tax deductible, but are predominately used to help meet the local financial requirements needed to receive national matching-grant funds.
Subscribe to the sports newsletter
Get the day's top sports headlines and breaking news delivered to your inbox by subscribing here.
---