News > Home
recycling with rik
Thu., Sept. 1, 2005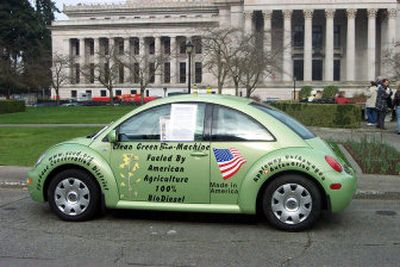 "Dino" is dead. Increasingly, government and fuel industry officials acknowledge that from a sustainability standpoint, from an environmental standpoint, and from an economic standpoint, fossil fuels – like oil – no longer cut the mustard.
What does? Well, frankly, mustard! Or, more precisely, biodiesel fuel produced as a by-product of the mustard plant.
Mustard powder is used as a food additive in such things as salad dressings and mustard, the condiment. It's the mustard "meal" as a commodity that must be profitable in order for farmers to raise mustard – thus making the other mustard product, oil, feasible for biodiesel production.
Jim Armstrong, Spokane County Conservation District, is working with local farmer co-ops to create sustainable markets for mustard. With that accomplished, a local crushing plant to supply meal to the market can be built, followed by construction of a biodiesel production facility. Local production of biodiesel is necessary, Armstrong says, to help make the agricultural-based fuel competitively priced with petro-diesel.
Currently, the only local source of biodiesel is at CityServiceValcon in Greenacres. Their biodiesel is soybean-based and comes from West Central Soy in Ralston, Iowa. It's shipped from Iowa by train to Kalispell, Mont., and then trucked to the Spokane Valley.
All the petroleum-fueled shipping adds to the cost at the pump. Standard No.2 petro-diesel is about $2.89 a gallon. A blend of petro-diesel and 20 percent biodiesel (B20) costs around $3.01 a gallon, with 100 percent biodiesel selling for $4.65 a gallon.
Still, there is an active group of biodiesel consumers in the Spokane area. Most opt to use B20.
Central Valley School District buses have been running on soybean-based biodiesel since November 2003. The district was part of a Washington State Department of Ecology pilot project to determine the effect of biodiesel use on emissions. The project has just ended, but the district plans to continue to use B20 in its fleet as long as it receives the cost savings provided by the Jobs Bill, federal energy legislation which encourages the use of alternative fuels.
Other committed users of biodiesel in the area include the Spokane Biodiesel Co-op. Members search out bio-diesel suppliers in the region, buying in bulk whenever possible.
"I'm convinced that it's good," says co-op member Dr. Edwin Holmes. "Right now I pay a little more for it, but on the road my VW Jetta has gotten as high as 48 miles per gallon, and around town, I typically get 35 mpg. And that's with an automatic transmission; with a manual shift vehicle I'd get even better."
Recognizing its economic and environmental potential, local legislators have also shifted into gear for biodiesel.
In 2003, the Washington State House and Senate were nearly unanimous in approving legislation to promote biodiesel.
SCCD's Armstrong says support for that legislation came "from across the aisle, from across the state."
Even the Bush administration's recent Energy Bill includes provisions to promote the cleaner burning biodiesel.
While visiting a soybean biodiesel plant near Richmond, Va., in May, President Bush told the audience, "Biodiesel can be used in any vehicle that runs on regular diesel, and delivers critical environmental and economic benefits."
The president stated that "Biodiesel burns more completely and produces less air pollution than gasoline or regular diesel. Biodiesel also reduces engine wear, and produces almost no sulfur emissions, which makes it a good choice for cities and states working to meet strict air quality standards. And every time we use home-grown biodiesel, we support American farmers, not foreign oil producers."
"And as more Americans choose biodiesel over petroleum fuel," the president said, "they can be proud knowing they're helping make this country less dependent of foreign oil."
Perhaps, one day soon, the president will visit Spokane for a ribbon-cutting ceremony at our very own biodiesel production plant. On that day, we'll all carry big, bright yellow placards that read:
Got mustard?
Local journalism is essential.
Give directly to The Spokesman-Review's Northwest Passages community forums series -- which helps to offset the costs of several reporter and editor positions at the newspaper -- by using the easy options below. Gifts processed in this system are not tax deductible, but are predominately used to help meet the local financial requirements needed to receive national matching-grant funds.
Subscribe to the Coronavirus newsletter
Get the day's latest Coronavirus news delivered to your inbox by subscribing to our newsletter.
---