Sports
The Vandals' new clothes
Thu., Sept. 1, 2005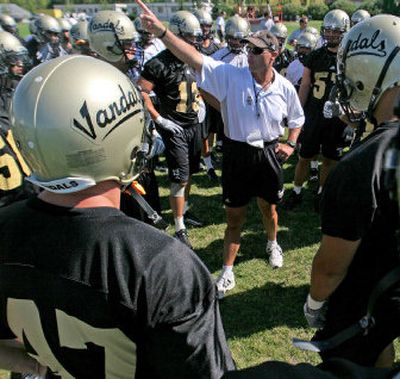 The Idaho Vandals sport a new look this season, so new in fact that the cover of the team's media guide is already passé.
There could be a trio of new faces starting at wide receiver and maybe a few more on the offensive front. The starting tight end will be new after another unfortunate health setback sidelined Luke Smith-Anderson.
The defense might have six new starters, possibly four of those junior college transfers. The punter will be freshman T.J. Conley.
The coach? He doesn't have any hair left, contrary to the picture on the media guide that shows a grinning Nick Holt with some strands hanging down below the brim of his Vandals' hat.
The new 'do was Holt's choice – and so is the new overall look to the team.
Holt has repeatedly said the Vandals are better than they were a year ago, and it's not just because this is year two of his coaching tenure. He believes the Vandals are making strides forward in terms of talent and depth.
And Holt has never shied away from playing whomever he deems necessary, regardless of their birth certificate. Last year, 16 true freshmen were tossed into action. This year, those freshmen are a year older, a year more prepared physically and mentally for a college football season.
An influx of J.C. transfers, including starting receiver Daniel Smith, adds immediate help to the roster. It gives Idaho an interesting blend. There are veterans, such as junior offensive linemen Jade Tadvick, Nate VanderPol and Hank Therien, and senior linebackers Cole Snyder, Mike Anderson and Nate Nichols. There are seasoned true sophomores like running backs Jayson Bird and Rolly Lumbala, receiver Desmond Belton and safety Dan Dykes. And there is another group of true freshmen that Holt won't shy away from inserting into games if they're needed.
The offense has proven backs in Bird and Lumbala, who combined for 14 touchdowns and nearly 1,475 yards last year.
"I'd love to be multiple because it causes people problems," Holt said of the possibility of two-back sets. "By the same token, you have to be good at it."
The loss of the 6-foot-5, 270-pound Smith-Anderson, who had surgery to remove his ruptured spleen two weeks ago, is tough to offset. He led Idaho with four touchdown catches in 2004.
"Not only was he one of our best returning players, he's one of our most inspirational players," quarterback Michael Harrington said. "Now we have to find a new way to motivate ourselves because he was one of the loudest voices on the team. But we've gone through injuries and we have to find a way to move on."
Holt waited until Tuesday before announcing that Harrington will start in Thursday's opener against Washington State. J.C. transfer Steven Wichman will play, Holt added.
Holt ultimately picked Harrington for three factors _ his experience, his comprehensive knowledge of the offense and the fact that he's continued to improve. Holt cautioned that the starting job isn't etched in stone.
Holt stressed that Harrington and Wichman need to take care of the ball.
The quarterbacks should have a wider array of weapons this season. Receivers Belton and Matt Askew are 6-4; Smith is 6-1. There are literally as many as 10 receivers capable of playing time.
"Offensively we should be more (explosive) than we were a year ago, but we still need to keep getting better at it," Holt said. "We're just playing at a faster pace."
The defense appears solid up the middle with a possible five-player rotation at tackle and Snyder back at middle linebacker. The secondary will see the biggest makeover from a year ago with Dykes the lone returning starter.
"We expect to make a good jump because we didn't really lose that many guys," said Mike Anderson, who moves back to linebacker after playing defensive end last season. "A lot of guys are coming back and everybody knows the offense and the defense so our expectations are high."
Local journalism is essential.
Give directly to The Spokesman-Review's Northwest Passages community forums series -- which helps to offset the costs of several reporter and editor positions at the newspaper -- by using the easy options below. Gifts processed in this system are not tax deductible, but are predominately used to help meet the local financial requirements needed to receive national matching-grant funds.
Subscribe to the sports newsletter
Get the day's top sports headlines and breaking news delivered to your inbox by subscribing here.
---