News > Home
Trilliums attract neighbors
Thu., Sept. 1, 2005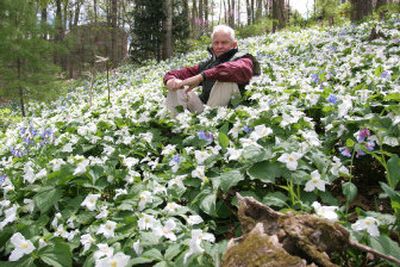 People often come unseen to Ron Brown's tree-covered hillside garden. They park on a residential side street and quietly make their way to one of the weathered benches alongside the mulch-covered trails, pausing to eat their sandwiches under the cool comfort of a dappled shade.
Sometimes they knock at his door, seeking permission. Occasionally, he'll find a few crumbs the neighborhood kids have left near the foot of the concrete pond, evidence of a stealthy fish-feeding expedition.
But Brown doesn't mind. His is an open garden, privately owned but free to all comers as long as they don't stray across flowerbeds or neglect to pick up after themselves.
The attraction in mid- to late spring is trilliums, many colonies of showy white trilliums. Trilliums are a wildflower member of the lily family. They have evolved into nearly 50 different varieties worldwide. Some bloom in a subdued yellow; others display rich red petals while still others grow massed in the woods in a eye-grabbing white. It's the snow trillium (Trillium grandiflorum) that people see emerging through the humus rich leaf litter of Brown's expansive woodlot.
Trilliums stand on erect stems of varying height and are topped by three leaves, three green sepals or underlying petals and three colored petals, hence their name; trillium comes from the Latin for "three." The white petals on the long-blooming grandiflorum mature into a soft pink and finally a deep red as they wither, disappearing back into the ground where they build their energy for another year, another distinctive display.
"I dug the root stock from my (former) farm in West Virginia," Brown says. "I planted 480. From there, I gathered seed and scattered the seed and the whole place has trilliums on it. Thousands of them. Far too many to estimate."
A federal job brought Brown to Harrisonburg, Va., in 1965. "We bought the lot where the house sits and then the two adjacent lots. It was on a slope and it was wooded and we wanted to keep it that way. It's around three acres."
The 75-year-old Brown says he generally does things in cycles.
"Some years ago, a friend and I went to a flower show in Washington. We saw a tree peony. My friend bought one and I bought one. His died. Now I have over 500 blooming tree peonies through here all different colors."
Wander leisurely around and you'll see dogwoods, redbuds, rhododendrons and azaleas, Virginia bluebells and a whole host of things blooming harmoniously.
Brown at the moment is hooked on hydrangeas. Fourteen varieties have been planted around the property.
"You can pick flowers out here every month of the year," Brown says. "This isn't just a wildflower garden; it's a flower garden."
Wildflower garden or no, it takes patience to get trilliums to thrive in a residential setting. The plants require two or more years to germinate and then a couple of more years to grow large enough to bloom. But trilliums will spread if left to themselves in the right kind of leaf mold habitat.
Grandifloras are believed easiest to grow. Fall is the best time to plant the rhizomes. Planting them 3 to 4 inches deep, helps avoid loss to predators. Yet, for all their beauty, trilliums can be real stinkers.
Purple trillium is perhaps the most interesting of the clan, says Jack Sanders, a newspaper editor from Ridgefield, Conn., and an author specializing in wildflowers. "It has the color of carrion and aims its flower down toward the ground where its pollinator, various carrion-eating flies, will be more apt to see it. But color is probably not what really draws the flies. It is by far the worst smelling blossom I know of.
"If you get down on your hands and knees and stick your nose into one, it can give you a nasal jolt. They are vile smelling," Sanders says. "They make skunk cabbage smell like perfume."
Local journalism is essential.
Give directly to The Spokesman-Review's Northwest Passages community forums series -- which helps to offset the costs of several reporter and editor positions at the newspaper -- by using the easy options below. Gifts processed in this system are not tax deductible, but are predominately used to help meet the local financial requirements needed to receive national matching-grant funds.
Subscribe to the Coronavirus newsletter
Get the day's latest Coronavirus news delivered to your inbox by subscribing to our newsletter.
---