Sports
Sun Devils open with rout
Fri., Sept. 2, 2005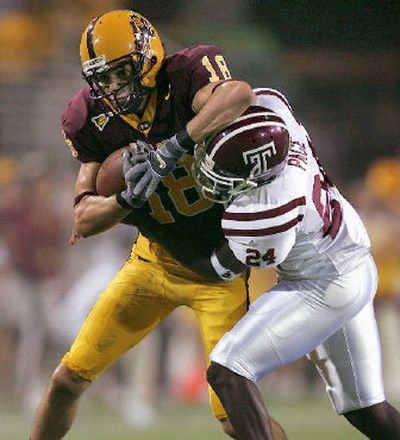 Freshman Keegan Herring rushed for 134 yards on 12 carries in the most prolific debut by a running back in Arizona State history as the 20th-ranked Sun Devils beat Temple 63-16 in Thursday night's season opener in Tempe, Ariz.
Sam Keller threw for four touchdowns, two to Derek Hagan, then sat out the final quarter while Arizona State finished off the Owls' 22nd consecutive loss to a ranked team and ninth straight defeat on the road.
The 18-year-old Herring had runs of 33 and 28 yards, along with a 4-yard touchdown run, en route to the school record for most yards in the first game of a career. The old mark of 117 yards, on 21 carries, was set by Woody Green against Houston in 1971.
Keller, successor to the Sun Devils' record-breaking passer Andrew Walter, completed 14 of 24 passes for 208 yards. He was intercepted twice.
Hagan's scoring catches of 18 and 31 yards give him 21 TD receptions for his career, four shy of Keith Poole's school record. Hagan caught three passes to boost his career total to 184, four fewer than John Jefferson's ASU record.
The Sun Devils amassed 559 yards, 300 on the ground. Arizona State's reserves scored three times in the final quarter, the last with 36 seconds to go.
Mike McGann completed 18 of 37 passes for 203 yards and a touchdown for Temple. He was intercepted twice.
The Owls, who moved from the Big East to the Mid-American Conference this season, got a safety in the second quarter.
Oregon 38, Houston 24: At Houston, Kellen Clemens threw for 348 yards and two touchdowns, and his 43-yard scramble set up the go-ahead score in the Ducks' victory over the Cougars.
With Oregon down 21-20 early in the third quarter, Clemens made his long dash to the 1-yard line, where his backup Dennis Dixon dove in for the TD a play later.
It was a successful debut for Oregon's spread offense, installed in the off-season by new offensive coordinator Gary Crowton. It was also step one in the Ducks' quest to bounce back from last year's 5-6 season – their first losing season since 1993.
Clemens was 30 of 47 with no interceptions and 72 yards rushing. Demetrius Williams had nine receptions for 133 yards and a touchdown and James Finley made 10 catches for 95 yards.
Big Sky
Northern Arizona 52, Adams State 13: At Flagstaff, Ariz., Jason Murrietta passed for 194 yards and three touchdowns in a little over three quarters, and the Lumberjacks opened with a victory over the Division II Grizzlies.
Murrietta was 14 for 24 with touchdown passes of 16, 5 and 13 yards to Kory Mahr.
Philo Sanchez rushed for 75 yards on 13 carries, including a 27-yard TD run, and Robbie Dehaze made a 37-yard field goal.
Idaho State 38, Southern Utah 13: At Pocatello, Idaho, in his first college game, redshirt freshman Ken Cornist rushed for 88 yards and three touchdowns to lead the Bengals to a victory over the Thunderbirds.
Idaho State scored the game's first 28 points.
Idaho State's defense stifled Southern Utah – holding the Thunderbirds to just 6 yards rushing – while intercepting two passes and sacking SUU quarterback Zac Connors three times.
East
Connecticut 38, Buffalo 0: At East Hartford, Conn., Matt Bonislawski threw two touchdown passes and ran for another score in his first start for Connecticut to lead the Huskies to a win over the Bulls.
South
South Carolina 24, Central Florida 15: At Columbia, S.C., This was hardly like old times for the Ol' Ball Coach.
South Carolina coach Steve Spurrier had a new black visor and the same offensive style, but he needed a fourth-down stop by his defense with less than three minutes to go to save a 24-15 victory over Central Florida in his return to college football.
Blake Mitchell, a sophomore making his first start, threw for 330 yards and three touchdowns for the Gamecocks.
Despite the late charge, the Golden Knights extended the country's longest losing streak to 16 games.
Vanderbilt 24, Wake Forest 20: At Winston-Salem, N.C., Jeff Jennings scored from 5 yards out with 1:48 to play to lift the Commodores over the Demon Deacons. Vanderbilt won a season opener for the first time in eight years.
Marshall 36, William & Mary 24: At Huntington, W.Va., backup Bernie Morris threw three touchdown passes and the Thundering Herd rallied to beat the Division I-AA Tribe.
Northwestern State 27, Louisiana-Monroe 23: At Monroe, La., Davon Vinson threw three touchdown passes and the Demons rallied from a 23-0 halftime deficit to beat the Indians.
Vinson completed 15 of 23 passes for 230 yards, and rushed for 81.
Midwest
Toledo 62, W. Illinois 14: At Toledo, Ohio, Bruce Gradkowski threw for two touchdowns and ran for another score to lead the Rockets to a victory over the Leathernecks.
Cincinnati 28, E. Michigan 26: At Cincinnati, Dustin Grutza threw for two TDs and rushed for a third, leading the Bearcats past the Eagles.
Southwest
Minnesota 41, Tulsa 10: At Tulsa, Okla., Laurence Maroney rushed for a career-high 203 yards and two long touchdown runs and Gary Russell added two late TD runs as the Golden Gophers beat the Golden Hurricane.
Air Force gives up pregame prayer
Air Force coach Fisher DeBerry will forgo his customary team prayer before Saturday's game against Washington, one of the first visible changes brought on by a new policy on public displays of religion at the academy.
Instead, the team will observe a moment of silence in the locker room.
Huskies' Handy ineligible
Washington junior cornerback Chris Handy was declared academically ineligible for failure to complete his associate's degree from Pasadena Community College in California.
Handy finished his last term at Pasadena CC in early August, then joined the Huskies. Washington officials did not receive his transcripts from the community college until this week. Handy was allowed to practice with the team during the preseason.
Local journalism is essential.
Give directly to The Spokesman-Review's Northwest Passages community forums series -- which helps to offset the costs of several reporter and editor positions at the newspaper -- by using the easy options below. Gifts processed in this system are not tax deductible, but are predominately used to help meet the local financial requirements needed to receive national matching-grant funds.
Subscribe to the sports newsletter
Get the day's top sports headlines and breaking news delivered to your inbox by subscribing here.
---