News > Spokane
Sneak preview for freshmen
Fri., Sept. 9, 2005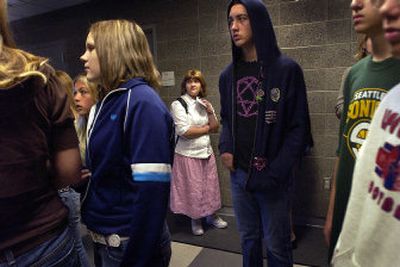 Joe O'Brien admitted defeat before his adventure at Central Valley High School even began.
"OK. I'm like, totally lost," said the 15-year-old freshman.
Clutching his schedule like it was his last dollar bill, O'Brien was on the hunt for his first-period class on the first day of school for Central Valley students Thursday.
Thankfully, O'Brien wasn't alone in his bewilderment.
At both Central Valley and University High School only ninth-graders were allowed inside for the first four hours of the school day.
Before the 1,300 other students crowded into the schools, just under 500 wide-eyed freshmen had time to find classes, meet teachers, and master the hallways.
The freshmen-only start was a first for both schools, which are both slightly over their 1,800-student capacity this year.
"We wanted to do something that would ease the transition to high school for these kids," said Principal Mike Hittle.
Because the school is so large, and crowded, some kids get lost in the shuffle.
Last year Hittle said he got calls from parents complaining that their freshmen students didn't eat lunch on the first day because they didn't know where to go, or what to do.
Letting them in the building first allows freshmen to get comfortable with the routine.
"It's a lot easier, figuring out where to go before," the older students arrive, said O'Brien, who transferred to CV from a small Christian school with about 300 students.
O'Brien and other ninth-graders started out in the theater together, where they first learned a few things about high school from administrators.
For example, even though you have more freedom in high school, public displays of affection are still discouraged. Hugs are OK, but only the "catch and release" kind of embrace.
This topic generated a few nervous laughs from the students, before they were set free to cycle through their class schedules in 13-minute blocks. They finished in the cafeteria where they learned how to navigate the chaotic lunch line.
"I don't know where anything is," said Brittany Annett, 15, who went down a hallway, and doubled back more than once, waving her schedule in the air in a gesture of exasperation.
Annett at first said she wasn't nervous about high school, and later admitted she was only "a little scared." Her face told a different story as she rushed from class to class.
"It's scary, it's big, and it's confusing for them," said Manda Portch, a CV junior. "The crowd and the chaos sort of washes them out."
Portch is a member of the Link Crew, a leadership club designed to provide mentoring to underclassmen. The club organizes several events throughout the year to get younger students involved in school activities, and helped organize Thursday's freshmen-only first day.
The new format seemed to be working.
"I can tell (the freshmen) have a little more confidence compared to last year. They were like little lost souls last year," said teacher Doug Pecha, who was greeting the freshmen as they arrived to his algebra class with a firm handshake and a "welcome aboard."
By lunchtime, sophomores, juniors and seniors had started to gather outside the school in droves, waiting to be let in. The freshmen still held court until 11:30 a.m.
Some girls squealed as they were reunited with friends from middle school, other students sat at crowded tables nibbling at their food, looking hopeful that the day was almost over, even though it had just started and more was yet to come.
Today, school starts as usual, with all students inside and fighting their way through the masses.
"Being here first, I think it will really make them feel better," Pecha said. "No one wants to look like the guy that gets lost."
Local journalism is essential.
Give directly to The Spokesman-Review's Northwest Passages community forums series -- which helps to offset the costs of several reporter and editor positions at the newspaper -- by using the easy options below. Gifts processed in this system are not tax deductible, but are predominately used to help meet the local financial requirements needed to receive national matching-grant funds.
Subscribe now to get breaking news alerts in your email inbox
Get breaking news delivered to your inbox as it happens.
---