News > Nation/World
Troops turn up the pressure
Fri., Sept. 9, 2005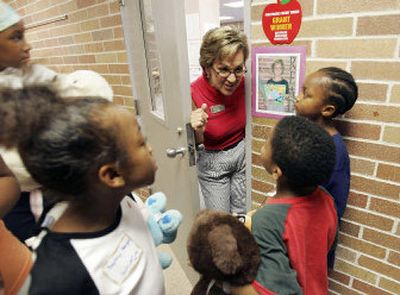 NEW ORLEANS – Block after block, door by door, eye to eye, police officers and soldiers edged closer Thursday to extracting the last holdouts from this dying city. Authorities did not wield brute strength – yet – but they confiscated privately owned weapons and employed considerable powers of persuasion.
"The soldier talked to me, and I'm sick, and he told me it would be best if I left to get my treatment," Dale Wolfe Noel, 68, of the Algiers section of New Orleans said after rescuers brought her to a makeshift first-aid center. "They're trying to get me some place good."
More people seemed motivated to leave, having heard the term "mandatory evacuation," and fewer than 10,000 people remained in a metropolis that was home to 485,000 before Hurricane Katrina all but destroyed it.
But some still resisted, and their stubbornness imperiled their lives. They were surrounded by sewage-contaminated floods and sporadic fires, and they had no access to fresh food or pure drinking water.
On Thursday, the official Louisiana death toll rose to 118, but thousands were feared dead. Those searching for survivors often found bodies floating in the floods, lying on broken highways or decomposing in previously hidden corners of the city, adding to the health risk and horror-movie reality.
"I can tell you there have been thousands of bodies," said Dr. Juliette Saussy, director of the city's Emergency Medical Service.
In Washington, meanwhile, lawmakers authorized more help for the nearly 1 million people displaced – many forever – by Katrina.
Congress approved a $51.8 billion special appropriation for disaster relief, just a fraction of the expected ultimate cost to restore lives and rebuild bridges, highways and other vital elements of the region's infrastructure.
President Bush pledged to help victims cut through red tape to receive governmental assistance, including $2,000 debit cards for each displaced family. He said that more than 400,000 families already have applied for federal aid.
"We have much more work to do," Bush said during a Thursday afternoon address to the nation. "But the people that have been hurt by this storm know that – need to know that – the government is going to be with you for the long haul."
His vice president, Dick Cheney, visited Gulfport, Miss., Baton Rouge, La., and New Orleans, publicly viewing the devastation and privately meeting with managers of the relief effort.
Most of the sludge from the Aug. 29 hurricane had dried to dust by the time Cheney arrived in Gulfport, but he saw piles of debris, fallen tree limbs and concrete slabs where nice homes and immaculate lawns once stood.
Cheney said he learned during his visit that Mississippians need help with insurance issues, housing and emotional healing. Still, he said, "Everybody I've met with was upbeat" and determined to rebuild.
But he wasn't uniformly welcomed. During a brief press conference in the middle of a Gulfport street, a young man twice shouted obscenities at him before walking away.
Back in New Orleans, P. Edwin Compass, the superintendent of police, said there are thousands of people remaining in the city but that authorities are determined to get everyone out. He said as little force as necessary would be used but that staying is not an option. Anyone with a weapon, even one legally registered, will have it confiscated, he said.
"No one will be able to be armed," Compass said. "Guns will be taken. Only law enforcement will be allowed to have guns."
"Once we feel sure that all voluntary evacuations are being completed, then the forced evacuations will take place," he said.
On the streets, authorities – many on loan from distant cities – noted a change in attitude.
"Everyone we're coming across today, they've heard the mayor's announcement about the mandatory evacuation, so they're saying 'OK' today," said Deputy Robert Rey of the Bernalillo County, N.M., Sheriff's Department. "A lot of people are ready to go at this point."
At the same time, the urgency of official appeals intensified, often to the edge of orders to leave.
"Y'all weren't here the day after the storm hit, don't be rushing us now," James Savage, 41, told National Guard troops on Chef Menteur Highway in New Orleans.
He wanted to stay and take care of his dog, Snoop, but the soldiers convinced him that they would see to the dog's care and make sure they were reunited.
"I like the way you handle your business," Savage told them as he agreed to leave.
In the Lower Ninth Ward, where floodwaters receded and left a foul-smelling muck, troops confronted holdouts, many of whom eventually climbed aboard military trucks, taking a few belongings. They were taken to schools and the convention center.
Many soldiers and police learned there was an art to convincing residents to depart.
As New Orleans Police Officer Anthony Pardo tried to talk an elderly woman into leaving, she bit him on the arm. The bite didn't break the skin, Pardo said, laughing, and he was able to get her in the boat and out of her flooded community.
"She was scolding me and another officer like we were little kids," Pardo said. "But we got her to safety, and that's what matters."
Local journalism is essential.
Give directly to The Spokesman-Review's Northwest Passages community forums series -- which helps to offset the costs of several reporter and editor positions at the newspaper -- by using the easy options below. Gifts processed in this system are not tax deductible, but are predominately used to help meet the local financial requirements needed to receive national matching-grant funds.
Subscribe now to get breaking news alerts in your email inbox
Get breaking news delivered to your inbox as it happens.
---