News > Spokane
Moving forward
Sun., Sept. 11, 2005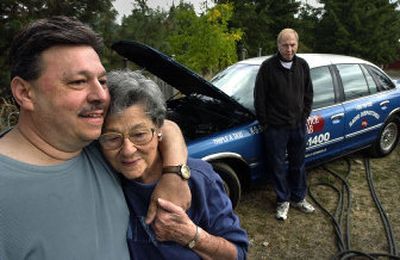 Once the shock ebbed away, the grief set in, engulfing victims like Steven Blann in waves of anguish and dread.
"I just want my life back," said Blann, a New Orleans cab driver who escaped Hurricane Katrina by driving to Florida before seeking refuge here in Spokane. "But it's all gone."
His voice cracked as he spoke of his house that's now submerged in the toxic black waters. He held back tears as he wondered about old friends.
When the deluge caused by the hurricane and ensuing levee breaches ravaged his hometown, the only place for Blann to go was more than 2,000 miles away – to a large blue house at the end of a gravel road, built on a hillside above Newman Lake.
Home for now is a spare room at a house owned by his sister, Mary Anne, and her husband, John Campo.
Blann, 57, arrived in his blue-and-white cab on Labor Day, several hours after two other New Orleans evacuees – 78-year-old Rosemary Campo and her son, Charlie – showed up at the door.
The three are among a couple dozen families who have traveled to Spokane as a result of Hurricane Katrina. While the Inland Northwest isn't expected to receive throngs of refugees like many Southern cities, people who have nowhere else to go are slowly trickling into the area.
Eleven families have registered in the past week with the local chapter of the American Red Cross. On Friday night, a father and son who were plucked off a roof by a U.S. Coast Guard helicopter in New Orleans arrived in Spokane, where they will be resettled by Catholic Charities. Officials from Spokane Public Schools also have noted that two kids whose families have evacuated the Gulf Coast are now enrolled at an area school.
Most made the journey because of a relative or friend who lives here. They also came simply because they had nowhere else to turn.
When they left their homes two weeks ago, Blann and the Campos thought the hurricane warning would turn out to be another false alarm and that they would return in two days.
Now, Internet images of their neighborhood in Orleans Parish show only rooftops amid a murky sea.
"We have to count our blessings," said Rosemary Campo, who raised three sons and lived for 45 years in that now submerged home. "We're a lot better off than the people living in the Astrodome."
Rosemary and Charlie Campo thought they were fleeing danger by heading for a friend's house in Hattiesburg, Miss., a town located 1 ½ hours away from the coast. But Katrina veered in their direction, trapping them in a house damaged by fallen trees.
After the storm, mother and son spent another five days in a place without electricity or running water, dripping in sweat as the temperature rose to 95 degrees with 90 percent humidity. The sanitation was so dire that Rosemary chose to plug herself up with Imodium AD so that she wouldn't have to go to the bathroom.
By the time they were able to drive away in their Nissan pickup, which was parked in a driveway blocked by downed power lines, they were eating moldy bread and cereal with spoiled milk.
Several lucky coincidences and acts of kindness occurred during their long drive to the Northwest. Charlie Campo recalled giving water to a man with crutches, who then pointed them in the direction of Dandy Dan's, the only station in Hattiesburg that was selling gas. He and his mother will also be forever grateful to the Comfort Inn staff in Casper, Wyo., for giving them a free room and buying them a change of clothes, a cooler full of food and much needed toiletries such as soap and deodorant.
In Spokane, John Campo awaited the arrival of his brother and mom, as well as his brother-in-law. He was worried sick at first because he didn't hear from them until four days after the storm. Also a New Orleans native, Campo and his wife, along with three children, left their hometown 13 years ago because he was tired of the weather, the crime and the countless times he had to evacuate his family. Now an insurance agent in Spokane, he encouraged his family and brother-in-law to stay at his home in Newman Lake.
"Daddy, you cannot live in Spo-cane," Charlie's grown daughter told him over the phone last week. "You love to party and you love the nightlife so you will not make it in Spo-cane."
Neither Charlie nor Rosemary had ever visited John Campo. When they arrived in Spokane, the two felt as though they had landed on another planet.
"It was like culture shock," said Charlie Campo, recalling the first time he drove the winding gravel road leading up to his brother's house, a place where you can find deer and wild turkey and where their nearest neighbor is about ¼ mile away. "This ain't New Orleans, but it sure is beautiful."
Nearly a week after their arrival, the evacuees in Newman Lake have spent a lot of time on the phone talking to insurance agents, FEMA and other organizations.
They've also been touched by people's kindness, said Rosemary. Last week, while buying underwear at JC Penney at the Valley Mall, a stranger overheard her talk about her experience in Hattiesburg and quietly paid for her purchase. On Saturday, when Blann and Charlie Campo brought their battered vehicles into Rob's, an auto repair shop in the Valley, the owner didn't charge them for the oil change and other services.
While they're relieved to be safe and living in a house with food and running water, they're still traumatized by what has happened and overwhelmed with what's to come.
Charlie, 57, is ready to move on. He has decided to stay in Spokane and has already landed a job. He'll be working at Home Depot first thing on Monday morning.
"I did my crying, but I ain't crying no more," he said. "I'm accepting the fact that I have no control over my life right now. I have to move forward."
While her oldest son has made a decision not to return – except perhaps to pick up the remnants of his second-floor apartment, Rosemary Campo finds herself in limbo.
She continues to worry about her relatives and friends, people like 80-year-old Micki Landry, her longtime doubles partner in ping pong (they were scheduled to play in the senior Olympics later this month in Baton Rouge), and P.J., the man who was supposed to take her on a date to play poker in Biloxi the night before Katrina struck.
"I don't know what to do," she said with a tinge of despair in her voice. "Everything I know is there. All my friends are there."
"But they're not there anymore," Charlie gently told her. "We don't know where they are."
Hardest hit among the three, however, is Blann, who wants desperately to return. Every day he wakes up praying it was all a bad dream, that the "big one" really didn't hit and that he's back in his own bed in the old New Orleans home he inherited from his mother.
But the painful truth sinks in the moment he gets up and feels the crisp fall air and the backcountry silence that now seems so alien after a lifetime in the Big Easy.
"My whole life has totally changed," said Blann, bursting into tears. "Everything I know is gone. We have nothing."
Local journalism is essential.
Give directly to The Spokesman-Review's Northwest Passages community forums series -- which helps to offset the costs of several reporter and editor positions at the newspaper -- by using the easy options below. Gifts processed in this system are not tax deductible, but are predominately used to help meet the local financial requirements needed to receive national matching-grant funds.
Subscribe to the Coronavirus newsletter
Get the day's latest Coronavirus news delivered to your inbox by subscribing to our newsletter.
---