Sports
Young creates same old nightmare for Big Ten
Sun., Sept. 11, 2005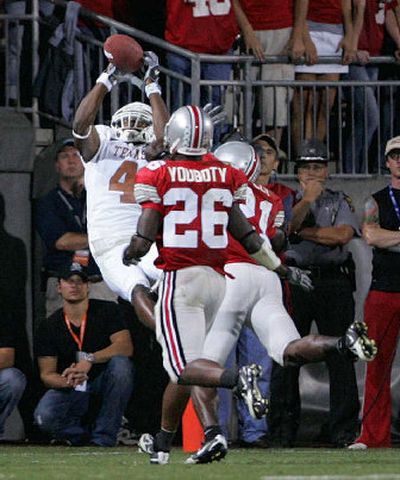 COLUMBUS, Ohio – The Big Ten's worst nightmare? A quarterback named Vince Young.
This showdown of strangers did not disappoint, except for maybe the state of Ohio. On a rollicking Saturday night in a frenzied stadium, Young slipped a 24-yard touchdown pass through double coverage to Limas Sweed with 2:37 left, giving No. 2 Texas a 25-22 win over No. 4 Ohio State.
The first meeting between the two bluebloods will likely leave the Longhorns No. 2 in the polls behind Southern California, and the Buckeyes haunted by what they lost. At least until they get the chance to beat Michigan.
A confrontation of massed offensive firepower produced only three TDs and eight field goals, five by Ohio State's Josh Huston. Texas nearly doomed itself with three turnovers.
But there was no stopping Young, who gave the Buckeyes the same anguish he gave Michigan in the Rose Bowl last January, handing the crying towel from one Big Ten power to another.
"At times we didn't play very good," Texas coach Mack Brown said. "But we played hard. We believed."
Young had to carry his team through a teeming, hostile place, but Texas is an accomplished visitor. The Longhorns have won 22 of their last 23 games in the opponents' home stadium. That flew in the face of Ohio State's 36-game home winning streak in non-conference games.
"We heard all week about the 'Shoe,' " Brown said of Ohio Stadium. "It lived up to expectations."
It was the highest-ranked team Texas has beaten on the road in 20 years.
While Ohio State's defense kept Young out of the end zone most of the night, the Buckeyes were in constant danger of letting him get away, more with his arm than his more feared legs. He passed for 270 yards and ran for 76, accounting for 346 of Texas' total output of 382.
All that, and he still needed a late rally to escape. Down 22-16 with 5 minutes left, he took Texas 67 yards in six plays.
"The only thing in my mind was not to turn the ball over," Young said. "Just take it one play at a time."
The winning TD was a pass delivered to Sweed's outside shoulder in the left corner of the end zone – he was the second option on the play – even as Ohio State's Ashton Youboty and Nate Salley surrounded him.
"We did it every day in practice," Young said.
The extra point made it 23-22. Ohio State's last chance quickly vanished when Justin Zwick – who alternated all night at quarterback with Troy Smith – fumbled trying to scramble. A late safety increased the margin.
It was the fifth time Young has carried Texas from behind in the fourth quarter to win.
Until then, the night swayed from field goal to field goal.
A game tied at 10 in the second period appeared to start moving toward Ohio State, when Texas went on a turnover binge.
It might have turned into a rout, had the Buckeyes been able to convert them into TDs. Instead, Ohio State advanced only three points at a time. A fatal missed opportunity, as it turned out.
Local journalism is essential.
Give directly to The Spokesman-Review's Northwest Passages community forums series -- which helps to offset the costs of several reporter and editor positions at the newspaper -- by using the easy options below. Gifts processed in this system are not tax deductible, but are predominately used to help meet the local financial requirements needed to receive national matching-grant funds.
Subscribe to the sports newsletter
Get the day's top sports headlines and breaking news delivered to your inbox by subscribing here.
---